Found September 10, 2013 on isportsweb.com:
PLAYERS:
Aaron Murray
,
Jadeveon Clowney
,
Trevor Knight
,
Blake Bell
,
Taysom Hill
,
Jamaal Williams
,
David Ash
,
Devin Gardner
TEAMS:
Washington State Cougars
,
Miami Hurricanes
,
Michigan Wolverines
,
South Carolina Gamecocks
,
Notre Dame Fighting Irish
,
Oklahoma Sooners
,
Michigan State Spartans
,
Portland State Vikings
,
Texas Longhorns
,
Brigham Young Cougars
Heading into week 2, the uneducated eye might have seen a rather lackluster slate of games.  Sure, there were fewer marquee matchups than we'll see going forward, but a handful of games delivered on their promise of excitement.  Georgia bounced back from a close loss at Clemson to throw the SEC East into early-season chaos– the Dawgs, South Carolina, and Florida (the three primary contenders) have each looked pretty good and pretty awful at various points, and it's difficult to predict how that division might shake out. In Provo, BYU gave us the shock of the week by not just beating Texas, but beating Texas bloody.  Mack Brown responded by firing defensive coordinator Manny Diaz in a move that should have Longhorns fans annoyed.  It may be true that Diaz wasn't getting enough out of the stop unit, and perhaps a change is for the better.  But Mack Brown's continued presence in Austin is hurting the program, and Greg Robinson is virtually useless as a replacement DC. Out west, another coach who shouldn't be coaching anymore was booed lustily.  Trojan fans let Lane Kiffin have it as his squad fell to Pac 12 doormat Washington State in an ugly contest.  It would be overly charitable to dub that one a defensive struggle. Here is a recap of the best and worst that week 2 had to offer. Best Win of The Week, Week 1: Georgia 41, South Carolina 30 in Athens Georgia QB Aaron Murray eluded the Gamecocks and led his Dawgs to a critical win (Getty/ Deering) It was tough to choose from among the three biggest wins of the week.  Both the Miami Hurricanes and Michigan Wolverines made good cases for selection here, but Georgia's win was arguably the most important of the year so far.  After narrowly falling to Clemson on the road, the Dawgs had to have this one at home.  It wasn't just about avoiding an 0-2 start, though that was certainly a big part of it.  It was about the danger of falling out of the BCS race before it even began.  It was also about proving that you can beat a highly-ranked opponent and that your senior quarterback can actually come through in the clutch. In week 1, Aaron Murray had a costly fumble in Georgia territory that led to a Clemson touchdown.  On the next drive he tossed an interception that killed Georgia's chance to respond before halftime.  In week 2, Murray was dominant, finishing 17 of 23 passing for 309 yards and four touchdowns.  Most importantly, Georgia had zero turnovers.  That all of this happened in the face of a supposedly superior pass rush shouldn't be lost on fans; the UGA offensive line and Murray made sure that they, not Jadeveon Clowney, were the heroes of this critical SEC matchup. Honorable Mention: Michigan 41, Notre Dame 30 in Ann Arbor I like the scoring symmetry of these games.  I also like that Michigan dismissed the idea that 2013 Notre Dame's defense is worth talking about. ***** Worst Win of the Week: Oklahoma 16, West Virginia 7 in Norman Oklahoma QB Trevor Knight couldn't get any traction against WVU (AP photo) Whereas WVU received this dubious honor last week, it's the Mountaineers' opponent earning this week's distinction as weakest victor.  Oklahoma made a hash out of what should have been an easy (and comfortable) win.  The Sooners committed four turnovers, which might have helped explain the tight score if not for the fact that West Virginia matched them, giveaway for giveaway.  Part of OU's problem was ineffective QB play as Trevor Knight failed to find his rhythm.  Coach Stoops might have to rethink Blake Bell's backup role after this; if Knight can't even handle the WVU defense, he's in for a rude awakening as the season progresses. (Dis)Honorable Mention: Michigan State 21, USF 6 in East Lansing So many choices here…Cal barely edged mighty Portland State, and NC State almost dropped one to Richmond.  But as awful as South Florida looked in week 1, Michigan State somehow made the Bulls look like a legitimate FBS team.  The Spartans need to do better…the two teams combined for 420 yards. ***** Upset of the Week: BYU 40, Texas 21 in Provo The Texas Longhorns couldn't contain BYU quarterback Taysom Hill in an ugly upset loss (AP/ Bowmer) It can't be anyone other than BYU here, not only for the magnitude of the upset (folks were starting think Texas was "back") but also for the size of the whoopin' the Cougars delivered.  This wasn't your standard, "hey we hung with a good team and managed to beat them late in the game by giving ourselves a chance."  This was, "wow…a team picked by many to win the Big 12 just coughed up 679 yards to a program coming off of a loss to Virginia (again…sorry, Cavs). BYU rushed for 550 yards and quarterback Taysom Hill had 259 of those, along with a video game-like 15.2 yards per carry average.  Come on, Texas.  Jamaal Williams had a fantastic day, compiling 182 yards on the ground, and it barely registers in the box score– that's how wild BYU's offensive numbers are. Defensively the Cougars didn't exactly shine, but they were more than good enough to get the job done.  Longhorn fans can't put too much blame on QB David Ash, who actually put together a decent night under center.  This crushing loss is largely due to an inability to stop the other guy, a fact that should scare everyone in burnt orange given what they'll have to face in Big 12 play.  Baylor, anyone?  Scapegoating Manny Diaz was a high-profile but misdirected action.  While I can understand the reasoning behind the move, there's more going on in Austin than just a want for a new DC. In any event, BYU should be proud of this bounce-back effort.  Although it can't wholly eclipse their week 1 disappointment, the Cougars now have new life and find themselves back on the nation's radar.   AND THE GAME BALLS GO TO… Strobl: Devin Gardner, QB- Michigan As a Buckeye fan, all of this pro-Michigan sentiment is giving me hives.  But I can't deny Gardner's week 2 impact on the 2013 college football landscape.  Coming into the game as an underdog, the Wolverines were generally regarded as "just another Big Ten team" while the Irish were the BCS contenders.  Coming out of the game, the Irish looked pretty ordinary, thanks mostly to Gardner's dual-threat ability.  On the ground, the junior amassed 82 yards and a touchdown on just 13 carries, leading his team in rushing.  Through the air, Gardner added four more scores and 294 yards while completing nearly 64 percent of his throws.  Frankly, he made Notre Dame's decision to end it's "rivalry" with Michigan look like a sound decision. John Mitchell: Aaron Murray, QB- Georgia Murray's performances in big games have been heavily scrutinized, and it was once again after his Bulldogs came up short on the road to Clemson. But, in an absolute must-win for survival in the SEC East and National Title race, Murray had one of the better performances of his career against South Carolina. He shredded the highly touted Gamecocks defense, completing 17-of-23 passes for 309 yards and 4 touchdowns. The Bulldogs' offensive line kept him upright for the majority of the evening, and when given time the South Carolina secondary had absolutely no answer for him. His performance helped put Georgia in the driver's seat of the eastern division race, just a week after all hope seemed to be lost in Athens. Zach Bigalke: Taysom Hill, QB- BYU In a game the Cougars had to win to keep their BCS Buster dreams alive, quarterback Taysom Hill rebounded from an ugly game at Virginia to engineer an eye-opening upset of the Texas Longhorns on Saturday. Bulling through the Texas defense time and time again, Hill finished the contest with 259 rushing yards and three ground scores. The total yardage was 13 yards from setting the BYU single-game rushing record for a quarterback, set back in 1962 by Eldon Fortie, and it was the second-best mark by a quarterback in a 21st-century game. Adding just 129 yards through the air, Hill would never be confused for a LaVell Edwards quarterback. But while this ground-heavy style of offense hasn't held sway in Provo for over half a century, Hill simply got the job done in a must-win showdown against a top-shelf foe.
Original Story:
http://feedproxy.google.com/~r/isport...
THE BACKYARD
BEST OF MAXIM
RELATED ARTICLES
Georgia Bulldogs senior quarterback Aaron Murray led his Dawgs to arguably his biggest regular season win in his four years in Athens, as the native of Tampa Bay, Florida completed seventeen passes on twenty-three attempts and finished the game with 309 passing yards, 4 touchdowns, and no interceptions, which was good enough to be named the Walter Camp Player of the Week. As impressive...
  The Tailgater College Football Rankings: Top 25, Week 2 And the craziness continues.  Lose to Virginia in week 1, topple Texas seven days later– makes sense, BYU.  Illinois, which barely survived what should have been a week 1 cakewalk, blew out the Bearcats.  Most notably, the Gators ruined their own chances in Miami as the 'Canes scored a huge early-season win and leapt...
This season I am writing the weekend recap of the top quarterback performances among Golden Arm Award candidates. The award only keeps track of senior players, so you won't see any Johnny Manziel, Teddy Bridgewater or Braxton Miller talk here, but there are some really good quarterbacks out there to keep tabs on. My top five performers round-up will be posted every Monday by Athlon...
The Point After Touchdown for this week breaks down Georgia and Miami (FL)'s big win and looks at whether it's time for Texas head coach Mack Brown to step aside. WHO'S HATING NOW: Georgia's Aaron Murray has heard it all in his career. He's been unable to consistently win against top 10 teams and going into Saturday he still had not won against South Carolina in his career...
Covering Dixie Like Mildew - The SEC. All your crystal football are belong to us.  This week's Game of the Century.  The hype machine over next Saturday's Alabama vs. Texas A&M game kicks into hyperspeed with Andrew Gribble's look at how Alabama's running game will deal with Texas A&M's run defense. (Al.com) I Will Follow. Michael...
David Green (right) with BFF David Pollack (left). David Greene, the winningest quarterback in Georgia history, and BFF of David Pollack had some things to say about the critics of current Georgia QB Aaron Murray. More to the point, he had some things to say about the criticism that Murray can't win the "Big Game."  "It's unfair how guys get labeled...
Week two of the college football season was jam-packed with great games that kept fans on the edge of their seats – Georgia's Aaron Murray had a spectacular game against Steve Spurrier's Gamecocks and the Michigan vs. Notre Dame showdown came down to the wire. But the most surprising result came from the Texas vs. BYU matchup – the Cougars stomped the Longhorns, 40-21. The...
Welcome to the Fallout - Week two edition.  Hail to the Victors.  Michigan defeats Notre Dame 41-30 in the last scheduled meeting between the two schools at Michigan Stadium. (The Detroit Free Press) At 98 we all rotate.  Michigan starting quarterback Devin Gadner awarded the honor of wearing the number 98 of legendary Wolverine halfback Tom Harmon. Harmon was...
Georgia likes this view a whole lot better. After being forced to rally the last two years to capture Southeastern Conference East titles, the No. 9 Bulldogs seized the early lead in the division race with a 41-30 victory over South Carolina. Georgia (1-1, 1-0 SEC) moved up two spots from No. 11 in the Associated Press rankings Sunday, while the Gamecocks (1-1, 0-1) slipped seven...
CLICK HERE to download. The second week of the college football season turned out to be pretty interesting. Miami and Michigan put together some big wins at home, while Texas and USC are left trying to clear out from the rubble after embarrassing losses. This week's episode marks the return of Aaron Torres to the podcasting world as he joins Kevin to recap some of the bets...
College Football News

Delivered to your inbox

You'll also receive Yardbarker's daily Top 10, featuring the best sports stories from around the web. Customize your newsletter to get articles on your favorite sports and teams. And the best part? It's free!
THE COLLEGE FOOTBALL HOT 10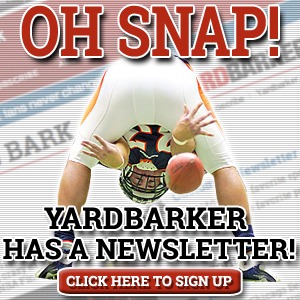 Latest Rumors
The Backyard

Today's Best Stuff

For Bloggers

Join the Yardbarker Network for more promotion, traffic, and money.

Company Info

Help

What is Yardbarker?

Yardbarker is the largest network of sports blogs and pro athlete blogs on the web. This site is the hub of the Yardbarker Network, where our editors and algorithms curate the best sports content from our network and beyond.