Found October 26, 2012 on BeyondUSports:
TM7: Disappointment Among Black Community in Failed AthletesAs I depart from my usual position of silence on race dynamics (being a strong advocate of diversity and unity across all racial, social, cultural, and economic lines), there is a compelling angle to the story of Tyrann Mathieu from inside the black community that I would feel remiss not share with Beyond U Sports. Acknowledging the existence of an overall or general disappointment in Tyrann Mathieu's behavior, and inspired by a number of conversations and reports on the matter, I'd like to discuss what's behind the overwhelming disappointment blacks feel in what is ultimately becoming of Tyrann Mathieu. When you look at TM7, you see a guy that a year ago (in a relative sense) pretty much had the world in the palm of his hands. One of the nation's biggest playmakers, a Heisman candidate, and a media darling, you looked at Mathieu and saw the potential for a bright and shiny future. Then lightning strikes, he's dismissed from the LSU football team, and his story is told to millions. A darling to the masses and a true talent on the gridiron, Mathieu garnered the sympathy, prayers, and support of college football fans everywhere. He would embark upon turning his life around in an effort to return to the football field. Early indications pointed to the Honey Badger being well on his way to rehabbing his character and making a return to football, whether that would have meant returning to LSU or entering the NFL draft. But just when things seemed to be looking up, he's arrested; and now his inability to control his affiliation with drugs is what he's known for. photo credit: lsureveille.com As news broke, reactions began to pour in from television, radio, and social networks. The overriding sentiment about Tyrann Mathieu regarding a football field is that he is finished. Unique upon these reactions are of those from within the black community who support black athletes, but are beyond tired of seeing them fail. Here's why. In the black community, athletics predominate. Role models are not always found in corporate or political sectors of society, but rather from the sports and entertainment industries with whom many supporters are more easily able to identify. African-Americans are protective of black athletes and have a sense of urgency for them to succeed because there is not statistically a favorable outlook for young black males in other professional arenas. Sports has made millionaires and provided for the families of thousands of blacks who, if not for athletic ability, may not have been able to avail themselves of the economic prowess and influence available to them as professional athletes. The everyday African-American sports fan sees Tyrann Mathieu, a Heisman finalist from a year ago, as one who had gained admiration from the college football world and mainstream media. They know him to be of the select few who stood to secure he and his family's future (through football, endorsements, etc). Many desire the athletic gifts/charisma of a guy like the Honey Badger. But he becomes another tragic story merely because he didn't have his house in order. Windows of opportunity of the proportion that Tyrann Mathieu faced are not everyday occurrences and don't very often present themselves. And now, instead of being in a position to improve the environment of his loved ones, Mathieu may be relegated to the very environment that he doesn't appear prepared to exist in without getting into trouble. For many African-Americans who were appreciative of what Mathieu had already achieved, it's inconceivable that he would seemingly flush such an opportunity down the drain. Paging Myron Rolle. BeyondU Sports BeyondU Sports - Best College Sports Blog Site
Original Story:
http://feedproxy.google.com/~r/Beyond...
THE BACKYARD
BEST OF MAXIM
RELATED ARTICLES
Tyrann Mathieu Arrested on Marijuana ChargesFormer LSU star cornerback Tyrann Mathieu was arrested, Thursday, for possession of marijuana. Police were called to an apartment complex in Baton Rouge and, once inside, noticed the smell of marijuana coming from Mathieu's apartment.  The police found about 10 bags of marijuana, along with additional drug paraphernalia. Others arrested...
According to TMZ, the honey badger aka Tyrann Mathieu was arrested for drugs. TMZ reports that Mathieu had this on his record: According to the police report, cops were called to an apartment around 3:30 PM after an alleged confrontation. When officers arrived to the scene, Honey Badger answered the door … and cops say they could smell a strong odor of weed. Tyrann Mathieu of the...
According to WFAB four former LSU players including Jordan Jefferson, Tyrann Mathieu, Karnell Hatcher, and Derrick Bryant were arrested on Thursday on drug-related charges. Honey Badger (Tyrann Mathieu) and former LSU QB Jordan Jefferson are among the most recognizable former standouts on the LSU squad. According to the report: Mathieu and Jefferson were charged with Simple Possession...
Former LSU football standouts Tyrann Mathieu and Jordan Jefferson have been released from a Baton Rouge jail after their arrests on marijuana charges. Mathieu, who was a one-time Heisman Trophy finalist, played cornerback until he was dismissed from the team in August after reportedly failing a drug test. Quarterback Jefferson has been playing in the Canadian Football League. They...
Welp. BATON ROUGE, LA (WAFB) - Four former LSU football players were arrested Thursday on drug-related charges, officials said. Jordan Jefferson, Tyrann Mathieu, Karnell Hatcher, and Derrick Bryant were all charged with possession with intent to distribute marijuana, law enforcement sources told WAFB's Jim Shannon and Kiran Chawla. The former players were in the process of being...
Police say they arrested four former LSU football players, including one-time Heisman Trophy finalist Tyrann Mathieu, after finding them with marijuana at Mathieu's apartment. Baton Rouge police on Thursday said they also arrested ex-LSU quarterback Jordan Jefferson, and former defensive backs Derrick Bryant and Karnell Hatcher. Police say Mathieu, Jefferson and Hatcher were...
A sad story came out of Baton Rouge today, as four former LSU football players, including former Heisman finalist Tyrann Mathieu and last year's starting quarterback Jordan Jefferson were arrested on marijuana related charges. This, via WAFB in Baton Rouge: Jordan Jefferson, Tyrann Mathieu, Karnell Hatcher, and Derrick Bryant were all charged with marijuana-related offenses...
Tyrann Mathieu appeared poised to become the latest in a wave of elite defensive backs to come from the LSU Tigers to get drafted in the first round of the NFL Draft. He had the talent. He had the speed. He had the explosiveness. Mathieu looked ready to become the next Morris Claiborne, Patrick Peterson and LaRon Landry all rolled into one superstar player. He was that damn good...
Four former LSU football players were arrested on Thursday on drug-related charges, according to a published report. Jordan Jefferson, Tyrann Mathieu aka "The Honey Badger", Karnell Hatcher, and Derrick Bryant were charged with possession of marijuana, according to a law enforcement sources in a report by WAFB (Baton Rouge). Mathieu, a defensive back and Heisman Trophy...
Tweet     The LSU Tigers football team is off this week ahead of their big showdown with top-ranked Alabama next Saturday but a few former members of the program made the news today, for the wrong reasons. WAFB News has the details. At approximately 3:30pm Thursday, officers were dispatched to an apartment at 262 West [...]
Tigers News

Delivered to your inbox

You'll also receive Yardbarker's daily Top 10, featuring the best sports stories from around the web. Customize your newsletter to get articles on your favorite sports and teams. And the best part? It's free!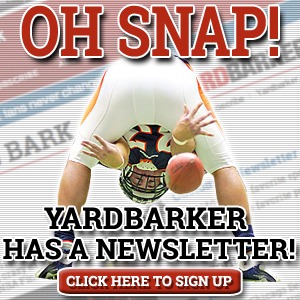 Latest Rumors
Best of Yardbarker

Today's Best Stuff

For Bloggers

Join the Yardbarker Network for more promotion, traffic, and money.

Company Info

Help

What is Yardbarker?

Yardbarker is the largest network of sports blogs and pro athlete blogs on the web. This site is the hub of the Yardbarker Network, where our editors and algorithms curate the best sports content from our network and beyond.