Found September 11, 2012 on SCACC Hoops:
PLAYERS:
Colin Summers
,
Spencer Bishop
,
Michael Campanaro
,
Daniel Mack
,
Nikita Whitlock
,
Josue Matias
,
Tre' Jackson
,
Bryan Stork
,
Menelik Watson
,
Tanner Price
TEAMS:
Wake Forest Demon Deacons
,
Florida State Seminoles
Wake Forest had their normal media today at 11 on campus. That means that there is plenty of information and notes coming out about last weekend as well as this coming weekend. Basically this is your one place stop for all Wake information up to this point in the week so far.
The biggest thing so far is that Nikita didn't practice last night according to My Take on Wake, and it just came out a little while ago that Wake won't update his injury until Thursday's depth chart release
Also in that Dan Collins article was the following:
Pretty sure Kevin Johnson will be cleared, and Colin Summers and Spencer Bishop returned against UNC. I'll batten all that down for sure tomorrow at the gathering to eat chicken and talk football.
On another training room front, junior defensive end Zach Thompson will have his eye examined tomorrow, at which time we shuold know more about the possibility of him playing at FSU.
That's pretty good news because the Deacs can't afford many more injuries at this juncture.
Coach Grobe Quotes
Wake Forest Football

@Wake_FB

"If you picked an MVP through the first two games, you'd be hard pressed not to take Alex Kinal" -- Jim Grobe on his punter

11 Sep 12
Wake Forest Football

@Wake_FB

"I'm not happy with the total yardage of our running game but we've had some good runs in the redzone for TDs. We're young on the (cont)...

11 Sep 12
Wake Forest Football

@Wake_FB

... on the line but we're getting better and more comfortable each time out." -- Grobe in the running game.

11 Sep 12
Player Quotes (From the Official Wake Forest Twitter)
Wake Forest Football

@Wake_FB

Camp: I was saying before the season started that Tanner was going to have a breakout year. He's becoming one of the nation's elite QB

11 Sep 12
Wake Forest Football

@Wake_FB

Camp: I get excited playing in front of other people's fans. It's an us against the world mentality

11 Sep 12
Wake Forest Football

@Wake_FB

Daniel Mack: I kind of like being the underdog. We know we belong on the field with Florida State

11 Sep 12
Mike Olson:
Wake Forest Football

@Wake_FB

Mike Olson: We're seen as a school that doesn't have the elite prospects of Florida State, but that gives us a chip on our shoulders

11 Sep 12
Tomahawk Nation Articles about Wake (Must Reads)
They play an "Okie" front which has a heads up nose (not shaded to either side) so 6'0, 260-pound nose guard Nikita Whitlock can go to either side on any given play depending on which way the defense is called. Combine that with his quickness and it's very difficult for a center to snap it, get back into his stance, figure out which way he's going and block him.
The problem that centers have had in past is not being strong enough to handle a nose crossing their face playside. I tend to believe Stork has enough bulk to handle it. Barron would worry me some and I think this scheme could slow the running game down. I don't anticipate any assistance from the playside guard being necessary. Any backside stunts will get owned by sophomore guards Josue Matias or Tre Jackson just because they are animals.
The new-look starting unit, consisting of Cam Erving, Josue Matias, Bryan Stork, Tre Jackson, andMenelik Watson, will have to prove that they can handle the nuance of the Wake defense, which relies on a variety of shifting, angling, and stunting to keep opposing offensive lines off balance and guessing. As we've discussed, there's not too much doubt that the Seminoles' blockers possess impressive athleticism and size compared to last year. However, it remains to be seen how they will perform when presentedwith a defense that will test their ability to process, communicate, and adjust on the fly.
The toughest target for the Seminole line to hone in on will likely be Wake Forest nose guard Nikkita Whitlock. While Whitlock's status for Saturday remains somewhat up in the air as he deals with an injury, Fisher remains extremely leery of the 5'11 junior.

 

 

"Oh, he'll play," Fisher said when asked about Whitlock and his status. As to what Whitlock brings to the field if he does indeed play, Fisher seems to think quite highly of him. "He sets the tone inside, he's quick, he's athletic. He's one heck of a football player."
Wake Offense v. UNC Defense: I have always been a big fan of QB Tanner Price. Price has very good accuracy, great touch, a good arm, and really does the little things well. Wake did a good job moving the pocket and price throws well on the run. Carolina did not rough him up at all. Some of these throws he makes are ridiculous.
Wake Defense v. UNC Offense: Wake's defense is a good unit. UNC missed opportunities, seemed out of sync. QB Brynn Renner was concussed at the end of Q1 and missed time, and stud RB Gio Bernard missed the game with a knee injury. Before the concussion, UNC was averaging 6.6 yards/play. After? 4.9. Just 35-percent more before the injury.
Miscellaneous Tidbits
Since 2001 there had only been one game (Sam Swank vs. Army in 2007) that a Wake Forest punter downed five balls inside the opponents 20. Alex Kinal has done it twice in his first two career starts #AUSSIEAUSSIEAUSSIE #AYEAYEAYE

Wake Forest has 31 players hailing from the state of Florida. No doubt nearly all of them want revenge on FSU for not recruiting them.

Wake is ranked 42nd in the nation according to the USA Today poll this week. First time in nearly a year that the Deacs have received votes (October 11th, 2011).

Michael Camapanaro leads the country in receptions with 22 through 2 games. Those 22 are the most ever by a Wake Forest player through two games.

Wake Forest is 21-117-1 all-time against ranked opponents, but each of the last two wins over a ranked team have come against FSU. Last year (#23), and in 2008. Overall, the Deacs are 1-8 vs. ranked FSU teams in Tallahassee

The Deacs are 1-31 all-time against top 5 teams and have lost 30 straight games. The last game against a top 5 opponent was Louisville in the 2007 Orange Bowl.

With 9 wins Tanner Price is one win away from moving into the top-ten all-time in career wins at Wake Forest.

Wake Forest is 5-8 under Jim Grobe in games airing on ESPN. (ESPN, 12 ET).

The Deacs are 21-43 under Jim Grobe when the opponents score first, yet 2-0 this year.

In the weirdest and final stat, Wake Forest is 26-38 when accumulating fewer penalty yards than their opponent, yet 40-28 with more penalty yards. The Deacs are 4-1 (1-0 this year) under Coach Grobe when they accumulate the same amount of penalty yards as an opponent.
This article was originally published at http://www.BloggerSoDear.com. If you are interested in sharing your website's content with SCACCHoops.com, Contact Us.
Original Story:
http://www.scacchoops.com/tt_NewsBrea...
THE BACKYARD
BEST OF MAXIM
RELATED ARTICLES
TALLAHASSEE, Fla. Chris Thompson is trying to treat this week as he would any other game week. Except he cant. Thompson was FSUs star tailback in 2010, rushing for a team-leading 845 yards. But his junior season was halted just five games in, as he broke two vertebrae in his back in the first quarter at Wake Forest. Just facing them after my injury, its a pretty emotional time...
There is no excuse for losing to Wake Forest. With that said, don't let North Carolina's 27-28 loss to the Demon Deacons fool you. The Tar-Heels are still a solid team that has the talent to give Louisville some trouble on Saturday afternoon. We had all hoped that both teams would be undefeated entering week three, because North Carolina is the one and only non-conference opponent...
Tyree Harris had a bye week, so he decided to take in Wake Forest's key ACC matchup with in-state rival North Carolina. The 6-foot-2, 184-pound wide receiver who committed to the Demon Deacons in July plays at Marietta High School in the Atlanta metro area. Harris got to witness an epic Wake Forest comeback win with close to 30,000 in attendance at Groves Stadium.
Wake Forest's coaches could not have picked a better game for Chris Register and other recruits to attend. Their thrilling 28-27 win over in-state rival North Carolina on Saturday was big for the program in a number of ways...
Can Wake Forest continue it's recent dominance over Florida State?
Florida State opens their ACC schedule on Saturday with a home game against Wake Forest. The Demon Deacon's enter the game 2-0 on the year and defeated FSU last year in a close game. The 'Noles had five turnovers last year and that certainly can't be repeated. Here is a look at the Wake Forest team.
At the beginning of July, DeaconSports spoke with Wake Forest commitment Brad Watson and he was pretty clear in his message. He didn't plan on wavering in his commitment to Jim Grobe's program. He left little doubt about that. While he remains committed, he may take other official visits.
College Football News

Delivered to your inbox

You'll also receive Yardbarker's daily Top 10, featuring the best sports stories from around the web. Customize your newsletter to get articles on your favorite sports and teams. And the best part? It's free!
THE COLLEGE FOOTBALL HOT 10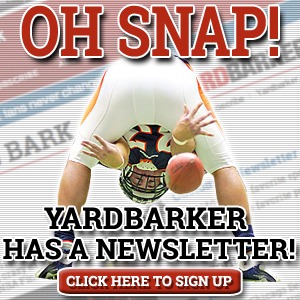 Latest Rumors
The Backyard

Today's Best Stuff

For Bloggers

Join the Yardbarker Network for more promotion, traffic, and money.

Company Info

Help

What is Yardbarker?

Yardbarker is the largest network of sports blogs and pro athlete blogs on the web. This site is the hub of the Yardbarker Network, where our editors and algorithms curate the best sports content from our network and beyond.