Found September 28, 2012 on BeyondUSports:
PLAYERS:
Riley Nelson
,
Taysom Hill
,
Keith Wenning
,
Stephen Morris
,
Mike Glennon
,
Kirk Ferentz
,
Max Shortell
,
James Franklin
,
Gary Pinkel
,
Geno Smith
,
Nick Florence
,
Tavon Austin
,
Dana Holgorsen
,
Braxton Miller
,
William Gholston
,
Le'Veon Bell
,
Mark Dantonio
,
Andrew Maxwell
,
Sammy Watkins
,
Andre Ellington
,
DeAndre Hopkins
,
Chase Rettig
,
Tajh Boyd
,
Logan Thomas
,
Munchie Legaux
,
David Ash
,
J.W. Walsh
,
Joel Stave
,
Montee Ball
,
Matt Scott
TEAMS:
Notre Dame Fighting Irish
,
Boise State Broncos
,
Brigham Young Cougars
,
Ball State Cardinals
,
Kent State Golden Flashes
,
Georgia Tech Yellow Jackets
,
Miami Hurricanes
,
North Carolina State Wolfpack
,
Iowa Hawkeyes
,
Missouri Tigers
,
West Virginia Mountaineers
,
Baylor Bears
,
Ohio State Buckeyes
,
Michigan State Spartans
,
Boston College Eagles
,
Clemson Tigers
,
Virginia Tech Hokies
,
Cincinnati Bearcats
,
Oklahoma State Cowboys
,
Texas Longhorns
,
Wisconsin Badgers
,
Oregon State Beavers
,
Arizona Wildcats
Week 5 Picks – Focus on Noon Kickoffs
My two biggest issues this season have been with weeknight games and with the Pac 12. Washington's performance last night killed two birds with one stone. The Huskies' win is a perfect way to start my week. I'm back to a 50% winning percentage and ready to show continued improvement. Friday night provides another opportunity for me to remove a large monkey from my back. The state of Utah has been a terror all season and my 0-5 record has been tough to figure out. Hawaii will break that streak tonight and provide a springboard into the weekend. Follow me on Twitter @JPickens15 if you want to see me brag after my victories.
hdnux.com
This Saturday may not have the marquee matchups I would like to see, but there are several interesting storylines. Conference play is upon us and I am eager to prove that my knowledge gained over the past four weeks is sufficient to pick some winners. While my picks are still spread out during Saturday, there is a significant focus on the noon games. I have five picks that kickoff at noon so make sure to wake up early and prepare. I'm very excited about my trip to Soldier Field next weekend to watch Miami battle Notre Dame. If the Canes can survive against NCState tomorrow, the game will feature a Top 10 ranked 4-0 Irish against the improving 4-1 Hurricanes.
Hawaii +26 at BYU   8pm – FRIDAY – ESPN
It has been well documented. I am 0-5 in games involving teams from Utah. That will change tonight. BYU was pitiful on offense against Boise State and the Cougars aren't sure who will be starting at QB Friday night. If Riley Nelson goes, he won't be 100% and will struggle in the passing game once again. If freshman Taysom Hill starts, the BYU offense will be run heavy and will need longer drives to score. Hill's passing ability leaves a lot to be desired. Hawaii only needs to score a few times to keep this game with four touchdowns. The Warriors defense has really struggled this season, but I have faith in Coach Norm Chow's ability to put a couple of touchdowns on the board. Chow spent over two decades in Provo and will have a few tricks up his sleeve. BYU wins at home, but the Cougars don't have enough offensive firepower to win by 27.
Ball State -2 at Kent State   12pm – ESPN3
I have been very impressed with Ball State's offense the past two weeks. QB Keith Wenning has been terrific this season and RB Jahwon Edwards is averaging over 100 yards a game on the ground. Ball State has already beaten Indiana and South Florida and looks to be more impressive this season. Kent State played well defensively against Buffalo, but the Golden Flashes offense sputtered for most of the game. Two QB's will likely play for Kent State, but neither is close to as talented as Ball St's Wenning. The inability to settle on a starting QB will lead to consistency issues for KSU. Kentucky beat Kent State handily a few weeks ago and I wouldn't be surprised if Ball State did the same.
NC State at Miami -2   12pm – ESPNU
Hurricane fans will make a much better showing in the stadium this Saturday. The win over Georgia Tech energized the program and Coach Al Golden will have his team ready and confident. QB Stephen Morris will build on his career best performance last week. Tennessee was able to beat NC State in the passing game and I expect Miami to have similar success. Wolfpack QB Mike Glennon has experience and will test the Canes secondary, but the Canes get the job done at home. Miami's overall team speed is the difference. For those of you Canes fans worried about my jinx factor, keep in mind Miami is 2-1 in games I've picked this year.
Minnesota +7 at Iowa   12pm – ESPN2
Nothing made me happier this week than seeing the continued disrespect of the Gophers. Opportunity awaits. Minnesota is 4-0 and vastly improved this season. Jerry Kill's defensive line is playing lights out and Iowa has been struggling all season. The Hawkeyes lost to Central Michigan at home last week and Kirk Ferentz's team has been searching for an identity all season. Minnesota is confident and QB Max Shortell has been terrific in the past few games. Look for the Gophers to have a chance to win in the fourth quarter, possibly setting up an epic matchup of undefeated Big Ten teams – Minnesota and Northwestern.
Missouri +3 at UCF   12pm – FSN
It's time for Missouri and QB James Franklin to bounce back and resurrect their season. The Tigers have suffered two big losses as an introduction to life in the SEC. As long as Gary Pinkel can get his team focused, I expect the Tigers to handle UCF on the road. The Knights have struggled against BCS competition in recent years and despite the strong start by QB Blake Bortles, I see weaknesses in this UCF team. The Knights haven't run the ball as well as in recent years and Missouri's power up front will be a factor. Look for Missouri to pull away in the second half, having grown stronger mentally after facing tougher competition in recent weeks.
Baylor at West Virginia -11   12pm – FX
Geno Smith and company will not let me down two weeks in a row. I've seen Baylor up close and know their offense can score on anyone. The problem for the Bears is their extremely soft defense, which allowed 42 points against UL Monroe this past Friday. Baylor is also prone to turnovers and if QB Nick Florence throws a few interceptions early, this game will get out of hand quickly. West Virginia brings speed on the perimeter that the Bears haven't seen this year. WR Tavon Austin should have a big afternoon and the Mountaineers will be looking to make an impression on the Big 12. Coach Dana Holgorsen was disgusted with the level of execution from his offense against Maryland. His team will be ready Saturday and WVU wins by three touchdowns.
Ohio State at Michigan State -2.5   330pm – ABC
The Spartans have one of the nation's best defenses. It's a tall order to try to stop the Buckeyes talented QB Braxton Miller, but I think William Gholston and friends are up to the challenge. MSU will crowd the box and force Miller to beat them in the air. Ohio State hasn't been impressive so far in 2012 and this is the first game on the road for Urban Meyer's club. Michigan State will have success in the running game with star RB LeVeon Bell. Mark Dantonio has his team's attention this week after a subpar showing last Saturday against Eastern Michigan. Michigan State plays well, eager to show the country the Notre Dame game was an aberration. QB Andrew Maxwell finally shows some growth and makes a few plays downfield.
Clemson -7 at Boston College   330pm – ESPN2
Clemson will not let FSU beat them twice. The Tigers are 2-3 touchdowns better than Boston College, but the spread is so small because people doubt Clemson's ability to bounce back from a loss. Sammy Watkins will miss the game, but the Tigers still have the breakaway speed of RB Andre Ellington and the downfield talent of WR DeAndre Hopkins. Clemson's overall speed makes this game a mismatch. While BC can move the ball in the passing game led by QB Chase Rettig, the Eagles defense won't have an answer for this Chad Morris led offense. BC lost to Northwestern and Miami and looked average in both contests. Clemson QB Tajh Boyd will play well and Coach Dabo Swinney will finally prove he can motivate his team on the road.
Virginia Tech vs Cincinnati +7   330pm – ESPNU
This is the ultimate test of the Transitive Property. Normally it can't be relied upon, but in this case I have to mention it. Pitt beat Virginia Tech handily and forced Logan Thomas into numerous turnovers. Cincinnati dominated Pitt from the first play of the game and routed the Panthers. VT is favored by seven solely based on their reputation from recent years. Logan Thomas is an average QB and one of the nation's most overrated players. Cincy QB Munchie Legaux is a better playmaker and the Bearcats running game should have success against the Hokies front seven. This is a neutral site matchup at FedEx Field. Hopefully Cincy fans do their part and prevent this from being a predominantly Hokie crowd.
Texas -2.5 at Oklahoma State   750pm – FOX
The strength of Texas on defense is enough for the Longhorns to win on the road. UT QB David Ash has started to show significant signs of improvement in 2012 and his confidence is high coming into this game. Oklahoma State's weaknesses were exposed in a loss against Arizona. Either Wes Lunt or JW Walsh will get the start at QB for the Cowboys, but both are young and inexperienced. Texas will force a few turnovers and will pound the ball with its stable of talented running backs. The Longhorns realize this game could be a turning point for this program – a signal to the Big 12 and the country that this Texas team is for real. Mack Brown's team gets the win on the road.
Wisconsin +11.5 at Nebraska   8pm – ABC
Wisconsin can't be kept down forever. The Badgers showed signs of life last week with Joel Stave at QB. Star RB Montee Ball has been cleared to play and will have a big night. Nebraska's defense was gashed by UCLA and I expect Wisconsin to make enough plays to stay close. The Huskers running game is dynamic and difficult to stop, but the "passing" of QB Taylor Martinez is still inconsistent. Nebraska wins by 3-7.
Oregon State at Arizona -3  10pm – PAC 12 Network
Arizona played far better against Oregon than the score showed. The Wildcats can move the ball on anyone and I'm looking for a bounce-back from Rich Rod. Oregon State has been impressive this season, but the Beavers now have a target on them given the rise in the rankings. Arizona takes advantage of a rowdy home crowd at night and QB Matt Scott wins it in the 4th quarter.
BeyondU Sports BeyondU Sports - Best College Sports Blog Site
Original Story:
http://feedproxy.google.com/~r/Beyond...
THE BACKYARD
BEST OF MAXIM
RELATED ARTICLES
So, this Longhorn offense is scoring on all cylinders. Great run game, great passing game. That's good for 7th in the nation. It's being ran by, David Ash? Yes, David Ash. After being thrown in as a freshman last season because the Garrett Gilbert project didn't pan out like Texas thought it would, he had [...]
STILLWATER —  David Ash came up big Saturday night. Real big. Ash hit tight-end DJ Grant with a crossing pattern on a fourth down for a 29-yard gain, followed by 34-yard long toss to Mike Davis, setting up Joe Bergeron's 2-yard touchdown run with :29 seconds left as the No. 12 Texas Longhorns defeated the [...]
STILLWATER, Okla.One of these days, maybe even sometime this season, we could find out what kind of team Texas is. And with it, we might soon discover how Texas feels about its quarterback, too. The Longhorns ignored and leaned on all in the last 5 minutes - David Ash Saturday night. The result was a 41-36 win against Oklahoma State in front of 56,709 fans at Boone Pickens Stadium...
Mack Brown will try to convince his players they should be afraid of Oklahoma State, and he will try to do it by reminding them that beating Ole Miss is not the same as beating Oklahoma State. "We've had better personnel than the three teams we've played," he said. The implication is that this will no longer be the case. It might make for timely coaching rhetoric...
"Is Texas back?" The Longhorns provided some unexpected answers to one of the biggest questions in the Big 12 heading into this season in Saturday night's 41-36 win over Oklahoma State in Stillwater. While OSU lambasted UT's heralded defense, the 'Horns responded to every challenge thrown their way offensively. UT offensive coordinator Bryan Harsin poked...
David Ash threw three touchdown passes to Jaxon Shipley and Joe Bergeron scored on a 2-yard run with 29 seconds left to lift No. 12 Texas to a 41-36 win against Oklahoma State on Saturday night. Ash directed the Longhorns (4-0, 1-0 Big 12) on a 75-yard scoring drive after the Cowboys (2-2, 0-1) had taken the lead on Quinn Sharp's 23-yard field goal with 2:34 to play. Ash connected...
Oklahoma State's Cowboys and their fans are ready for Texas, whether the NCAA or whoever has banned the noise making paddles once the ball has been snapped or not. Here are my three bold predictions and yes, they all include OSU winning. It's not just because I am Okie State Alum, it's because OSU has prepared for this game.1. Texas has a lot to learn on the road. Although...
David Ash threw three touchdown passes to Jaxon Shipley and Joe Bergeron scored on a 2-yard run with 29 seconds left to lift No. 12 Texas to a 41-36 win against Oklahoma State on Saturday night. Ash directed the Longhorns (4-0, 1-0 Big 12) on a 75-yard scoring drive after the Cowboys (2-2, 0-1) had taken the lead on Quinn Sharp's 23-yard field goal with 2:34 to play. Ash connected...
STILLWATER, Okla. (AP) -- David Ash threw three touchdown passes to Jaxon Shipley and Joe Bergeron scored on a 2-yard run with 29 seconds left to lift No. 12 Texas to a 41-36 win against Oklahoma State on Saturday night. Ash directed the Longhorns (4-0, 1-0 Big 12) on a 75-yard scoring drive after the Cowboys (2-2, 0-1) had taken the lead on Quinn Sharp's 23-yard field goal...
THE PICKS Ole Miss Rebels at #1 Alabama Crimson Tide Brendan's Pick: Barring an unprecedented slip up or collapse it's pretty obvious Alabama isn't losing a game this season, unless LSU manages to top them at home, but this might be their biggest mismatch of the season. Texas had their way with the Rebels' defense and the Tide will do the same. Expect...
Coach Mike Gundy insisted he had no reason to hide whether starting quarterback Wes Lunt would be able to return from a knee injury in time to face No. 12 Texas in Oklahoma State's Big 12 opener on Saturday night on FOX. That doesn't mean he's going to tell anyone about it. After Gundy promised to update Lunt's status Friday as part of Oklahoma State's new policy...
Week 4 Maxwell Award Elite In a shootout against Clemson, QB EJ Manuel gave Florida State a commanding win, earning our Maxwell Award Player of the Week. Manuel completed 27 out of his 35 passes for 380 yards and two touchdowns, adding 102 rushing yards on just 11 attempts. The senior now has eight passing touchdowns with one interception and a 73.4 completion percentage. Cobi...
College Football News

Delivered to your inbox

You'll also receive Yardbarker's daily Top 10, featuring the best sports stories from around the web. Customize your newsletter to get articles on your favorite sports and teams. And the best part? It's free!
THE COLLEGE FOOTBALL HOT 10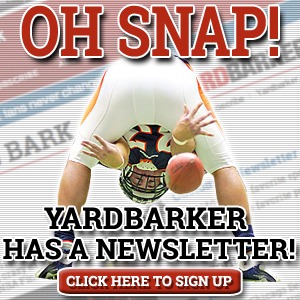 Latest Rumors
The Backyard

Today's Best Stuff

For Bloggers

Join the Yardbarker Network for more promotion, traffic, and money.

Company Info

Help

What is Yardbarker?

Yardbarker is the largest network of sports blogs and pro athlete blogs on the web. This site is the hub of the Yardbarker Network, where our editors and algorithms curate the best sports content from our network and beyond.