Found August 23, 2012 on SCACC Hoops:
PLAYERS:
Butch Davis
,
Bryn Renner
,
Giovani Bernard
,
Dwight Jones
,
Erik Highsmith
,
Eric Ebron
,
Travis Bond
,
Jonathan Cooper
,
Brennan Williams
,
James Hurst
,
Russell Bodine
,
Kareem Martin
,
Sylvester Williams
,
Shawn Underwood
,
Zach Brown
,
Kevin Reddick
,
Travis Hughes
,
Dion Guy
,
Gene Robinson
,
Tim Scott
,
Jabari Price
,
Tre Boston
,
Darien Rankin
,
Casey Barth
,
Thomas Moore
,
Jheranie Boyd
TEAMS:
North Carolina Tar Heels
Given all of the turmoil surrounding UNC's football team last year, the fact that they won seven games and made a bowl with the school firing Butch Davis a month before the season started and using interim coach Everett Withers (who had no head coaching experience before the season)  was pretty impressive. While the Tar Heels won't be eligible for the postseason this year, there is still a lot of optimism that new coach Larry Fedora can lead them to the top of the ACC once again. He definitely has some piece on the roster to help him get there.   Offense The early season buzz going around the ACC was Bryn Renner. If you want to get technical, Renner completed all of his 23 passes in his first start last year against James Madison. He was 22-23 in that game, and the one incompletion was an interception. In fact, through his first two games, Renner had seven incompletions, and four of them were interceptions. For the season, Renner completed 68% of his passes, 26 touchdowns, and 13 interceptions. Renner had four games last year where he threw to or more interceptions. If he can cut down on those interceptions, he would be in the conversation for best quarterback in the ACC. Speaking of being in the conversation for being the best at their position, you could easily argue that Giovani Bernard is there at running back. His freshman season was one of the best you will find, rushing for 1253 yards and 13 touchdowns, averaging over five yards per carry. The amazing thing is that he didn't have his first 20 carry game until the fifth game of the season. He also was a really good receiver too, catching 45 passes, good enough for third on the team. It will be interesting to see if he can top these gaudy numbers again this season. The biggest loss on offense is Dwight Jones at receiver. He and Renner formed a really nice combo last year as quarterback and receiver. Who could step up and fill in Jones's role this year? Erik Highsmith has a good shot of filling it. Highsmith was the second leading receiver on the team, finishing with 51 catches and 726 yards and five touchdowns. He actually had a higher yards per catch average than Jones did last year. Behind him, no receiver caught more than 14 passes. Jhearnie Boyd caught 14 passes, and averaged over 20 yards per reception. Tight end Eric Ebron also averaged over 20 yards per reception, but only caught 10 passes. He should have a bigger roles in the offense this season. You can make a good argument that the best offensive line in the conference is North Carolina's. The offensive numbers were much improved in 2011 compared to 2010, and the line had something to do with that. This year's offensive line returns four starters and a lot of experience. There is 93 total starts on this offensive line. It features three seniors in guards Travis Bond and Jonathan Cooper and tackle Brennan Williams. James Hurst is a junior, and is one of the best at his craft. The only new starter is at center, where Russell Bodine will take over. He actually started twice last year as a freshman. The only area the offensive line will need to improve on is sacks. The quarterbacks were sacked 27 times last year, but that was an improvement from 37 in 2010.   Defense The biggest question mark for North Carolina this season is how the defense adapts to the new 3-3-5 scheme that is being put in place. This has been a defense that has gotten worse over the last three years. The defense lost its leading tackler and leading sacker from last season. The line is still a pretty solid unit that returns two starters from last year. Kareem Martin was third on the team in sacks last year with four, and was third on the team in tackles for loss. Sylvester Williams was fifth on the team in tackles with 54, and also had seven tackles for loss. In the middle, Shawn Underwood takes over. He was a backup last year. Even though Zach Brown is gone, the linebackers will be fine. Having Kevin Reddick back will help cushion the blow. He was second on the team in tackles with 77, and was among the team leaders in pass break ups as well. Unfortunately, he will have two new starters around him. Travis Hughes and Dion Guy  have been backups throughout their careers, and finally get their opportunity to start. I am concerned a little about the lack of experience surrounding Reddick. Where the defense struggled the most was in the secondary. The opponent completion percentage rose to nearly 61% last year, and the yards per game rose by 28 yards per game. The transition to the 3-3-5 puts more speed on the field, with five defensive backs. The fifth defensive back is sort of a hybrid safety/linebacker. Gene Robinson is taking over that role. While he doesn't posses the size of a linebacker, he is a pretty good tackler. He did end up with 49 tackles and an interception.  The lone starter returning at corner is Tim Scott, who started eight games a freshman and was second on the team with six pass break ups. On the other side, Jabari Price played eight games and started twice. At safety, Tre Boston was third on the team in tackles, and tied for the team lead with three interceptions. The other safety spot will feature a redshirt freshman in Darien Rankin.   Special Teams Field goal attempts were not that frequent last year. The Tar Heels used two kickers last year after Casey Barth was injured early in the season, and Thomas Moore took over the kicking duties. The two combined to kick only 11 field goals, making seven of them. Barth will take back the kicking duties this year. Tommy Hubbard returns at punter after an impressive freshman season in which he averaged just over 39 yards per punt. The returns game will be handled by two starting wide receivers. Jheranie Boyd will handle the kickoff returns, and Erik Highsmith will handle the punt returns.   Fun Fact You may know North Carolina is a part of The South's Oldest Rivalry with Virginia. How far does it date back? The first game between the two was in 1892, and has been played every year since 1919. There are only five years since the series started in 1892 that the game has not been played. These two teams played twice in 1892, with each team winning a game.   Will's Prediction It's a shame that the Tar Heels are not eligible for the postseason this year. If they had been eligible this year, then the Coastal Division would be a lot more interesting to watch. The offense should be among the best in the ACC again this year, with Bryn Renner and Giovani Bernard coming off their first full years at starting. But the question is if the defense can improve with a new scheme. Larry Fedora is a good coach, and Tar Heel fans shouldtrust in his vision. Just give him some time. The Tar Heels schedule is actually pretty easy this year. The toughest road games this year are Louisville, Miami, and Virginia. This isn't a murderers row of road opponents here. I would not be surprised if UNC gets to double digit wins this year.   Twitter @WillsWorldMN
Original Story:
http://www.scacchoops.com/tt_NewsBrea...
THE BACKYARD
BEST OF MAXIM
RELATED ARTICLES
Yesterday, a Superior Court judge signed an order that requires former UNC football coach Butch Davis to turn over work-related phone records from his personal cell phone that featured a Cleveland area code.  Davis had previously sought to keep the records private, as they contain personal contact information of family and friends.  Davis had been [...]
A judge has ordered former University of North Carolina football coach Butch Davis to hand over records of calls made on his personal cellphone related to his job duties. Superior Court Judge Howard E. Manning Jr. signed an order Wednesday for Davis to provide his phone bills, which had been requested as public records by media organizations including The Associated Press. Those...
In the second of my "12 for 12″, the dozen posts to talk about the things that need to be good in order for this season to be a good one, no matter what the final record is, I talked about Kenan Memorial Stadium. In that article I gave my theory on how this season the place that North Carolina football calls home needs to be packed. Unfortunately this seems not to be the case...
[The 1st 12 for 12 ... Fan Base] *~* [The 2nd 12 for 12 ... Kenan Stadium] [The 3rd 12 for 12 ... Coach Fedora] *~* [The 4th 12 for 12 ... Giovani Bernard] [The 5th 12 for 12 ... Wide Receivers] *~* [The 6th 12 for 12 ... Kevin Reddick] It is almost impossible to believe, but in less than two weeks college football will be back filling the airwaves, and in about 10 days it's North...
Tar Heels News

Delivered to your inbox

You'll also receive Yardbarker's daily Top 10, featuring the best sports stories from around the web. Customize your newsletter to get articles on your favorite sports and teams. And the best part? It's free!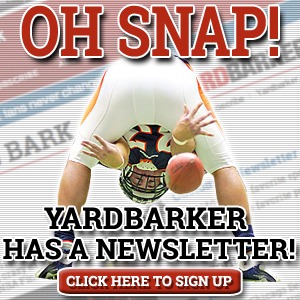 Latest Rumors
Best of Yardbarker

Today's Best Stuff

For Bloggers

Join the Yardbarker Network for more promotion, traffic, and money.

Company Info

Help

What is Yardbarker?

Yardbarker is the largest network of sports blogs and pro athlete blogs on the web. This site is the hub of the Yardbarker Network, where our editors and algorithms curate the best sports content from our network and beyond.