Found September 22, 2012 on Fox Sports Wisconsin:
Wisconsin more than doubled its average season point total during a 37-26 victory against UTEP on Saturday afternoon at Camp Randall Stadium. The Badgers, who entered the day averaging 16.3 points per game, got quality play on offense from quarterback Joel Stave, wide receiver Jared Abbrederis and running backs Melvin Gordon and James White. Wisconsin improved to 42-3 at home under coach Bret Bielema and 27-1 in non-conference games.Here are five things we learned from Saturday's game:1. Wisconsin can win even without Montee Ball.Ball is the man who receives all the running back accolades at Wisconsin, and he's certainly earned that praise. He is the only returning Heisman Trophy finalist in college football and the focus of every opposing defense.But on Saturday, Ball exited the game with 14 minutes, 13 seconds remaining in the second quarter after sustaining a head injury. When he did not return, it was up to Melvin Gordon and James White to fill the void.Boy, did they ever. Gordon produced the breakout game of his young career, carrying eight times for a career-high 112 yards and a touchdown. White contributed 15 carries for 65 yards and two touchdowns."I was happy to see Melvin and James respond as positively as they did," Badgers coach Bret Bielema said. "Really, there wasn't anybody looking around our team who knew those guys couldn't handle the work load."Gordon in particular hadn't been given the opportunity to showcase his skills in a game setting with Ball taking the brunt of the carries. Before Saturday, he had carried just twice for 18 yards this season."You've got to wait your turn," Gordon said. "You've got some great guys ahead of you. I'm not going to pout about it. When the opportunity comes like today, you've got to take full advantage of it."It's unknown at this point when Ball will return, but the Badgers should be comforted having two other talented tailbacks.2. The kicking game has serious issues.Kyle French began the day as Wisconsin's starting kicker. He left as someone who might not see the field for quite some time.French's kickoff in the second quarter dribbled out of bounds at the 3-yard-line, a penalty that moved the ball to the 35. It was his second kickoff penalty in as many games. Last week, he also missed a 36-yard field goal and an extra point attempt.Freshman Jack Russell replaced French on Saturday on kickoffs and handled field goals as well. He missed his lone field goal attempt, a 33-yarder, wide left.During Thursday's practice, Bielema said Russell made all four of his field goal attempts, including a 52-yarder."I think Jack kind of took the job and we'll see where he's at," Bielema said Saturday. "Kyle has obviously done some things, but we just can't have those lapses. We can't spot the ball at the 35-yard-line. Jack is very confident. He made the kicks today and did a nice job, was getting some good hang time."French said he was disappointed in himself for not performing better on Saturday."I figured after the kickoff went out of bounds that when they said they were going to put Jack in, I thought maybe that just meant kickoff," French said. "I didn't expect field goal as well. So I was pretty disappointed. But what are you going to do? Now I need to battle back this week to earn my spot back."3. Chris Borland played his best game of the season.By now, most college football enthusiasts know linebacker Chris Borland is not someone opposing offenses want to see. But on Saturday, he was especially dominant.Borland recorded 12 tackles, including 3.5 for a loss of 20 yards and two sacks. He also tallied two pass breakups. It was Borland's first double-digit tackle game of the season and the 10th of his career.Borland was responsible for making one of the smartest plays of the game as well. UTEP attempted an onside kick in the waning seconds, and Borland batted the ball out of bounds. Wisconsin took possession, took a knee and won the game.Afterward, Bielema described Borland as an "unbelievable football player," although he said Borland often tries to do too much on the field. Borland committed a 15-yard penalty for roughing the passer, in addition to other mistakes."He had a hit today that would have been a big hit, and he blitzed the wrong guy," Bielema said. "As a true linebacker, the plays come to you. But he has a knack for it. To bat it out of bounds the way he did at the end of the game is freaky."4. The passing game thrives with Jared Abbrederis.If Abbrederis' value wasn't obvious before the season started, just look at the difference in Wisconsin's offense when he is in the game and when he's not. Abbrederis missed the past six quarters of football after sustaining a mild concussion against Oregon State. Perhaps not coincidentally, the passing game was virtually nonexistent. But he returned on Saturday in a big way. Quarterback Joel Stave connected with Abbrederis six times for 147 yards. Abbrederis caught a 47-yard touchdown pass and a 60-yard strike that set up another Badgers touchdown. The rest of Wisconsin's team tallied six catches for 63 yards. "Whenever you can stretch the defense like that, it opens up the run game," Abbrederis said. "The run game obviously opens up the passing game. If we can connect on those deep passes, those explosive plays, then it's just going to help the offense a lot."Despite missing a game and a half, Abbrederis leads the team this season in catches (13), receiving yards (257), and receiving touchdowns (three). "Jared is obviously a really good player," Stave said. "Really fast. We have a lot of trust in him that he'll get open. It's really nice playing with him."5. The Badgers enter Big Ten play gaining confidence.This may be one of the most important developments to come from Saturday's game. Frankly, Wisconsin hadn't shown anyone much of a reason to pick them to succeed in the Big Ten after the first three games.The Badgers had issues at quarterback, running back, offensive line and wide receiver, to name a few. Although everything hasn't been solved in just one game, it's a step in the right direction.Stave showed he is a capable quarterback, and Abbrederis offers Wisconsin a different dynamic in the passing game. The Badgers may have struggled along the way, but they escaped with a 3-1 record in non-conference play. The 37 points against UTEP could do wonders for Wisconsin's confidence.Wisconsin now plays its toughest game of the season at Nebraska next week in the Big Ten opener."I think we've grown up a lot," Abbrederis said. "We can obviously keep improving there are things we need to fix as we go on to Big Ten play but I think we've grown up a lot these past four games, and I'm excited for what's in store for us."Added defensive tackle Ethan Hemer: "Guys are ready to prove something to the rest of the Big Ten, that this is a team that's for real."Follow Jesse Temple on Twitter.
Original Story:
http://www.foxsportswisconsin.com/09/...
THE BACKYARD
BEST OF MAXIM
RELATED ARTICLES
Nothing to talk about ahead of this game, right? Oh, wait, Wisconsin has a new quarterback and a returning Jared Abbrederis? Awesome. UTEP comes in battle tested having faced Oklahoma out of the Big 12 and Ole Miss out of the SEC, so playing against the likes of a Big Ten team aren't going to intimidate the Miners. However, they weren't able to win either of those...
MADISON, Wis. Wisconsin senior running back Montee Ball sustained a head injury during the second quarter of Saturdays game against UTEP and will not return, according to a team spokesperson. Ball appeared to suffer the injury while scoring on a 1-yard touchdown run with 14:13 remaining in the second quarter. He remained on the bench for Wisconsins next offensive series, and the...
Wisconsin put together its best offensive performance of the season in a 37-26 victory against UTEP on Saturday at Camp Randall Stadium. Although it didn't come against a BCS program, it should go a long way toward building confidence and instilling hope in a previously fearful fan base. Certainly, Wisconsin will have to improve if it hopes to beat Nebraska next week. But for...
Heisman Trophy finalist Montee Ball has left Wisconsin's game against UTEP with a head injury. Ball appeared to be injured on a 1-yard scoring run at the start of the second quarter Saturday. He looked shaken as he got up, and the Wisconsin medical staff was quick to take him on the sidelines and examine him. A doctor or trainer rubbed Ball's neck at one point, and someone...
NOTHING'S A GIVEN
Wisconsin fell behind early allowing a 39 yards Touchdown pass to Michael Edwards for UTEP. However, shown in the video above, Wisconsin's Steven Valadez blocked the extra point which was then picked up by fellow Badger Devin Smith who ran the length of the field and for a defensive 2-point conversion. Montee Ball, 2011 Heisman finalist, left the game is the 2nd quarter with...
Winning isn't everything, it's the only thing.... and while Wisconsin got the W, it could be considered bittersweet because of the name added to the list of the walking wounded yesterday. That is if you take the loss of Montee Ball as a major blow to this team. Is losing Ball, who was taken out of the game with what the team was calling a "head injury," the major...
Start 'EmMontee Ball – Wisconsin vs. UTEPBall has been a major disappointment to fantasy owners through the early part of 2012. Things are not good in Madison, but a visit from the Miners could be just what the doctor ordered. This could be one of those 150 and 3 performances. STAFF PICK – KEVIN MOUNT         Raymond Maples – Army vs. Wake ForestMaples has back to...
Following the Wisconsin Badgers' Thursday practice, head coach Bret Bielema officially announced that the team will start freshman Joel Stave at quarterback in the upcoming game with UTEP. It's not the only thing Bielema said as he also mentioned playing all three of the Badgers' quarterbacks in different situations. For a team searching for it's identity in the offense...
After Wisconsin's rocky start, this counts as progress. Sure, the Badgers needed a pair of touchdowns in the final 3:20 to secure a 37-26 victory over lowly UTEP on Saturday. The Miners' 26 points were the most allowed by Wisconsin this season, and they were four for four on fourth-down conversions - including a pair on a 13-play, 75-yard scoring drive alive. There were...
With senior tailback and Heisman finalist Montee Ball on the sideline, the Wisconsin running attack didn't miss a beat thanks to Melvin Gordon and James White, as the duo rushed for 177 of UW's 213 yards in Wisconsin's 37-26 victory Saturday.
Jared Abbrederis caught six passes for 147 yards and a touchdown to lead the Wisconsin Badgers over the UTEP Miners by the score of 37-26. It wasn't always pretty, but the Badgers' (3-1) offense looked a lot better than they did in their previous three games. They racked up a season-high 423 yards of total offense and produced 213 rushing yards despite losing running back Montee...
Badgers News

Delivered to your inbox

You'll also receive Yardbarker's daily Top 10, featuring the best sports stories from around the web. Customize your newsletter to get articles on your favorite sports and teams. And the best part? It's free!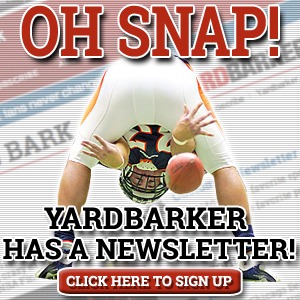 Latest Rumors
The Backyard

Today's Best Stuff

For Bloggers

Join the Yardbarker Network for more promotion, traffic, and money.

Company Info

Help

What is Yardbarker?

Yardbarker is the largest network of sports blogs and pro athlete blogs on the web. This site is the hub of the Yardbarker Network, where our editors and algorithms curate the best sports content from our network and beyond.