Found August 29, 2012 on Fox Sports Wisconsin:
MADISON, Wis. The flowing blonde mane and thin mustache curling down below the creases of his mouth suggest Beau Allen is a guy who doesn't take things too seriously.The words Allen uses to describe his appearance only add to that notion."I'm not the best looking guy," Allen said. "But I'm fine with that, man. I'm a D-lineman. That's how it's supposed to be, right?"The more Allen talks, the more he demonstrates that he's among the most colorful characters on the Wisconsin football team. If there is one word thatteammates use most to illustrate his personality, it's fun."He's a very fun guy," Badgers defensive tackle Ethan Hemer said. "Real outgoing. A lot of energy. He's so personable with everything that he does. It makes for a unique individual."Allen, a junior defensive tackle at Wisconsin, isn't afraid to make fun of himself or others. His Twitter account features a variety of short, oddball, entertaining bursts, including: "Wet socks can ruin your entire day" and "Goonies never say die.""When Beau first came in, I wasn't too sure about him," Badgers defensive end Brendan Kelly said. "The moment you see this kid, he's always got a smile on his face. He always looks like he's scheming. He always seems like he's thinking about trying to slip in a joke or a little pun. "Then, I got to know him, and it's just the way the kid is. He's a lot of fun no matter what situation he's in, whether it's on the field or off the field. A lot of his qualities carry over to the field."Now here's where the contradiction emerges: Despite Allen's fun-loving nature, on the football field, he's the last guy an offensive lineman wants to see barreling up the middle. Allen stands 6-foot-3 and weighs 335 pounds, which is more than most offensive linemen across the country. But his agility while having such a big body has Wisconsin's coaching staff salivating that he can become an important part of the team's pass-rushing schemes.Wisconsin coach Bret Bielema said that Allen made the biggest jump during spring practice among all his defensive linemen in the pass-rushing category. And Allen's position coach doesn't disagree."His fundamentals have come a long way since he's walked in the door," Badgers defensive line coach Charlie Partridge said. "He's confident. He believes that he can make plays, and he's so much more explosive than when he first walked in the door. It's a combination of learning how to play and developing physically and mentally."In his first two years at Wisconsin, Allen played in all 27 games. Because of his physically mature stature, he is one of just nine players on the roster not to have taken a redshirt season.Last year, Allen recorded 22 tackles with four sacks as a reserve, and he believes his impact will increase now that he is a starter for the first time."I don't want to be just a space eater," Allen said. "Like the big nose guards in the NFL, some of those guys can be typecast that way. I'm excited for the fact that I'm going to be on the field during third down, third-and-long. I don't see myself as just a guy that can plug the middle by any means at all. I'm excited to kind of show that off about myself."Allen, a Minnetonka, Minn., native, has a family history of athletic success at Wisconsin. Allen's grandfather, Fred Westphal, was a six-time all-American as a member of the Wisconsin swimming team from 1956-59 and a charter inductee into the school's Athletic Hall of Fame. Allen's uncle, John Westphal, was a two-year letterwinner in football at Wisconsin from 1980-81.That history was part of the reason Allen chose Wisconsin over his other finalists, Minnesota and Notre Dame. He said several cousins still attend Wisconsin, and he makes sure to spend time with them when he can."It's kind of cool," Allen said. "We play cards once a week. It's always good to have family close, I think. I really like that."Then, he was back to talking about his mustache plans three days before Wisconsin's season opener against Northern Iowa. With Allen, the fun is never far away. "This is my first mustache ever," he said. "I haven't trimmed it up in a while. I'm definitely going to have it nice and clean for the game."Follow Jesse Temple on Twitter.
Original Story:
http://www.foxsportswisconsin.com/08/...
THE BACKYARD
BEST OF MAXIM
RELATED ARTICLES
POLICE BLOTTER
Three men were arrested on Tuesday in Madison, Wis. on battery charges stemming from an Aug. 1 attack on Badgers running back Montee Ball.
MADISON, Wis. When Montee Ball announced he would return for his senior season in January, Wisconsin's fan base predictably swapped its feeling of deflation from a Rose Bowl loss for utter elation.For the Wisconsin running backs directly competing for Ball's playing time, the mood was surprisingly upbeat, too."They were excited," Ball said. "We're really...
MADISON, Wis. The final piece to the Wisconsin football depth chart puzzle has been solved at least temporarily.Badgers coach Bret Bielema said following Thursday's practice that junior Zac Matthias would start at right guard during Wisconsin's season opener against Northern Iowa on Saturday at Camp Randall Stadium. Matthias, a 6-foot-5, 320-pounder from Hemlock, Mich....
((HT: WISC-TV Madison)) Police have arrested three suspects in the assault on Wisconsin running back Montee Ball. Ball sustained a concussion when he was attacked by several men near campus August 1st. All three are listed as Wisconsin students- Wendell J. Venerable, Deonte J. Wilson and Robert A. Wilks. They were all arrested on charges of "party to the crime of substantial...
No. 12 Wisconsin opens the season at home Saturday against Northern Iowa. All eyes are on Badgers running back Montee Ball, who was attacked and beaten up near campus a month ago, leaving him with a concussion that caused him to miss part of camp. Three men were arrested in connection with the incident this week. Ball scored 39 touchdowns to tie Barry Sanders' NCAA record last...
The comparisons between new Wisconsin quarterback Danny O'Brien and predecessor Russell Wilson are inevitable, given their similar backgrounds. Both players transferred from ACC schools and were eligible to play right away. But going into the 12th-ranked Badgers' season opener against Northern Iowa on Saturday, coach Bret Bielema (BEE'-leh-mah) hopes people give O'...
Wisconsin There will be a lot of people that will say that because Wisconsin lost Russell Wilson they won't do very well this season, but I am not one of those people. I am a Danny O'Brien believer. O'Brien is a transfer from Maryland who is coming off of a broken arm, but in his freshman season at Maryland, O'Brien passed for 2200 yards and 22 TDs. He also rushed for 12...
Three University of Wisconsin students have been charged in attack on Badgers' running back Montee Ball. Wendell Venerable, Robert Wilks and Deonte Wilson appeared in Dane County Circuit Court on Monday where a judge continued their signature bonds. A criminal complaint says Ball was kicked and punched Aug. 1 as he walked in Madison. The complaint says a friend interrupted the...
With a pair of division heavyweights facing postseason bans, a lot of things would have to go wrong for Wisconsin to miss out on another trip to the Big Ten title game. And even after recent off-the-field drama involving star running back Montee Ball, Bret Bielema's team has its eyes on even bigger goals. The NCAA has ruled fellow Big Ten Leaders division powerhouses Ohio State...
Alright, after a bit of off time we're doubling down on our attempt to remind you of what was said and thought about each position entering camp and where we now stand heading into game one against Northern Iowa. If you've missed any of this weeks revisits it was started with the Wide Receivers and it's now time to move on to the other side of the ball. Also...
The Wisconsin Badgers have churned out a whole plethora of professional hockey players, including many at the NHL level. And so Wisconsin invites their alumni back during the summer to train and get ready for the upcoming season. And for the Wisconsin players, they get to train with the pros and learn a few things. Attending the alumni camp is, among other NHL players, Ryan McDonagh...
Badgers News

Delivered to your inbox

You'll also receive Yardbarker's daily Top 10, featuring the best sports stories from around the web. Customize your newsletter to get articles on your favorite sports and teams. And the best part? It's free!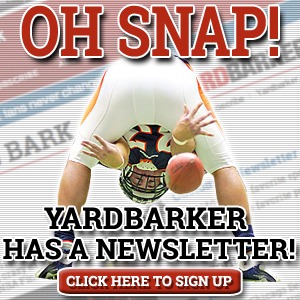 Latest Rumors
The Backyard

Today's Best Stuff

For Bloggers

Join the Yardbarker Network for more promotion, traffic, and money.

Company Info

Help

What is Yardbarker?

Yardbarker is the largest network of sports blogs and pro athlete blogs on the web. This site is the hub of the Yardbarker Network, where our editors and algorithms curate the best sports content from our network and beyond.