Found November 21, 2012 on Fox Sports West:
Max Wittek and Matt Barkley huddled briefly Tuesday after practice, the USC quarterbacks sharing a laugh and perhaps strategy before facing a phalanx of reporters and camera operators in separate interviews. Wittek wore a grin on his bearded face, Barkley a black sling on his injured right arm. For Wittek, a redshirt freshman who will start in place of Barkley on Saturday against No. 1 Notre Dame, it was a first turn in the spotlight. While Barkley met with reporters, Wittek did a radio interview. "I'm going to go out there," Wittek said in the interview, "I'm going to play within myself, within the system, and we're going to win this ballgame." Some media outlets construed that as Wittek's guaranteeing a victory. It really didn't sound as if that's what he was doing, though. Rather, he sounded poised and confident as he prepared for a game that has huge ramifications for the top-ranked Fighting Irish, the Bowl Championship Series standings and a once-No. 1 Trojans team trying to salvage a disappointing season. "You really can't ask for a better opportunity to show what you've got," Wittek said. Wittek's opportunity is at hand because Barkley suffered a sprained shoulder when sacked late in the fourth quarter of Saturday's loss to UCLA. The injury interrupted a season that has not gone as planned for the Trojans or Barkley, the preseason favorite to win the Heisman Trophy. Barkley intends to return for USC's bowl game next month. But as in 2010, when he was sidelined because of an ankle injury, he will sit out against Notre Dame at the Coliseum. This time, however, it's the senior's final home game. Barkley's answers to questions Tuesday were sometimes frank "It sucks that this game, it's ending this way, not being able to suit up" and sometimes philosophical. "Nothing is always as it's supposed to be in life," he said. "Often things go to plan, but a lot of times things don't go according to plan. So it's something you have to deal with, and I'll handle it and stay positive." Barkley reiterated that he did not regret forgoing the 2012 NFL Draft to stay at USC for a final season. "I took a chance," he said. "I don't think enough guys really go for it enough these days. And I did. And it didn't turn out the way I planned. "But I think over these last four years, and especially this year, I've learned so much and grown and matured a lot. ... And that will prepare me for the next level and later in life. And so, I don't regret it one bit." Coach Lane Kiffin said that Barkley, while also mentoring Wittek and backup quarterback Cody Kessler this week, would also sit in on coaches' meetings to gain added perspective for NFL Draft preparation. Meanwhile, the 19-year-old Wittek appeared eager to take on the Irish. "Obviously, it's not an ideal situation," Wittek said of Barkley's injury. "But it is what happened, so we're going to deal with that and we're going to try and go win this ballgame." Wittek has played in six games, completing eight of nine passes for 95 yards and a touchdown. At 6-feet-4 and 245 pounds, he is taller and heavier than the 6-2 Barkley and has more zip on his passes. "You feel it in your hands when he hits you," receiver Robert Woods said. "Max throws too hard," said receiver Marqise Lee, laughing. "But, I mean, that's perfect. He gets the ball there in time for you to turn around and make some moves and do what you've got to do." Two years ago, Mitch Mustain started in place of Barkley and passed 38 times in a 20-16 loss to Notre Dame. Wittek said he would be prepared for whatever game plan Kiffin installs. "I'm looking forward to airing it out a little bit," he said. "Hand it, roll out, whatever they need me to do, I'm ready to make those plays." Wittek faces a tough challenge. Notre Dame's defense, led by middle linebacker Manti Te'o, has given up only nine touchdowns, fewer than any major-college team. "They're a great defense," Wittek said, "but every defense does have their soft spots." Kiffin and Wittek's teammates said that they do not expect the quarterback to shy from the challenge of playing on such a grand stage. "Sometimes," Kiffin said, "what's good is to be so young that you don't know ... So I think he's just going to go out and play." That's what Wittek did last week in the closing minutes against UCLA. As Barkley lay motionless on the field, Wittek warmed up on the sideline. When the senior left the game, Wittek went in for his first meaningful playing time. After a fumble on the first snap, he completed all three of his passes and managed the situation with poise. "Overall," he said, "I was ready for the opportunity." Another awaits Saturday.
Original Story:
http://www.foxsportswest.com/11/21/12...
THE BACKYARD
BEST OF MAXIM
RELATED ARTICLES
BRASH FROSH
Max Wittek, a redshirt freshman quarterback who will play in the place of the injured Matt Barkley this weekend, said he believes the Trojans will beat the Fighting Irish.
Not much about Matt Barkley's senior season at Southern California has gone according to plan. The quarterback certainly never expected he would walk down the Coliseum tunnel for his final home game with his right arm in a sling. But Barkley isn't sorry he returned to USC, and he thinks more college players should take the same chance. Barkley is still upbeat amid the...
With USC Trojan Matt Barkley shelved after suffering a sprained AC joint in his right shoulder last weekend against UCLA, the senior quarterback's NFL Draft stock continues to rapidly plummet. The 6-foot-2, 230 pound Barkley, who was once projected to … Continue reading →
USC senior QB Matt Barkley will not start Saturday's game against Notre Dame due to an AC sprain in his shoulder.Redshirt Freshman Max Wittek will start in his place. Head coach Lane Kiffin did not elaborate on if Barkley is available as a reserve, but we doubt it. The senior has struggled a bit in recent weeks, causing Trojans fans to lose patience, but they may not like the results...
Lane Kiffin is known for many things. Draw your own conclussions. However, he is known for holding is cards close regarding discussing player injuries. And now, here's this. Yesterday's practive video shows freshman quarterback Matt Wittek taking snaps preparing to be the starter for Saturday's game with Notre Dame. That's fine, no problem at all. Starter Matt Barkley...
With senior quarterback Matt Barkley shelved after suffering a sprained AC joint in his right shoulder against UCLA, the USC Trojans will start redshirt freshman Max Wittek against the University of Notre Dame and their smothering defense on Saturday night … Continue reading →
Earlier this week, Lane Kiffin announced that Matt Barkley would not play in Saturday's game against Notre Dame. With Barkley out, the Trojans' upset hopes now rest on the arm of redshirt freshman Max Wittek. Wittek only has nine pass attempts for the season and has taken limited snaps in his young career. With a redshirt freshman at the helm and the Irish likely to play...
Yogi Roth of the Pac-12 Network joins Fox Sports Tonight and talks about USC's next quarterback taking over for Matt Barkley.
Does anyone really want to see another all-SEC rematch in the BCS national championship game? Except for those in SEC country, the answer is a resounding "no." Last year's 21-0 Alabama title victory over LSU was rather dull to everyone but Tide fans. But after losses by the BCS's top two teams, Kansas State and Oregon, this past weekend, the possibility remains that two SEC...
#1 Notre Dame (11-0) v. Southern Cal (7-4) The Coliseum - Los Angeles, CA - 7pm EST on ABC First Things - It's just like we were told all offseason: Notre Dame heads to Los Angeles for a game that features a senior Heisman candidate who turned down the riches of the NFL in favor of leading a team toward a possible National Championship berth. Just switch &quot...
Thanksgiving/rivalry week has several college football games for fans to be thankful for. The BCS picture is anything but decided at this point and a few games could really alter the standings this week. The obvious one is a showdown between the #1 Notre Dame Fighting Irish and the USC Trojans. If the Irish can pull off this road win they all but lock up their spot in the National...
Round 1 Kansas City (1-8) – Matt Barkley, QB, USC Jacksonville (1-8) – Johnathan Hankins, NT, Ohio State Cleveland (2-7) – Star Lotulelei, DT, Utah Carolina (2-7) – Damontre Moore, DE, Texas A&M Oakland (3-6) – Dee Milliner, CB, Alabama Buffalo (3-6) – Jarvis Jones, OLB, Georgia Philadelphia (3-6) – Geno Smith, ...
Trojans News

Delivered to your inbox

You'll also receive Yardbarker's daily Top 10, featuring the best sports stories from around the web. Customize your newsletter to get articles on your favorite sports and teams. And the best part? It's free!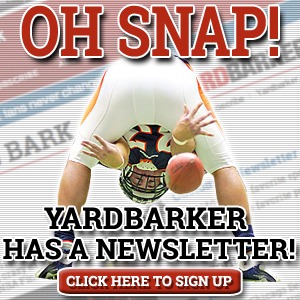 Latest Rumors
The Backyard

Today's Best Stuff

For Bloggers

Join the Yardbarker Network for more promotion, traffic, and money.

Company Info

Help

What is Yardbarker?

Yardbarker is the largest network of sports blogs and pro athlete blogs on the web. This site is the hub of the Yardbarker Network, where our editors and algorithms curate the best sports content from our network and beyond.