Fran Tarkenton is not a fan of AJ McCarron's. Following the former Alabama quarterback's comments about the current state of the Crimson Tide program, the Pro Football Hall of Famer upbraided the three-time BCS champion during an interview on WJOX-FM in Birmingham Wednesday. "Oh gosh, it's AJ McCarron," Tarkenton said. "Did he go to class? […] The post Vikings Hall...
Earlier this week, former Alabama quarterback AJ McCarron, who won three national titles as a member of the Crimson Tide, criticized the current team after its loss to Ole Miss, questioning both the leadership in the locker room and the play calling of his former staff. Wednesday night, we learned that at least a few of his former teammates don't agree with his assessment. Check...
Don't you just hate it when your exact words are directly quoted verbatim by reporters and used in stories? AJ McCarron does. The former Alabama quarterback and current Cincinnati Bengals benchwarmer had some stern words for his former team in the week after its first loss of the season. In his weekly appearance on Tuscaloosa's 99.1 FM, McCarron said the offense needed more vocal...
AJ McCarron made some comments earlier this week about Alabama's loss to Ole Miss that some have interpretted as disrespectful toward Nick Saban. In short, McCarron speculated that Saban may have put "handcuffs" on offensive coordinator Lane Kiffin during the Ole Miss game. He also said he believes the Tide lack a player who is...Read More
Alabama football is not in a great place this week. The Crimson Tide are coming off an upset loss to Ole Miss and are currently fifth in the SEC West. Nick Saban's faithful are not pleased.  On Tuesday, former Crimson Tide quarterback A.J. McCarron, now with the Cincinnati Bengals, talked about his alma mater on an Alabama radio show. He criticized the offense and questioned if...
Former Alabama quarterback AJ McCarron, now a backup for the Cincinnati Bengals, knows a thing or two about winning national championships. In both 2011 and 2012, he led the Tide to BCS titles despite his team having one loss each season – LSU the first year, Texas A&M the second year. He does not seem to believe that Alabama, after falling to Ole Miss on the road Saturday...
Just a selfie of Katherine Webb wearing all of AJ McCarron's championship rings.
Because being drafted into the NFL Draft isn't distracting enough, former Alabama quarterback AJ McCarron and his fiancee, model and Brent Musberger favorite Katherine Webb are reportedly shooting a reality show leading up to their wedding. The Auburn Plainsman newspaper reported that the couple has been filming the show for weeks now, even capturing the romantic Alabama football...
Katherine Webb and AJ McCarron are engaged.
A.J. McCarron is not having the greatest month. Alabama was manhandled by Oklahoma in the Sugar Bowl, then he opted to skip the Senior Bowl, which led to skewering from media and scouts. His mother brought some unneeded attention by issuing a tweet that would later be deleted. She questioned Jameis Winston's ability to speak […]Continue reading...
MORE STORIES >>
College Football News

Delivered to your inbox

You'll also receive Yardbarker's daily Top 10, featuring the best sports stories from around the web. Customize your newsletter to get articles on your favorite sports and teams. And the best part? It's free!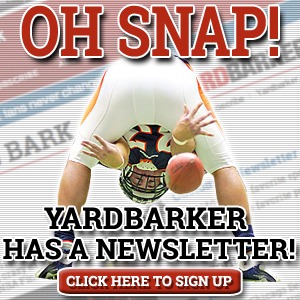 THE COLLEGE FOOTBALL HOT 10