Just a selfie of Katherine Webb wearing all of AJ McCarron's championship rings.
Though virtually nobody except former Alabama Crimson Tide QB AJ McCarron expected he would be drafted in the first round, analysts thought there was a decent chance he could be selected on the second day of the draft. But here we are on Saturday, the fourth round in progress and five quarterbacks off the board, and still McCarron hasn't heard his name called. Sounds like he...
With the draft less than a week away, A.J. McCarron's name is reportedly buzzing around the league. And that's not a good thing. Profootballtalk.com reported that "multiple scouts are befuddled" by the former Alabama quarterback's recent claims about his draft position. During a radio appearance last week, McCarron stated "pretty much everyone so far"...
Because being drafted into the NFL Draft isn't distracting enough, former Alabama quarterback AJ McCarron and his fiancee, model and Brent Musberger favorite Katherine Webb are reportedly shooting a reality show leading up to their wedding. The Auburn Plainsman newspaper reported that the couple has been filming the show for weeks now, even capturing the romantic Alabama football...
Katherine Webb and AJ McCarron are engaged.
Some moron called Webb a "jersey chasing slut" on Instagram so Webb shared a makeup free picture with us.
AJ McCarron and Katherine Webb #KissForPeace in AXE's new "Make Love, Not War" advertising campaign.
A.J. McCarron is not having the greatest month. Alabama was manhandled by Oklahoma in the Sugar Bowl, then he opted to skip the Senior Bowl, which led to skewering from media and scouts. His mother brought some unneeded attention by issuing a tweet that would later be deleted. She questioned Jameis Winston's ability to speak […]Continue reading...
AJ McCarron's mom, Dee Dee Bonner, sent a tweet asking if she was listening to Jameis Winston speak English following the BCS title game.
The Alabama Crimson Tide had one last chance to avoid being the second double digit favorite to lose in as many days when quarterback A.J. McCarron fumbled with less then a minute to go. McCarron's fumble resulted in a touchdown for Oklahoma… and of course the Katherine Webb shocked face. (see entire sequence below) It's been a tough couple of games for McCarron who finishes...
MORE STORIES >>
College Football News

Delivered to your inbox

You'll also receive Yardbarker's daily Top 10, featuring the best sports stories from around the web. Customize your newsletter to get articles on your favorite sports and teams. And the best part? It's free!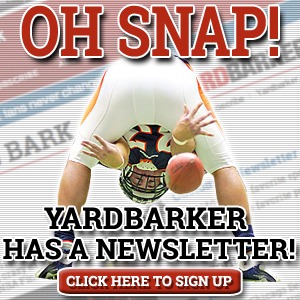 THE COLLEGE FOOTBALL HOT 10