Senior Andrew Maldonado has been spot on taking over for Jackson Rice as the thinking man's punter. Through three games he's averaging 43.3 yards a kick, and the punt team has limited returns to a 3.7 yard average. Against Tennessee in three punts, the Vols were held to one return, -1 yard. Gunner Terrance Mitchell made a nifty open field tackle. Maldonado has 2 punts downed...
Game week! Mark Helfrich met the media after today's practice, and offered some details on the 2013 depth chart as preparations began for the first game next Saturday at Autzen Stadium versus Nicholls (two Ls, no "State," officially). The full depth chart comes out on Monday but Andy McNamara of goducks.com had some juicy details in his practice report. Push, shove...
EUGENE, Ore., -- Oregon's senior kicker Alejandro Maldonado is ready for the season to start and he could be used this season as a place kicker for kickoffs, field goals or extra points and he could also be a punter.
Erik and Robby break down week two of Oregon fall camp and the latest in recruiting. They also take a look at the initial AP Poll and have an in-depth discussion about the kicking battle between freshman Matt Wogan and senior Alejandro Maldonado.
Fifth-ranked Oregon was awarded a 1-point safety on an obscure rule against No. 7 Kansas State in the Fiesta Bowl on Thursday night. Oregon quarterback Marcus Mariota scored on a 2-yard run midway through the third quarter and the Ducks sent kicker Alejandro Maldonado out to kick the extra point. Kansas State's Javonta Boyd blocked the kick and the ball ended up in the hands...
The Oregon Ducks just got beat.  They didn't give it away, weren't screwed by the refs, and Alejandro Maldonado isn't to blame. As that Stanford kick sailed through the uprights at the end of Saturday night's overtime disappointment, frustration over what could've been fell from the sky like seemingly every important field goal attempt Chip Kelly's Ducks have needed...
That hurts. That really hurts. Watching a national championship slip through the fingers of your college football team as the blood slips away from your body is just about as painful an experience as you can have in sports. There is a multitude of talking points and controversy and angles to analyze, scenarios to address, and for some of us, hair to pull out from Stanford'...
Despite missing two field goals during Oregon's 17-14 loss to Stanford, Duck place kicker Alejandro Maldonado was man enough to face the media after the game and respond to questions about what happened on the field.
Looking for Pac 12 Football news? Matt Martz our man with his pulse on the Oregon sports beat is back with another edition of the Oregon Ducks Notebook. LaMichael James handed off the torch to Kenjon Barner while the kicker Alejandro Maldonado had a game to remember - for the wrong reasons!
For the first time since Sept. 20, 2008, the No. 4 ranked Oregon Ducks walked back to the locker room while an opponent celebrated on their turf at Autzen Stadium. The Ducks late game heroics against the USC Trojans on Saturday night fell short after sophomore kicker Alejandro Maldonado's 37-yard field goal attempt at the end of regulation sailed wide left, giving the Trojans a 38-35 victory.
MORE STORIES >>
College Football News

Delivered to your inbox

You'll also receive Yardbarker's daily Top 10, featuring the best sports stories from around the web. Customize your newsletter to get articles on your favorite sports and teams. And the best part? It's free!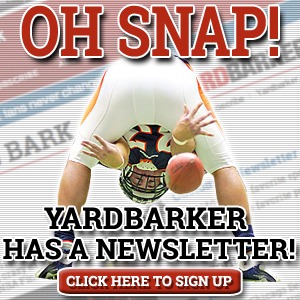 THE COLLEGE FOOTBALL HOT 10