KANSAS CITY, Mo. -- All-SEC kickers are made not so much from the hips down, but from the neck up. And so after hearing a small-group lecture at a kicking camp this summer from Dr. Marty Martinez about failure -- not fearing it, accepting it, using it as a springboard to bigger and better things -- Andrew Baggett pressed Martinez to go keeper, to help him trap that elusive butterfly...
Andrew Baggett couldn't sleep. Hours earlier, he missed a 24-yard field goal attempt that ended Missouri's first loss of the season, a 27-24 double-overtime setback to South Carolina. When the ball thudded off the left goal post Saturday night, few in Memorial Stadium could believe it, least of all Baggett. How could a kicker who tied a school record with five field goals...
By now, you've undoubtedly seen the final play of the Missouri vs. South Carolina double-overtime thriller from this past Saturday night. Andrew Baggett, the Tigers' sophomore kicker, missed a 24-yard field goal from the left hash, sending the Gamecocks and their fans into euphoria. While Baggett has received his fair share of criticism for the gaffe, many have pointed out that...
COLUMBIA, Mo. -- Andrew Baggett has been here before. It's the fall of 2010, a breezy slugfest of an evening, and Lee's Summit North coach Ty Kohl calls on Baggett, his star leg, to attempt a 52-yarder. No dice. "But the kid came back, he had the game-winner against St. Joseph Central for us," Kohl said. "Kicked a 47-yarder in the mud and rain. So he can...
GAINESVILLE, Fla. -- The kick heard 'round the SEC East ignited very different reactions based on locale in the conference standings. Not long after Missouri kicker Andrew Baggett's 24-yard field-goal attempt clanked off the left upright Saturday night -- securing South Carolina's come-from-behind 27-24 win in double-overtime -- Baggett began to receive death threats...
Late Saturday night, the Missouri Tigers blew a 17-point fourth quarter lead against the South Carolina Gamecocks and ultimately fell in overtime in one of the most Mizzou-esque losses in recent memory. But the reaction from many Tigers fans to the way the game ended was almost as heartbreaking as the loss itself. Missouri fans and rivals immediately took to Twitter to criticize...
Missouri sophomore kicker Andrew Baggett undoubtedly had a tough Saturday night after missing a 24-yard field goal in double overtime against South Carolina. But if you take a look at his Twitter mentions, the missed kick may have just been the beginning. Both Missouri fans and rivals were absolutely ruthless in criticizing Baggett, despite the fact that the Tigers blew a 17-point...
Bill Pollack predicted Andrew Baggett's missed field goal as the Missouri Tigers lost to South Carolina in double overtime, 27-24.
Nobody in the sports world probably felt worse on Saturday night than Andrew Baggett. The Missouri kicker missed a chip shot 24-yard field goal in double overtime that resulted in the Tigers losing 27-24. That was the team's first loss of the season. We already showed you that the laces were in instead of out […]
Missouri lost to South Carolina 27-24 in double overtime on Saturday in heartbreaking fashion. Not only did the Tigers blow a 17-0 lead to the Gamecocks in the fourth quarter, allowing a tying touchdown in the final minute, but they missed a 24-yard chip shot field goal in the second overtime to lose the game. […]
MORE STORIES >>
College Football News

Delivered to your inbox

You'll also receive Yardbarker's daily Top 10, featuring the best sports stories from around the web. Customize your newsletter to get articles on your favorite sports and teams. And the best part? It's free!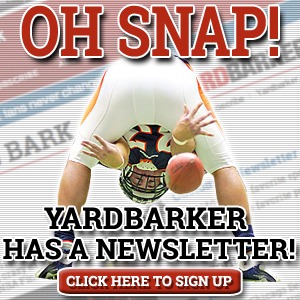 THE COLLEGE FOOTBALL HOT 10