After weeks of speculation over who would be the Michigan State football team's starting quarterback, Michigan State head football coach Mark Dantonio came right out and told the media exactly who that guy will be at his weekly Tuesday morning press conference. "Andrew Maxwell will be our starter," Dantonio said. "I think what he does is he brings consistency in terms of...
At the end of Michigan's 12-10 victory over the Spartans, Michigan players were found taunting MSU players after winning their first game against the Spartans in five years.In the video below, by isportsweb's David Harns, you can see a little bit of the mayhem that went on after the game… What I find most interesting about this situation is that I'm sure the Wolverines won't...
EAST LANSING — It's here! That time of the year in Michigan where neighbors hate each other for 48 hours.Saturday's outcome will decide whether or not some adolescents will rock with maize and blue or green and white for the rest of their lives. According to Michigan State head coach Mark Dantonio, "You're blue or green in this state by age 14, or maybe 10."Tomorrow will...
In this week's Twitter Mailbag, we'll talk about Andrew Maxwell's improvements at QB, how good Notre Dame really is, and those pesky Northwestern Wildcats. We're back after a one week hiatus (we didn't plan on it being a hiatus, no one asked any questions). Let's get started. What do you think of Maxwell? And is MSU that bad or Notre Dame that good? (@JB1544) Andrew Maxwell...
It's not unusual for all eyes to be on the quarterback, but for Michigan State fans, a focus on Andrew Maxwell is necessary.Andrew Maxwell can make a big statement against Central Michigan. (AP Photo) It's safe to say this weekend is big for Maxwell. After an up-and-down debut last Friday at Spartan Stadium, the new Michigan State quarterback has plenty left to prove...
While many might be worried about junior quarterback Andrew Maxwell and his receiving corps right now, which they shouldn't, it must also be noted that the Spartans committed 10 penalties for 90 yards in their 17-13 victory over Boise State Friday night. Tony Lippett had a rough night against Boise State, but did finish the game with 3 catches for 62 yards. The four turnovers by...
EAST LANSING, Mich. Consider this: Michigan State junior quarterback Andrew Maxwell had not taken a snap as a starting quarterback in nearly four years until Friday nights 17-13 win over Boise State. Thats a long time to be wearing a baseball cap and headphones on the sideline during games. So, how did he grade out as the first-time leader of a college offense? I would give him...
MORE STORIES >>
College Football News

Delivered to your inbox

You'll also receive Yardbarker's daily Top 10, featuring the best sports stories from around the web. Customize your newsletter to get articles on your favorite sports and teams. And the best part? It's free!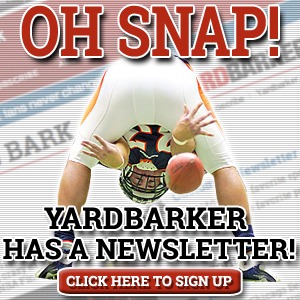 THE COLLEGE FOOTBALL HOT 10