There will be three new faces on the defensive line when Wisconsin takes the field Aug. 30 for the season opener against LSU. Just one year removed from transitioning to a 3-4 defense, the Badgers must not only replace the three primary starters from the trenches—Beau Allen, Ethan Hemer and Pat Muldoon—but also their top backup, Tyler Dippel. Defensive coordinator Dave Aranda...
With the No. 224 overall pick of the NFL Draft, the Philadelphia Eagles selected Wisconsin NT Beau Allen. He'll add much needed beef and depth behind starter Bennie Logan Here's how Twitter reacted to the selection: Welcome DT @Beau_Allen to the @Eagles! #FlyEaglesFly #EaglesNation — Alexandria Semmler (@ALeighSem) May 10, 2014 You wanted a giant nose tackle and you got one...
With their final pick in the 2014 NFL Draft, the Eagles drafted Wisconsin defensive tackle Beau Allen with the 224th overall selection. Allen is your traditional anchoring nose tackle at 6-2 and 333 pounds. At Wisconsin, he played in all 54 games, making 26 starts over his final two seasons. As a senior, he was an All-Big Ten honorable mention. He is built low to the ground is known...
Wisconsin nose tackle Beau Allen and Bowling Green tight end Alex Bayer visited the Ravens this week, according to sources. Allen was snubbed for the NFL scouting combine but has outstanding size for a nose guard at 6-foot-2 1/2 and 330 pounds. He's regarded as a late-round draft target. Related Ravens draft prospect visits Ravens draft prospect visits Alabama linebacker...
I'm back in Madison, just trying to get everything tuned up before Pro Day. Hanging out at Camp Randall feels weird -- being back at Madison not as a student. But it's exciting and cool to see all the old teammates and all the other guys who were off training and tricking back for Pro Day. It's fun to talk to all the guys about what programs their doing and what college...
I'm pretty much working out every day. On Monday, Wednesday and Friday in the mornings we'll do workouts on the football field, kind of more position specific drills, 1-on-1s, footwork drills, run reads, things like that. Then we'll also work on our 40, our running mechanics, our pro agility technique. Then we come back and do upper body on Mondays and Thursdays, then...
Wisconsin coach Gary Andersen chose to go an interesting route when choosing a Halloween costume this year. Andersen dressed up as one of his own players – presumably Beau Allen, given the hair – and participated in a blocking drill with him in front of the team. The team absolutely loved it. While he got the best of Allen the first time around, the senior nose guard actually...
MADISON, Wis. -- Beau Allen stands 6-foot-3, 325 pounds and is considered, even by football standards, to be an exceptionally large human being. This girth has allowed him to excel this season in his role as a nose guard, which will demand he occupy double teams from some of the biggest, baddest offensive linemen in the country. Because of the position he plays, however, it can...
Happy Memorial Day to all and we hope you are enjoying it, of course we also highly encourage you to take a moment or two and reflect on those who've sacrificed life, fame, fortune and so much more to keep us safe and free. To those currently serving a big Thank You as well. Your service does not go unrecognized around here.  In keeping with the celebration theme it'...
MADISON, Wis. The flowing blonde mane and thin mustache curling down below the creases of his mouth suggest Beau Allen is a guy who doesn't take things too seriously.The words Allen uses to describe his appearance only add to that notion."I'm not the best looking guy," Allen said. "But I'm fine with that, man. I'm a D-lineman. That's how it'...
MORE STORIES >>
College Football News

Delivered to your inbox

You'll also receive Yardbarker's daily Top 10, featuring the best sports stories from around the web. Customize your newsletter to get articles on your favorite sports and teams. And the best part? It's free!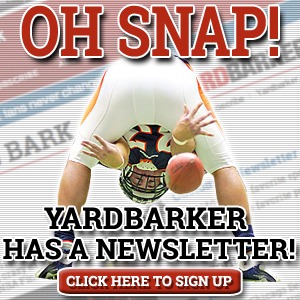 THE COLLEGE FOOTBALL HOT 10