Michigan State wide receiver Bennie Fowler made this wild TD grab during the first half of Saturday's Spartans game versus Northwestern. Fowler reels in the catch after it takes a bounce off a Northwestern player's back, then takes off downfield for the easy 87-yard touchdown. [Bleacher Report]   The post Michigan State receiver makes 87-yard TD catch off back of defender appeared...
Michigan State Spartans wide receiver Bennie Fowler showed off his hand-eye coordination against Northwestern on Saturday with this 87-yard touchdown.  The pass was thrown behind him and the cornerback, the ball bounced off the cornerback's back and then Fowler snagged it and took it to the house.  Definitely a SportsCenter Top 10 play. [@gifdsports]  
EAST LANSING — Since being named the starter to begin the 2012 campaign, Michigan State senior wide receiver Bennie Fowler has had an up-and-down 14 months, and even with constant shuffling at the receiver position for the Spartans, his work ethic has failed to change. Last year, as a junior, Fowler led the Spartans in receiving yards (524) and touchdown catches (4). However, like...
EAST LANSING — If you watched Michigan State in their 26-13 victory on Friday over Western Michigan you probably found yourself saying, "Here we go again," at the sight of the first dropped pass by a receiver. And rightfully so. Depending on who you ask, the Spartan receivers dropped somewhere between four and seven balls, something that has become more characteristic than...
EAST LANSING — After having an up and down season last year — as did most of the Michigan State receivers — senior wideout Bennie Fowler has not only tweaked his game on the field, but he's tweaked his lifestyle as well. During the 2012-2013 season Fowler stood at 6-foot-1 and weighed about 212-pounds as he led the Spartans in receiving yards (524) and ranked second in receptions...
EAST LANSING — The 2012-2013 season wasn't great for a Michigan State football team that came into the year with high national expectations.  The Spartans began  last season ranked No. 13 in the country, per USA Today and the Associated Press, but after a 7-6 campaign, ending with a 17-16 Buffalo Wild Wings Bowl victory over TCU, Mark Dantonio's team had a lot more questions...
Yes. I know. The game ended about 4 hours ago. I was there. However, a story too long and boring for me to explain forced me to basically leave the social media world until now. Anyways, it's not too late for me to give my input. -Whoa. How did the Spartans win that? I didn't have any faith in them until the ball flew into Bennie Fowler's hands in OT. I guess the offense finally...
              We have all witnessed the drops that Michigan State wide receivers have made over the past two games. They have been all over the field including two in the end zone by consensus number one WR Bennie Fowler. If Fowler makes that catch against Notre Dame it would have tied the game and possibly shifted the momentum towards the Spartans. Dropped passes...
Everyone in the stands at Spartan Stadium could see it. Anyone watching on national television couldn't miss it.MSU's Bennie Fowler, right, drops a pass in the end zone against Notre Dame. (LSJ Photo) The Spartans' lack of offensive firepower was evident to all against Notre Dame on Saturday night -- and it could be the flaw that proves to be the Achilles' heel of...
(Editor's Note: This is the third installment of positional previews. Previous: The Breakdown: Quarterbacks; The Breakdown: Running Backs) Big Man on Campus: Bennie Fowler Fowler has a couple highlights in his relatively young career: a special teams touchdown off a blocked punt against Wisconsin, and a touchdown reception against Alabama -- the long score for the Spartans...
MORE STORIES >>
College Football News

Delivered to your inbox

You'll also receive Yardbarker's daily Top 10, featuring the best sports stories from around the web. Customize your newsletter to get articles on your favorite sports and teams. And the best part? It's free!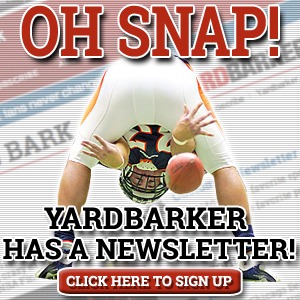 THE COLLEGE FOOTBALL HOT 10