After seeing Ducks junior wideout B.J. Kelley show off two new pairs of cleats yesterday, we had an inkling that there might be more innovation on the way in Eugene. Today, Nike and Oregon unveiled two brand new uniforms for the program's Spring Game, set to take place this Saturday. The first is a dark green and silver combo, while the second features bright yellow pants, cleats...
Tonight, the Oregon Ducks sent the Texas Longhorns packing in the Alamo Bowl, cruising to a 30-7 win in a game in which they dominated both sides of the ball. It was a disappointing ending to the wonderful Texas career of Mack Brown, as he will not return as head coach in 2014. After the game, Oregon sophomore wide receiver B.J. Kelley took to Twitter to gloat a bit about the win...
It was just a few days ago that Oregon unveiled the new 'Mach Speed' uniforms it'll be wearing against Texas in the upcoming Valero Alamo Bowl. Today, we're getting a look at what the Ducks will be wearing on…and under their feet. Via Uni Swag, Ducks wideout B.J. Kelley took a photo of the underside of Oregon's cleats. EXCLUSIVE look at the new cleats for the Ducks in...
Earlier today, we told you about the epic snowball fight that was set to take place on Oregon's campus following the first snowfall of the year — athletes vs. normal students. It turns out that the normal students dominated the football players, despite wide receiver B.J. Kelley showing up as Batman to play the hero role: Some of those students def was out there with a chip...
  Oregon WR BJ Kelley gave us a sneak peek at Oregon's new Nike Alpha Pro TD cleat to be worn in an upcoming game. I can only imagine the uniform combination that they come up with to match this cleat. So Oregon is so far out ahead on Uniform Wars that they have started really designing the futuristic cleats? Time for Adidas to step it up again.  
Over the last couple seasons it has become common for colleges to have all sorts of alternate uniforms. It started out with helmets and jerseys, but now that so many schools are going with alternate uniforms many have taken to creating special gloves, chin guards, face masks, and  cleats. The undisputed King of the Alternate Uniform craze is of course the Oregon Ducks (let...
Uncle Phil's Misguided Children  Photo via College Spun Oregon wide receiver B.J. Kelley posted the above photo of  the latest swag developed for the Ducks by Uncle Phil's Miguided Children on his Instagram account - silver Nike Alpha Pro TD cleats with very rainbow-esque bottoms. No word on what the Ducks will be wearing with their new kicks, but it'...
On the first play of B.J. Kelley's senior season at Central High School in Fresno, California, he went 80 yards for a touchdown. He and his friend Brendon Bigelow, now a star tailback at Cal, led the Grizzlies to the second round of the CIF Central Section Playoffs. Kelley grabbed 51 passes for 1,224 yards and a school record 16 touchdowns. As the go-to receiver in a spread...
You'll be able to see Autzen Stadium from space this fall. As Oregon wide receiver B.J. Kelley shared on his Instagram account Thursday, the Ducks will — of course — be debuting some new uniforms this season. Having seemingly long ago abandoned the school colors of green and gold, the unis Kelley is modeling are a vibrant yellow color known in Nike-speak as "volt." But...
MORE STORIES >>
College Football News

Delivered to your inbox

You'll also receive Yardbarker's daily Top 10, featuring the best sports stories from around the web. Customize your newsletter to get articles on your favorite sports and teams. And the best part? It's free!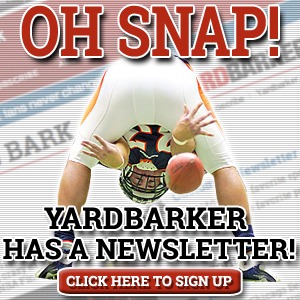 THE COLLEGE FOOTBALL HOT 10