The Crimson Tide drained more than 6 minutes off the clock and took a 12-point lead midway through the fourth quarter.
If Nick Saban doesn't have a no-cellphone policy the night before a game, he probably should institute one today.  LSU fans have gotten their hands on Blake Sims' cellphone number. The Alabama quarterback has likely been barraged with prank text messages and calls from hundreds of Tiger fans.  Alabama and LSU square off in Baton Rouge, La., Saturday night.  This is...
The Alabama Crimson Tide have responded quite well after barely beating Arkansas last week. They are absolutely slaughtering Texas A&M with a 45-0 lead, outgaining the Aggies 449-51 all at halftime. QB Blake Sims had the best touchdown of the first half, breaking some ankles on the Aggies defense with this gorgeous touchdown run. Blake […] The post Alabama QB Blake Sims Breaks...
Blake Sims has done a lot of good things on the field so far this season. He's also done some not so good things. His worst moment may have very well come during Alabama's 14-13 win over Arkansas (yes, Arkansas barely lost to the Crimson Tide). On a key fourth and one attempt Sims tried to go over the top to pick up the yard.Or at least we think he tried to go over the top...
Update: Sims has returned to the field, but it's not yet known whether he'll return to the game. He was seen taking practice throws, so it hopefully isn't too serious of an injury. Good to see Blake Sims back out of the locker room #UFvsBAMA — ESPN SEC (@ESPN_SEC) September 20, 2014 Earlier: Alabama starting quarterback Blake Sims has injured either his shoulder or elbow...
ESPN college football analysts Paul Finebaum and Danny Kanell appeared on a "SportsCenter" segment together this afternoon.  Kanell, a former Florida State quarterback, and Finebaum, a popular radio personality and member of the SEC Network's, were originally discussing their projections for the College Football Playoff.  .@dannykanell 's top 4 teams » pic.twitter.com...
Twitter/@_bsims6 Alabama hasn't quite looked like its normal powerhouse self through two weeks, but the Tide is 2-0 and there's a good chance that the first week win over West Virginia looks solid by season's end. While the quarterback situation is still somewhat unsettled, both contenders. Blake Sims and Jacob Coker, looked sharp in last week's  41-0 win over FAU. Sims...
Alabama took on West Virginia Saturday in a kickoff game that turned out a lot closer than many had imagined. The Alabama Crimson Tide came in to Atlanta a 26.5 point favorite; however, West Virginia had a different plan in mind. What many people expected to be an Alabama blowout turned out to be a very competitive matchup. We got to see a lot from each of these two teams that could...
When the Alabama Crimson Tide open their season against West Virginia, Blake Sims will be their starting quarterback according to CBS Sports. Jeremy Fowler first reported that Alabama has decided to go with Sims over Jacob Coker. Blake Sims will be Alabama's starting quarterback on Saturday against West Virginia barring any unexpected last-minute changes, according […]
"With Blake Sims, there are probably some things that he can do as a quarterback that we really don't feature in this game," Alabama Coach Nick Saban said after the A-Day spring scrimmage. "For him to be an effective player at his position, in fairness to him, it's probably good for us to do things like that. We really don't feature our skill guys very much." So don't...
MORE STORIES >>
College Football News

Delivered to your inbox

You'll also receive Yardbarker's daily Top 10, featuring the best sports stories from around the web. Customize your newsletter to get articles on your favorite sports and teams. And the best part? It's free!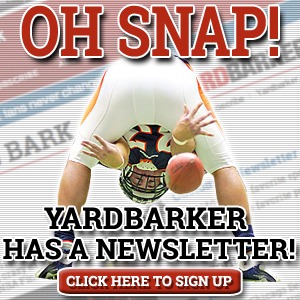 THE COLLEGE FOOTBALL HOT 10