Pete Cautilli | The Cardinal Connect The 2014 College Football Preseason Poll was released on Thursday afternoon. I don't consider it much of a surprise, but Bobby Petrino and the Louisville Cardinals were not featured in the top 25. It's not that I don't think this team is worthy of a top 25 vote, however most national projections show Louisville right outside of the top 25...
Arkansas head coach Bret Bielema is still not making any friends. Bielema was in Bristol at ESPN studios and had some interesting things to say about Alabama. The NCAA implemented a new two-week dead period that ran from June 30-July 13. Bielema was asked a question about how he felt about the year round nature of college football. Bielema's answer included a shot at Alabama....
Before the 2012 college football season, then Arkansas' head coach Bobby Petrino was in a motorcycle accident. He first reported that he was riding alone, but the police consequently reported that former All-SEC volleyball player Jessica Dorrell, who was recently hired by Petrino, was also on the motorcycle that day. To make the long story short, it was revealed that Petrino...
Yesterday, we reported to you that Louisville was down to three finalists in their coachign search, and it was highlighted by former head coach Bobby Petrino. According to a new report from Pat Forde at Yahoo!Sports, Petrino's hiring is now…Read more →
According to the Chronicle of Higher Education via the Courier-Journal, Western Kentucky head coach Bobby Petrino fired athletic trainer Danny Cobble this spring after several disagreements since Petrino's hiring in December. While it's always fun to make light of Petrino's lack of people skills, this report may serve to further debate on the coach-trainer dynamic. First, the...
Coaches like to shake things up when they arrive on campus, and they are always looking for a new way to attract recruits. Take Bobby Petrino at Western Kentucky. The Hilltoppers new head ball coach is looking to entice potential WKU football players with a new helmet that is quite shiny. Petrino tweeted it out, because that's where recruits spend a ton of time BLING BLING! Kids...
Some of the recent changes in the coaching carousel have been somewhat of a surprise. There were not many pundits that expected former Texas Tech head coach Tommy Tuberville to leave for Cincinnati at the same position.He was asked what his initial reaction was to the phone call from Cincinnati athletic director Whit Babcock. Tuberville said, "You can tell I'm not from the...
BACK IN THE SADDLE
The last time we saw Bobby Petrino, he was literally a battered and bruised man, but now it's being reported that the former Arkansas coach has found himself a new coaching gig.
We tried warning you, Arkansas fans. We tried to explain that no matter how many holdovers you had on your roster and coaching staff, that John L Smith would find a way to burn that sumb*tch to the ground. It is about this time that you wished that Jeff Long would have just gave Bobby [...]
THE MOTORCYCLE DIARIES
Bobby Petrino's father told a Louisville newspaper that his son is interested in the soon-to-be vacant head coaching position with the Kentucky Wildcats.
MORE STORIES >>
College Football News

Delivered to your inbox

You'll also receive Yardbarker's daily Top 10, featuring the best sports stories from around the web. Customize your newsletter to get articles on your favorite sports and teams. And the best part? It's free!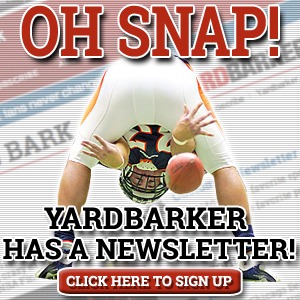 THE COLLEGE FOOTBALL HOT 10