Brock Hekking is the owner of the greatest mullet known to man.  The defensive end for the Nevada Wolf Pack also allegedly gets around the Nevada campus on a camouflage-patterned golf cart.  IU say 'allegedly' because no one has got a picture of the man driving it. A fellow Nevada student sent following picture to his brother. @Kmarkobarstool brother goes to Reno, this is how...
The first you'll probably notice about Nevada defensive end Brock Hekking is that awesome blonde mullet he sports atop his head. That thing is so good it would make Joe Dirt jealous. But if you happen to spot Hekking around the school's campus, you also might take note of his method of transportation, which isn't all that surprising given his choice of haircut: @Kmarkobarstool...
If you missed the Washington State-Nevada game last night, you missed out. Why, you ask? Two words: Brock Hekking. Besides having an extremely awesome name, the Nevada defensive end sports one wicked mullet. It features a relatively standard spiky look in the front paired with a mane of platinum blonde hair in the back. Here, check out his hairdo: The fact that Nevada won 24-13 kind...
Nevada linebacker Brock Hekking took the internet by storm on Saturday night when he was shown on the field during warmups before his team's win over Washington State. Do we really need to explain why? Hekking might just be the biggest bro on the planet, let alone in the sport of college football. His bleach-blond […]
Nevada Wolfpack defensive end Brock Hekking has one epic mullet. It's so phenomenal that it took the college football world by storm on Friday night. Clearly inspired by Brian Bosworth's classic haircut Hekking makes the look work. Nevada's Brock Hekking: pic.twitter.com/PtykSvFPj5 — Paul Myerberg (@PaulMyerberg) September 6, 2014 [Sportsnaut] [@SBNation] The post Nevada...
Nevada's Brock Hekking's mullet mohawk is the most American hair of all time, and it's not even debatable.
According to the Reno-Gazette Journal, University of Nevada, Reno football player Brock Hekking turned down a WWE contract last year. The site reports that Hekking says he was offered a contract (most likely a developmental deal) after the UNR Wolfpack's season was over. Hekking said that Clayton Jack, his high school friend who was signed to a WWE developmental deal in January...
- At just after 2:15 in the video below, CM Punk gives a San Diego Comic Con update for Nerdist: - RGJ.com has an article about Nevada football player and NFL prospect Brock Hekking. Hekking, who is friends with WWE developmental talent Clayton Jack, says he was offered a deal by WWE in 2013. Hekking said: "He [Clayton] said, 'You could come do this if you want to.' I said...
Nevada's Brock Hekking was named the FWAA/Bronko Nagurski National Defensive Player of the Week, but we're really impressed by his all-world mullet.
You have probably never heard of Brock Hekking. A junior linebacker at the University of Nevada, Hekking tallied 75 tackles and eight sacks in 2012 and was placed on the Lombardi Award (nation's top linebacker or lineman) watch list entering this season, but that's not what has caught the Internet's attention. Hekking boasts an incredible blonde mullet, inspired by former Seahawks...
MORE STORIES >>
College Football News

Delivered to your inbox

You'll also receive Yardbarker's daily Top 10, featuring the best sports stories from around the web. Customize your newsletter to get articles on your favorite sports and teams. And the best part? It's free!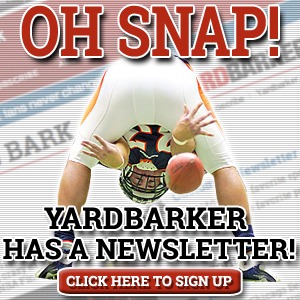 THE COLLEGE FOOTBALL HOT 10