Bryan Bennett started his Southeastern Louisiana career off by rushing for three touchdowns and 106 yards in the Lions dominating 45-7 win over Southeast Missouri. Southeastern Louisiana's offense dominated the game, rolling up 494 yards and scoring 31 unanswered points. Kody Sutton, Xavier Roberson and Rasheed Harrell all rushed for more than 50 yards. Sutton and Roberson each...
EUGENE – University of Oregon quarterback Bryan Bennett has informed the football staff of his intentions to transfer to another school, Head Coach Mark Helfrich confirmed Tuesday.
Oregon backup quarterback Bryan Bennett has told a reporter that he intends to transfer from the University of Oregon.
Oregon sent in their backup quarterback, Bryan Bennett, to run this play.  It looks as though his initial intention was to run a Read Option and get into the end zone on a quarterback keeper.It looks like there was a bit of a miscommunication and because he never crossed the line of scrimmage the pass was completely legal.  Even though, it looks like the toss may have still gone...
After the dust had settled from Oregon's quarter and a third firework show at Autzen Stadium, Bryan Bennett was left with almost three solid quarters to state his case for the Ducks starting quarterback job. Bennett has been through a lot in the last nine months. The minute Darron Thomas misguidedly declared for the NFL Draft, Bennett, last season's cameo hero against Arizona...
Forget any high-ranking recruit that may come to Eugene next February. On Tuesday night, the Ducks received the best player-related news that they could have. Bryan Bennett, the sophomore quarterback, was staying at Oregon. Bennett, who on Friday learned that Marcus Mariota would be the starter opening night against Arkansas State, was set to leave the school. He shook his teammate...
EUGENE -- You have probably heard by now, there were more than a few rumors about Bryan Bennett transferring from the Oregon football program. While most of those rumors were dispelled last night with sources stating that Bennett would remain with the program, there was clear anticipation surrounding Oregon's practice this afternoon.
Breaking news this afternoon out of Eugene. We're still trying to get the complete story for you. This week Bryan Bennett lost the starting QB job at Oregon to Incoming freshman Marcus Mariota. We're hearing its possible that Bennett is leaving the program. A source close to the program told The Oregonian that it is his understanding that Bennett is leaving but that nothing...
Very cool video tour by Ducks QB Bryan Bennett. No wonder they have been so successful in recruiting California talent hey? Quote: State-of-the-art lockers that ventilate the manly fumes that come from sweat-soaked uniforms and different light settings – including one labeled "lounge" - to match that of the stadium on a particular day, so that players'...
LUCKY DUCKS
I don't think that a college team has a better locker room than that of the Oregon Ducks. I don't even think Jerrah put together this nice of a space for Dallas. Sophomore Bryan Bennett gives an inside look at the Ducks nest, which is dedicated to Phil Knight. Of course. The best part of [...]
MORE STORIES >>
College Football News

Delivered to your inbox

You'll also receive Yardbarker's daily Top 10, featuring the best sports stories from around the web. Customize your newsletter to get articles on your favorite sports and teams. And the best part? It's free!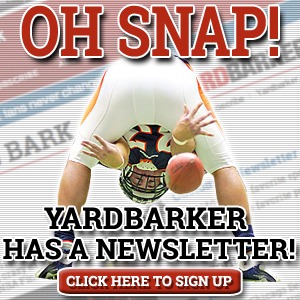 THE COLLEGE FOOTBALL HOT 10