GREEN BAY, Wis. -- Carl Bradford might have made a bit of a miscalculation in his first public comments as a member of the Green Bay Packers. The former Arizona State linebacker was on the field during the infamous ending on Sept. 14, 2013 when the Wisconsin Badgers lost on account of some questionable officiating. Bradford, the Packers' fourth-round pick, laughed when asked...
TEMPE, Ariz. -- Before Arizona State's appearance in the Holiday Bowl, linebacker Carl Bradford's future with the Sun Devils was a hot topic. Bradford said he wasn't sure what he'd do, but ASU coach Todd Graham said he'd be "shocked" if Bradford didn't return for his senior season. After some deliberation and a reported third-round draft grade, Bradford...
Last week, we examined what Arizona State loses on defense from the 2013 team, but Monday's news that linebacker Carl Bradford would enter the NFL drastically changed the circumstances. With Bradford's decision to forego his senior season, ASU must fill another huge hole on a defense that now returns just two starters next season. Bradford's exit leaves ASU without its...
Arizona State defensive end/outside linebacker Carl Bradford will skip his senior season and become available for this year's NFL draft. Coach Todd Graham issued a statement reacting to Bradford's decision. Graham said it was ''an honor and privilege'' to coach Bradford. Graham added that Arizona State wants to be known for a tough, stout defense and that...
TEMPE, Ariz. -- Arizona State linebacker Carl Bradford plans to decide whether or not he'll return for his senior season once he receives a draft grade from the NFL Advisory Committee, pushing his decision until after the Holiday Bowl. "It's about making the right decision at the right time and not rushing into anything," Bradford said Friday. "I'm just...
Arizona State's Carl Bradford is one of the more interesting and versatile players in this draft class. Last year Bradford was asked to fill multiple roles such as rushing the passer, dropping into coverage and playing the run. The fact that he was able to show promise accomplishing each of those tasks is what makes him so versatile...
Update: Here's video, via Tim Ring.  Earlier: Arizona State junior linebacker Carl Bradford isn't mincing words when it comes to explaining how he feels about USC ahead of the Sun Devils' matchup with the Trojans on Saturday. Check out what he told KTVK-TV's Tim Ring: ASU's Carl Bradford on USC: "I just want to kill them. Last year I showed my hate towards them. I...
CAMP TONTOZONA, Ariz. -- When Arizona State linebacker Carl Bradford walked out of the tunnel at Sun Devil Stadium for Monday's team scrimmage, he had his father on his mind. "Whenever I walk in that stadium, it's a different feeling now knowing my father's not going to be there watching in person," Bradford said. "That's something I've still got...
Arizona State linebacker Carl Bradford is a workout warrior.  On Thursday a video of him cleaning 400 pounds appeared on YouTube and it is impressive.  His freak athleticism is not a secret though, he had 11.5 sacks last year and Bruce Feldman listed him as one of the 20 craziest athletes in college football. Arizona State's director of strength and conditioning Shawn Griswold...
TEMPE, Ariz. -- With a semester in session and spring practice nearly at hand, spring break offered Arizona State linebacker Carl Bradford the chance to do something his father had always wanted him to. Bradford had never met his father's family in Louisiana, so he, along with one of his brothers and one of his sisters, traveled with his father to the tiny town of Jonesboro,...
MORE STORIES >>
College Football News

Delivered to your inbox

You'll also receive Yardbarker's daily Top 10, featuring the best sports stories from around the web. Customize your newsletter to get articles on your favorite sports and teams. And the best part? It's free!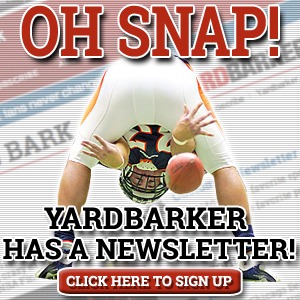 THE COLLEGE FOOTBALL HOT 10