What a difference a day makes. Only weeks removed from having potential off-the-field issues sideline Wendell Smallwood for the 2014 season the talk has totally changed. In an interview with WVU running backs coach JaJuan Seider it was obvious the running back position is still wide open. When asked who was the leader Seider responded with, "they all can do it, ain't nothing...
West Virginia celebrates in the locker-room (at TCU) after snapping a three game losing skid. (All-Pro Photography/Dale Sparks photo) The West Virginia Mountaineers (4-5, 2-4 Big 12) will look for their second victory in a row when the Texas Longhorns (6-2, 5-0 Big 12) come to Morgantown Saturday night. This game is rather important for Texas if they want to stay in the hunt...
West Virginia's Charles Sims rushed for a season-high 154 yards and Josh Lambert hit a 35-yard field goal in overtime for a 30-27 victory over TCU Saturday afternoon. The Mountaineers (4-5, 2-4 Big 12) snapped a three-game losing streak and continue to fight for bowl eligibility. In their overtime possession, the Horned Frogs had minus-5 yards, a 15-yard personal foul and an...
West Virginia running back Charles Sims The West Virginia Mountaineers have reached the mid-way point in the season, with an overall mark of (3-3), it's time to hand out some grades and analyze the performance of each unit. Quarterback – At the quarterback position, West Virginia has used three different players up to this point. Clint Trickett, Paul Millard, and Ford Childress...
The Baylor offense piled up 617 total yards Saturday night…in the first half. The Baylor Bears showed why their offense is so explosive against the West Virginia Mountaineers on Saturday night. Going up and down the field, at an unbelievable pace all night long, the Bears were simply unstoppable. They've been that way all season to this point, but tonight they proved themselves...
West Virginia running back Charles Sims The Mountaineers will have plenty of fresh faces taking the field against William & Mary for the opening kick-off. More than likely it'll take a few games for fans to get used to who is out on the field and what position they're playing. There's no doubt West Virginia will be playing plenty of junior college transfers and a few true...
After rumors of California and July's Supplemental Draft, it seems like Charles Sims has finally made the decision to transfer to the University of West Virginia. After graduating from the University of Houston, Sims left the school for unknown reasons. Since he graduated, he is allowed to transfer without sitting out a year.   He wasn't allowed to just transfer...
Flickr/duffman34 Two weeks ago, we talked about the ridiculous stipulations that the University of Houston was putting on running back Charles Sims, who was looking to leave the schools via the Graduate Transfer Rule. Sims was originally looking to remain in the state of Texas, but that option was taken off the table by the university. According to My Fox Houston, Sims has officially...
Houston running back Charles Sims says he is leaving the Cougars, but is undecided about whether he'll transfer to another school or enter the NFL supplemental draft. In an interview with KRIV-TV of Houston, Sims said he has been released him from his scholarship, though he is barred from transferring to another American Athletic Conference school, any school on the Cougars...
Flickr/duffman34 A few weeks ago, Houston running back Charles Sims announced that he was transferring from the Cougars program. This came as a bit of a surprise considering all of the success he had in it — Sims has amassed over 4,000 offensive yards and 37 touchdowns as a member of the Houston football team, and was expected to be a large part of Cougars offense in 2013 after...
MORE STORIES >>
College Football News

Delivered to your inbox

You'll also receive Yardbarker's daily Top 10, featuring the best sports stories from around the web. Customize your newsletter to get articles on your favorite sports and teams. And the best part? It's free!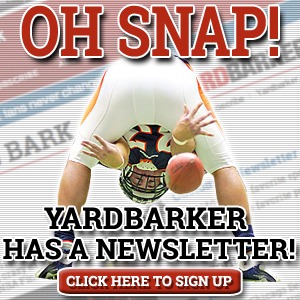 THE COLLEGE FOOTBALL HOT 10