Gainesville, Fla. -- Clay Burton found himself in a very unfamiliar place Saturday. Actually, more like places. First, Burton was in the game plan. A senior tight end who started his UF career as a defensive lineman, Burton hauled in a career-high seven catches for 42 yards in Florida's 65-0 win over Eastern Michigan. While that might not seem worthy of headlines, in Burton&...
The Florida Gators enter the 2014 with a number of questions on the offensive side of the ball. After finishing with a disappointing 4-8 record last season, new offensive coordinator Kurt Roper will look to bring a more prolific offense to Florida this year.Florida lost two of it's top receivers following last season, as Solomon Patton and Trey Burton have graduated and moved...
Remind me to never get on the bad side of Will Muschamp. The Florida coach went absolutely berserk on tight end Clay Burton during the team's 17-9 loss to Georgia on Saturday. There's Muschamp, just absolutely raging on Burton. Nostrils all flaring. Throat veins throbbing. Chin all protruding. That cannot be healthy. I have no idea what could make Muschamp so upset with his...
THE SEA WAS ANGRY
Florida Gators head football coach Will Muschamp was very angry on the sidelines during Saturday's SEC game against Georgia, as evidenced by one rant caught on camera directed towards tight end Clay Burton. If he was like that during the game, imagine what kind of mood Muschamp must be in now after Florida lost the game, 17-9.  Probably not too happy. Popout Video via...
Check out the video. Florida Gators' head football coach Will Muschamp looked like a wild man as he yelled at Gators tight end Clay Burton during the Florida vs. Georgia SEC showdown. There was good reason. No. 10 Georgia upset No. 2 Florida, 17-9.  
GAINESVILLE, Fla. Both have played multiple roles and worn multiple numbers in their time with the Gators. Trey Burton has moved around more than an Army brat the past two seasons. He has lined up at quarterback, running back, receiver, tight end and fullback. Burton has also played on special teams. Burtons career highlight is a good one: a six-touchdown performance against Kentucky...
Sorry, but if you're siblings and have names that rhyme, this is what happens.* Junior Trey Burton and his younger brother sophomore Clay Burton are lining up on the same side of the ball this season and are looking forward to it. Not only may they see the field at the same time, they may actually line up next to each other. The Florida Gators have run out some looks with Trey...
Summer B is kicking off at the University of Florida, but some Gators aren't taking classes. In fact a few athletes you might know are spending some time this summer helping others. Gator football players Trey Burton and Clay Burton have teamed up with basketball players Will Yeguete and Patric Young on a mission trip to Africa. They are spending time teaching African youths sports...
MORE STORIES >>
College Football News

Delivered to your inbox

You'll also receive Yardbarker's daily Top 10, featuring the best sports stories from around the web. Customize your newsletter to get articles on your favorite sports and teams. And the best part? It's free!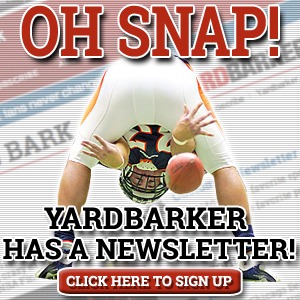 THE COLLEGE FOOTBALL HOT 10