In this week's isportsweb Freep column, I review the season it's been thus far for Big Ten football teams and what it all means for Michigan State football. And while it's only three weeks into the season, it's looking like the chances the Big Ten gets a team into the inaugural College Football Playoff are slim. Read the isportsweb column online in the Detroit Free Press...
Everything seemed to be going so well. The Spartans were up by two scores in the second half looking for a program defining win. Then it all turned on a dime, or rather, Marcus Mariota turned on a dime. On one third down play Mariota, the Heisman Trophy candidate, escaped the MSU rush and found his running back for the first down. It was all Ducks from there. It's hard to point...
Michigan State dominated Jacksonville State 45-7 in it's season opener last weekend and not surprisingly, our entire staff correctly predicted the Spartans would come out on top. This week will be much more interesting as the Spartans travel to Eugene for it's long-awaited match up with the third-ranked Oregon Ducks. The game will take place at 6:30 p.m. EST tomorrow and will...
Michigan State fans have to be happy with how the team looked in its 45-7 win over Jacksonville State last Friday, but during the game, they certainly had reason to be nervous and angry about an incredibly late hit on quarterback Connor Cook. They're not the only ones who are upset. Cook was not pleased with the play either. Connor Cook on the hit on his knee he took vs Jax St...
In this week's Freep Column, I take a look at Michigan State's upcoming game against Oregon and what it means for not only MSU football, but for the entire Big Ten Conference. The wait is almost over. The date Spartans fans and many other college football fans had circled on their calendars is less than a week away. Michigan State travels to Eugene to take on the No. 3 Oregon...
Jacksonville State was not supposed to be real opposition for Michigan State Friday night, and it wasn't. The Spartans got out to a 21-0 lead in the first quarter and pretty much coasted to a 45-7 win over the Gamecocks (wow--bad weekend to be a fan of Gamecocks). Glorified scrimmages like this are meant to help the marquee team work out the kinks.The only thing that can make...
Michigan State fans got a real scare early in the Spartans' opener against Jacksonville State. Right after throwing a long touchdown to Tony Lippett, starting quarterback Connor Cook took a nasty late hit from Gamecocks safety Folo Johnson. The hit Connor Cook took. Total cheap shot. https://t.co/ARNmzbITVH — Andrew Holleran (@andrewjholleran) August 29, 2014 Luckily, Cook...
EAST LANSING, Mich. -- I'm having a hard time remembering an athlete more determined to avoid complacency than Michigan State quarterback Connor Cook. He had a stunning, breakout year in 2013 despite beginning the season on the bench. First, he had to unseat starter Andrew Maxwell and then hold off highly-recruited freshman Damion Terry for the job. But he got better each week...
Even though the NCAA no longer sells the jerseys of their "student athletes" on their official website, Michian State is still cashing in by selling the jersey of quarterback Connor Cook at their student store. https://twitter.com/sbsmsu/status/486206000655912961 The post Michigan State selling Connor Cook's football jersey at their student store (Photo) appeared first on...
You can assume that Michigan State's players, fresh off of a Big Ten title, work hard during practice and hit the weight room quite frequently. But energy-wise, apparently, it's still nothing compared to chasing around kids all day at a summer camp. Check out the below photo, shared by quarterback Connor Cook on his Instagram account, that shows a number of Spartans passed out...
MORE STORIES >>
College Football News

Delivered to your inbox

You'll also receive Yardbarker's daily Top 10, featuring the best sports stories from around the web. Customize your newsletter to get articles on your favorite sports and teams. And the best part? It's free!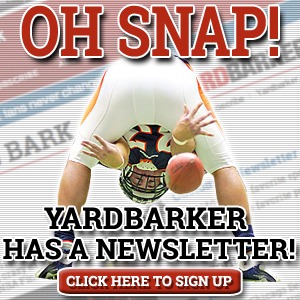 THE COLLEGE FOOTBALL HOT 10