Crispy critter: Isiah Meyer burns the Portland State defense for a touchdown catch last Saturday. Oregon's secondary has the challenge tonight of containing a passing attack that will put the pull up 70-90 times in Martin Stadium (James Snook-USA TODAY Sports photo). Defending against the Air Raid, it's a little like basketball. Linebackers and defensive backs have to work through...
SPOKANE, Wash. (AP) Washington State boasts the nation's top passing offense heading into Saturday's Pac-12 opener against the second-ranked Ducks. Last year, Washington State quarterback Connor Halliday threw the ball an NCAA-record 89 times as Oregon beat the Cougars 62-38 in Eugene, Oregon. Oregon (3-0) has won seven straight games against Washington State (1-2), which...
Immediately, I snap back into reality and realize that the most important thing is to have fun while doing what you love. So, to all my football players and other athletes out there who feel consumed by the pressures of their sport, always remember to reminisce the feeling you felt when you first picked up a ball, and to just let the kid inside you play. —Derrick Malone, in a weekly...
PULLMAN, Wash. (AP) Connor Halliday, the nation's leading passer, threw for 544 yards and six touchdowns on Saturday as Washington State beat Portland State 59-21. Isiah Myers caught 11 passes for 227 yards and three touchdowns for Washington State (1-2), which had opened the season with losses to Rutgers and Nevada but proved too much for FCS Portland State. Kieran McDonagh...
Connor Halliday totaled 532 yards and 5 touchdowns of offense and could not beat Rutgers. I do not recall the last time the Cougs won a game at Century Link Field in Seattle. The Defense is the main reason WSU could not win the game. In just about any other game where you pass for 500+n years and 5 TD's you come away with an easy win. Coach Leach will have to look at beefing up...
We were blessed with some tight games, some close finishes, and a couple of near-upsets last weekend. Of course, last-second heroics like Ohio State's miraculous back-door cover did nothing to help this particular trio of Tailgaters, but taken all together last Saturday offered tons of excitement. This week, all three of us managed to at least break even in our predictions. When...
Holy Hell, Halliday The Cougars fell to the Tigers Saturday by a score of 31-24. There was a lot to love about the Cougars performance. They came out strong on their opening drive with a well-executed 75 yards leading to 7 points. The Tigers answered back and added on a 2-point conversion to take a 8-7 lead early in the first quarter. Connor Halliday had received praise all pre...
KENNEWICK -- Washington State quarterback Connor Halliday, who came on strong late in the 2011 season before going down with a lacerated liver injury, is progressing nicely in his recovery. WSU's new director of football operations, asked Friday about the sophomore-to-be, shied from going into detail but offered clues to Halliday's outlook for spring ball, which starts March 22.
Washington State quarterback Connor Halliday will miss the Apple Cup against rival Washington this weekend because of a lacerated liver suffered in an overtime loss to Utah. Halliday remained in stable condition in the intensive care unit at Pullman Regional Hospital on Monday. The redshirt freshman was admitted to the hospital shortly after Saturday's game, complaining of...
Washington State redshirt freshman quarterback Connor Halliday made his first career start Saturday versus the Utah Utes, but unfortunately he might have made his last, at least for this season. During Wazzu's thrilling but heartbreaking 30-27 OT loss to Utah, Halliday took several hits to the body throughout the game causing Halliday to suffer a lacerated liver. After the game...
MORE STORIES >>
College Football News

Delivered to your inbox

You'll also receive Yardbarker's daily Top 10, featuring the best sports stories from around the web. Customize your newsletter to get articles on your favorite sports and teams. And the best part? It's free!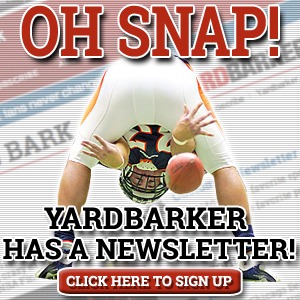 THE COLLEGE FOOTBALL HOT 10