Caption (credit: www.dallascowboys.com) There is a side show that no one seems to talk about in Dallas and I call it the Quiet Game. While we all talk about the offenses' big play potential and the defense's improvements, we seldom ever have to talk about the kicking portion of the Cowboy's game. Dan Bailey has been terrific since he won the job from former athletic kicker...
There seems to always be uncertainties following the Dallas Cowboys organization. Will Romo ever get back to his same style of play? Will the Cowboys have the worst defense in the league? Will the play-calling improve? Is head coach Jason Garrett on the hot seat? Aside from the many questions, there's someone within the Cowboys organization that is absolutely certain. He goes by...
… In fantasy that is, but maybe in real life as well. With a week of preseason games now in the books, the 2014 NFL season is officially underway. And that can only mean one thing: Fantasy football drafts are about to start happening. In order to get a jump on the competition, it's never to early to start putting together a draft board. To help the cause, cover32 will be ranking...
Playing for the Dallas Cowboys is a wild experience of ups and downs. Kicker Dan Bailey went on an even bigger ride this offseason with the Blue Angels at Pensacola Naval Air Station. "Growing up, I've always wanted to come out and take a ride in one of these aircrafts," Bailey told the NFL Network. "It's always been a dream of mine. It's just always something...
The Dallas Cowboys have signed kicker Dan Bailey to a new seven-year contract through the 2020 season. Bailey, who originally signed with Dallas as an unrestricted free agent out of Oklahoma State after the 2011 draft, was set to be a restricted free agent. In three seasons with the Cowboys, Bailey has made 91 percent of his field goals (89 of 98) and all 123 extra-point attempts...
Dan Bailey is a good kicker and it appears he will be the kicker for the Cowboys for a very long time. On Thursday, the Cowboys officially signed Bailey through the 2020 season, giving the kicker a six-year contract extension. Bailey was set to become a restricted free agent this year but the Cowboys bypassed all of that, giving him a deal that will pay Bailey a little more than...
getty images The Dallas Cowboys are in talks with kicker Dan Bailey about a long-term extension according to Brandon George of the Dallas Morning News. In 2010 the Cowboys picked up Bailey as an undrafted free agent and he has gone on to be one of the more reliable kickers in the game. Stephen Jones said Cowboys are in serious contract negotiations right now on a long-term deal for...
Free agency and the salary cap figures to rob the Dallas Cowboys of some of their talent this offseason. But as it regards Dan Bailey, all parties involved tell Fox Sports Southwest that the NFL system, a Valley Ranch philosophical change and the talents of the standout kicker figure to allow him to carry on as one of the team's most consistent performers. Sources say the parties...
IRVING, Texas -- Dan Bailey went from converting 87 percent of his field goal attempts as a rookie in 2011 to converting 94 percent of his kicks in 2012. But the 25-year-old Dallas kicker isn't at all content with how he kicked last season, a campaign where he kicked four game-winning kicks but also missed another one that would have won at Baltimore. Instead the Oklahoma City...
Dan Bailey is giving Cowboys extra confidence with his nearly flawless kicking skills this season.
MORE STORIES >>
College Football News

Delivered to your inbox

You'll also receive Yardbarker's daily Top 10, featuring the best sports stories from around the web. Customize your newsletter to get articles on your favorite sports and teams. And the best part? It's free!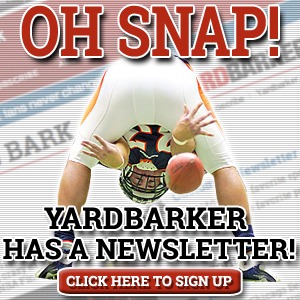 THE COLLEGE FOOTBALL HOT 10