Play the Game Tonight - Week 9 Thursday edition.The only ranked team on the schedule for Thursday night is East Carolina, which hosts UConn at home at 7:00 PM EST (ESPN U). For those looking for a game that involved more traditional powerhouse schools, Miami plays Virginia Tech at 8:00 PM EST (ESPN).Banhammer of the Gods?Dan Wetzel calls on NCAA president Mark Emmert to throw the...
Halfway through the NCAA football season, there is no doubt that the top-ranked Mississippi State Bulldogs are the surprise team in the nation. Unranked following a 3 game start, the Dawgs soared through the rankings after three straight top-10 wins over LSU, Texas A&M and Auburn. Now, after arguably the toughest three-game stretch any team in the nation will play all season...
They are already talking about it all over the airwaves in Florida. Dan Mullen needs to replace Will Muschamp in Gainesville.While the Gator faithful may put on a full court press to secure the offensive mind to come back the school that he helped win two national titles in the last eight seasons, the move may not be the best for the head man in Starkville. It looks like he and his...
Mississippi State head coach Dan Mullen has his team ranked #1 in the country after defeating Auburn last week. Mullen's name has been a hot topic in Gainesville as Florida Gators head coach Will Muschamp seat is getting hot. Mullen knows how it feels to be on the hot seat as he found himself there on numerous occasions during his time at Florida as offensive coordinator and at...
Dan Mullen. Photo via Jackson Clarion-Ledger.College football fan-created websites calling for the dismissal of one underperforming head football coach or another have been popping up ever since the infamous Fire Ron Zook first appeared on the Internet almost as soon as Zook was hired to replace Steve Spurrier at Florida.Now with another Florida head coach, Will Muschamp, under fire...
Dan Mullen talked about the Florida Gators and Mississippi State jobs during an interview, and was critical of fans pushing coaching changes.
Dan Mullen is proud of his Mississippi State Bulldogs' new No. 1 ranking in both major polls, and doesn't see any problem with his players taking pride in it off the field. However, when it comes to practice, Mullen is making sure that his team doesn't get lazy now that they've hit the top of the college football world. He hopped on ESPN's Pardon the Interruption today...
As we've noted before, there is a decent chunk of Florida's fan base that no longer wants head coach Will Muschamp running the program. As such, some Gators fans are already looking at potential replacements. One has gone as far as to build a website titled "We Want Dan" that serves as a campaign for AD Jeremy Foley to hire Mississippi State coach Dan Mullen.   Mullen was...
Dan Mullen was showing everyone the love after his Mississippi State Bulldogs beat the Auburn Tigers 38-23 to improve to 6-0 on the season. After the game, Mullen gave his wife and hug and kiss, and then he grabbed quarterback Dak Prescott and gave him a kiss on the side of the head. Prescott didn't...Read More
Friday night, adidas and Mississippi State unveiled a brand new set of "Stark Vegas" cleats that some of the Bulldogs will be wearing for their big game against No. 2 Auburn Saturday. This morning, on ESPN's College GameDay, it was revealed that head coach Dan Mullen will also be wearing a similar set of kicks – custom Stan Smith's with the same phrase. .@CoachDanMullen...
MORE STORIES >>
College Football News

Delivered to your inbox

You'll also receive Yardbarker's daily Top 10, featuring the best sports stories from around the web. Customize your newsletter to get articles on your favorite sports and teams. And the best part? It's free!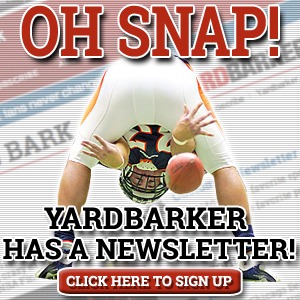 THE COLLEGE FOOTBALL HOT 10