Bogie. Birdie. Par. Birdie. Par. This golf analogy sums up Dan Mullen's scorecard in five seasons as the head coach at Mississippi State. Mullen came to Starkville by way of the University of Florida, where he coached Tim Tebow and was the offensive coordinator for Urban Meyer's Florida Gator high-octane offense. Before his stop in Gainesville, Mullen served the same role at...
The hype and anticipation which greeted Dan Mullen's arrival as the head coach at Mississippi State carried the desperation of a fan base that longed for a larger moment of significance. Mullen, upon leaving Urban Meyer and Tim Tebow at Florida, was intent on making a name for himself and establishing that he could build his own empire, his own soaring success story, his own enduring...
by Jeremiah Short, originally posted on Peach State College Sports Tyson Lee failing to score on the goaline against LSU in 2009 signifies the entire Dan Mullen Era. The Bulldogs have always been one inch, one play, one player and one "statement" game short of ascending from a "Team on the Rise" to legit SEC Title contender under the sixth-year coach.Auburn 2010: The Bulldogs...
Mississippi State Bulldogs coach Dan Mullen dominated a wing eating contest at Buffalo Wild Wings on Monday.
They still ring those interminable cowbells and cheer when he runs out onto the field.If he were a politician, consultants would say that Dan Mullen, in his fifth year as the head coach at Mississippi State, hasn't lost the base. But they would also say that the swing voters, always more fickle and eager to judge, are growing soft on the Bulldogs and their leader, a man with...
The Mississippi State Bulldogs are closing in the North endzone of Davis Wade Stadium – it's about time. Athletic Director Scott Stricklin shared the image below on Twitter. The expansion increase the stadiums capacity from 55,000 to 61,000. To accommodate for the demand of Mississippi State Football season tickets, plans are underway for a North End Zone expansion of Davis...
WHY NOT?
"Coach, can you sign my ultrasound?" This is one of those moments you're probably never actually prepared for, although you should be. No, you NEED to be. Mississippi State head coach Dan Mullen recently learned what a moment like this is like, and he was more than happy to oblige. Joe Galbraith, the team's assistant athletic [...]
GO BULLDOGS
In my mind, Mississippi State has just won the award for best wedding's groom cake ever. This cake is detailed to to the inch. There is even a picture of their head coach Dan Mullen on it. The SEC West team definitely has a couple that pays attention to detail and has one amazing cake. A giant hat tip to you MSU fans. The best stadium groom's cake I have ever seen twitter.com...
Michael Ferns is one of the top high school linebackers in teh country, and has already verbally committed to Michigan for the 2014 season. But, since he still has roughly a 9 months to sign with anyone, he still has plenty of time to receive recruiting letters from several interested schools. One of the letters he recently received is either a great joke by fans of Ole Miss, or...
A REAL WING-DINGER
Mississippi State Bulldogs head football coach Dan Mullen recently won a wing eating contest at a local Buffalo Wild Wings.
MORE STORIES >>
College Football News

Delivered to your inbox

You'll also receive Yardbarker's daily Top 10, featuring the best sports stories from around the web. Customize your newsletter to get articles on your favorite sports and teams. And the best part? It's free!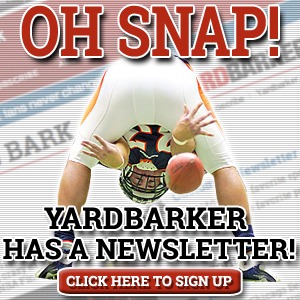 THE COLLEGE FOOTBALL HOT 10