West Virginia University head football coach Dana Holgorsen spoke with the media today during the Big 12 Conference Teleconference. Coach Holgorsen talked about Kansas coming to Milan Puskar Stadium this weekend, the changes at Kansas following the firing of Charlie Weis and the improvement of his team during the bye week. Holgorsen also said Daryl Worley remains suspended while...
The West Virginia University football team is heading into a much needed bye week after a home loss to Oklahoma this past Saturday night, but head coach Dana Holgorsen met with the media earlier today to talk about his program and what week off means for the Mountaineers. Our Dave Ackermann was there to take in the sights and sounds at the Puskar Center.   Dana Holgorsen The post...
West Virginia University head football coach Dana Holgorsen met with the media following the Mountaineers 54-0 win over Towson on Saturday night at Milan Puskar Stadium. The Mountaineer offense rolled up over 600 yards of offense, while the defense pitched a perfect game. WVU moves to 1-1 on the season with a trip to Maryland on tap next weekend.   Dana Holgorsen Post Game – Towson...
West Virginia University head football coach Dana Holgorsen met with the media on Tuesday afternoon to put Alabama in the rear view mirror and turning the teams focus to this weekend and Towson. Holgorsen says his team came out of Atlanta healthy and they're in a good spot mentally. The Mountaineers traveled 70 players with 57 seeing playing time against the Tide. West Virginia...
Dana Holgorsen did a good job keeping his West Virginia Mountaineers competitive with Alabama before losing their season opener 33-23 on Saturday. One area where things weren't quite as close for Holgorsen however, was the hair category. The guy lost that battle in a blowout. That dude's hair started to wilt like a flower in […]
On Twitter @TheCoachBart The look on Dana Holgorsen's face was like that of a guy suspecting his wife of cheating on him and then walking in on her after coming home from work early with a dozen roses and a bottle of Merlot. Time expired, and West Virginia lost to Alabama by 10. There are no moral victories in sports. Outwardly, you feel no better losing in a valiant effort than...
On Monday West Virginia coach Dana Holgorsen raised some eyebrows when he said "you lie in recruiting a bunch" during a press conference. Not because the idea that coaches lie to recruits is anything new, but because you generally don't hear coaches admitting it publicly. And, as you'd expect, Holgorsen caught some heat for the comments, because, well, I don'...
Dana Holgorsen has been known to fly off the cuff a bit, but even so, seeing a coach openly acknowledge how scummy recruiting can get is a bit surprising. While lying, embellishment, and other things of the sort are definitely a part of the recruiting landscape, it's not every day that a coach discusses it openly. Dana Holgorsen: "You lie in recruiting a bunch. That's just...
Could the Backyard Brawl come back between West Virginia and Pittsburgh?  During the Big 12 Media Days, Mountaineer coach Dana Holgorsen shared his desire to get the 'Backyard Brawl' going with the school just miles north across the border. The last time these two programs met after their 104th meeting was November 25, 2011, resulting in a 21-20 Mountaineers victory. Coach...
If you're one like that likes to look at trends as it relates to coaching success, Dana Holgorsen is headed in the wrong direction. West Virginia's head man led the Mountaineers to a 10-3 record during his first season including a 70-33 thrashing of Clemson in the Orange Bowl leading many to believe the sky was the limit with the Mountaineers set to head to the Big 12. With...
MORE STORIES >>
College Football News

Delivered to your inbox

You'll also receive Yardbarker's daily Top 10, featuring the best sports stories from around the web. Customize your newsletter to get articles on your favorite sports and teams. And the best part? It's free!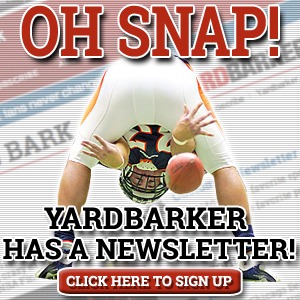 THE COLLEGE FOOTBALL HOT 10