Darqueze Dennard was probably the best player on the nation's best defense in 2013, and Michigan State has wasted little time in promoting the former Spartan among the school's other football greats. MSU has already put together a display about Dennard, who was taken in the first round by the Cincinnati Bengals in this year's NFL Draft. The display prominently features Dennard's...
CINCINNATI -- Bengals first-round draft choice Darqueze Dennard signed his rookie contract Thursday to complete the team's negotiations with its 2014 draft class. The Bengals chose the cornerback from Michigan State with the 24th overall pick in last month's draft. He is the sixth first-round defensive back on the Bengals' roster; Leon Hall (2007) and Dre Kirkpatrick...
Darqueze Dennard has come a long way since being a two-star recruit out of Dry Branch, Georgia. The Michigan State cornerback who won the Jim Thorpe Award as the nation's top defensive back was selected by the Cincinnati Bengals with the 24th pick in the first round of the 2014 NFL Draft. Dennard is the first Spartans defensive back to be chosen in the first round since the Green...
A lot of people, reporters and fans included, are under the illusion that the NFL Draft doesn't matter. In this week's isportsweb Free Press Column, I argue that it does matter to the program and to the recruiting base.  Ah, the NFL Draft. An annual tradition that is broadcast for three straight days on multiple channels, full of promising young men having their lifelong dreams...
Darqueze Dennard CB Michigan State #31 Ht: 5'11″ Wt: 199 All of our scouting reports are limited to our premium customers. If you would like access to all of our 2014 scouting reports, click here to sign up. Size/Athleticism: Adequate height and overall size. Timed speed was exceptional at combine, but it doesn't translate to the field. Straight-line speed is decent,...
EAST LANSING, MICH. -- Michigan State cornerback Darqueze Dennard probably wouldn't even recognize the skinny Georgia kid who arrived on campus in 2010. "Im a lot bigger than I was when I first got in," Dennard said. "I was 165 pounds soaking wet and with the meal plan, with the nutritionist and of course (head strength and conditioning) coach (Ken) Mannie with...
Ohio State coaches, players and fans famously refer to Michigan as "That team up North", refusing to call utter the program's actual name. Now, it looks like at least one player on another rival of the Wolverines – the Michigan State Spartans – might be starting a similar tradition. Senior cornerback Darqueze Dennard won't refer to Michigan as "Michigan" this week...
SOUTH BEND, Ind. — Questionable, but costly penalties on the Michigan State defensive backs hurt the Spartans' chances in their 17-13 loss to No. 22 Notre Dame on Saturday, but it didn't hurt their confidence. Between senior  defensive back Darqueze Dennard and sophomore defensive back Trae Waynes, MSU was flagged for four pass interference calls and a holding call that led...
Darqueze Dennard played possibly the game of his career. 2 picks (one of which would be a 96-yard pick-six, but we'll cover that later) and 4 tackles. Also, late in the game, Dennard had a clutch play, denying Nebraska wideout Kenny Bell a touchdown reception, only to be called back because he had "interfered" with Bell. At first glance on the scoreboard at Spartan Stadium...
On Saturday, the Michigan State Spartans football team welcomed the 20th ranked Nebraska Cornhuskers into town for a late season B1G matchup. The game was fought long and hard and the roundabout theme of the game would soon be centered around penalties. Nebraska was penalized 9 times for 72 yards while Michigan State was penalized 9 times for 100 yards. As a result of this, a game...
MORE STORIES >>
College Football News

Delivered to your inbox

You'll also receive Yardbarker's daily Top 10, featuring the best sports stories from around the web. Customize your newsletter to get articles on your favorite sports and teams. And the best part? It's free!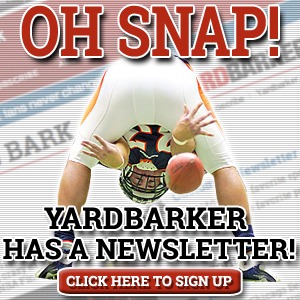 THE COLLEGE FOOTBALL HOT 10