While the Portland Thunder were making their franchise debut, all eyes were on Thunder quarterback Darron Thomas. Thomas was a decorated quarterback for the University of Oregon Ducks. In two years as a starter ,Thomas amassed over 5,500 yards and 66 touchdowns. He led the Ducks to the National Championship game where they eventually lost to the Auburn Tigers. In the next season...
Oregon running back/wide receiver De'Anthony Thomas may be the Heisman contender that all of the preseason magazines are forgetting about. Athlon Sports ranks him on the honorable mention list. Phil Steele lists him as a "possibility", below a top ten list and another long list of contenders. Lindy's Sports has Thomas ranked, but he is at No. 7 overall. How is this possible...
Every year this happens- you see a few bone-headed decisions when it comes to the NFL Draft and declaring underclassmen, the "what is he thinking?" reaction. This year it goes to Oregon Ducks QB Darron Thomas. Sure, he's accomplished a lot. But he's too small to see over the NFL linemen, his throwing isn't consistent enough and he shapes up as a 5th-6th round prospect at...
It's easy for me to sit here and talk about how dumb Darron Thomas must be to leave Oregon and enter the NFL draft a year early. If you look at it from a deeper level, though, you might come to realize what I have: that Thomas might just have made the right decision. As Oregon's all-time leader in touchdown passes, Thomas helped take the Ducks to heights the team had never before...
ET TU, DARREN?
Oregon quarterback Darron Thomas has decided to declare for the NFL Draft. Between Thomas and running back LaMichael James leaving, the Ducks have some serious holes to fill.
Oregon quarterback Darron Thomas is skipping his senior season to enter the NFL draft. Thomas made the announcement, which caught many by surprise, on Saturday night. He follows Oregon running back LaMichael James, who announced last week that he would skip his final year of eligibility. ''I came to this decision on behalf of myself and my family,'' Thomas said...
Oregon's fastest player was gone before a Badger could take a step. In the closing seconds of the Rose Bowl's first quarter Monday, freshman De'Anthony Thomas -- 5 feet 9 and 173 pounds of speed -- took a handoff on the Oregon 9-yard line and was in the end zone in a matter of seconds. "I just saw open field and tried to take it for a touchdown," said Thomas...
MIXED MESSAGE
Reporter: "Darron, you just led your team to one of the biggest wins of your life, how are you going to celebrate?!" Darron: "Um, wow, this win means so much for Oregon I can't even begin to describe how I feel. I think I'll just do this." Reporter: "Darron, I know you're a Houston native, [...]
The two Houston-area quarterbacks locked up in a district playoff game in the fall of their senior years. Luck's team won, but Thomas had better stats, including 101 yards rushing. Thomas was 0-2 against Luck in high school, but he's 1-0 as an Oregon starter.
Earlier this week Aaron Fentress and Ken Goe of the Oregonian provided a cogent breakdown of all the reasons Darron Thomas should be the Oregon starter. He has experience in big games. He's proven himself with an 18-2 record, the only losses to a National Champion and the current #1 team. As a sophomore first-year starter he threw for 2881 yards and 30 touchdowns while rushing...
MORE STORIES >>
College Football News

Delivered to your inbox

You'll also receive Yardbarker's daily Top 10, featuring the best sports stories from around the web. Customize your newsletter to get articles on your favorite sports and teams. And the best part? It's free!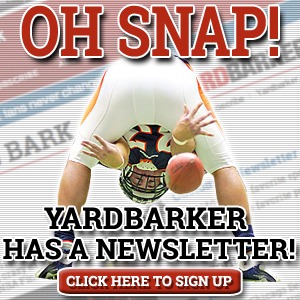 THE COLLEGE FOOTBALL HOT 10