The Auburn Tigers enter the 2014 season with a bit of a target on their backs. Last year they came out of nowhere and had some incredible finishes and wins. They have lost some key guys like Tre Mason, Greg Robinson and Dee Ford but figure to be good again this year. Now the school has released a 2014 hype video titled "Where Will You Be?" which should get their fans hyped for the season.  
KANSAS CITY, Mo. -- The legend says that Dee Ford once locked himself in a room for six months -- a little chunk at a time, we hope -- and wouldn't come out until he had mastered the keyboards. Mastered it. He was 12 years old. Kid got good. "Crazy good," James Ford Jr., Dee's older brother, said, "within a span of six months. So it took a lot of mental toughness...
  Ian Rapoport of the NFL Network reports that Auburn DE/OLB Dee Ford is visiting the Falcons Tuesday. Ford has also met with the Patriots, Saints, Colts, Texans and Buccaneers. Ford is an explosive athlete who could find himself sneaking into the first round because of his pass-rushing ability. Atlanta's first two picks are at No. 6 and No. 37, although GM Les Snead is not...
For pass-rushing defensive ends who have thrived in a 4-3 system, graduation to the NFL could take out of play teams that run a 3-4 front. Auburn defensive end Dee Ford insists that shouldn't happen for him. And he has reached the point where he's not thrilled to talk about it. Asked to identify the question he's sick of being asked during a Friday visit to Pro Football...
Dee Ford made some waves at the NFL combine for his comments about Jadeveon Clowney, and it looks like he's ready to back those words up. Ford, who sat out at the combine due to a medical issue, put on a show at today's Auburn Pro Day: Auburn DE Dee Ford with a 35 1/2 vertical on his second jump. pic.twitter.com/gBlHblwJYP — D. Orlando Ledbetter (@AJCFalcons) March 4, 2014...
It's been quite a few weeks for Dee Ford. Not the former Auburn defensive end, however, but the middle-aged English woman who is frequently confused with the football player on social media — their Twitter handles are quite similar, and even football Dee mistakenly told his own followers to tweet her handle in the past. In recently weeks, she has become increasingly popular with...
If you have a Twitter account it turns out one of the best ways to pick up followers is to have the same name of an Auburn football player. That's what's happened to Dee Ford, a commercial property surveyor from England who has been repeatedly confused for Auburn defensive lineman Dee Ford on Twitter in recent months, and especially this weekend as Ford had an excellent performance...
Auburn defensive end Dee Ford has visions of another surprising national title run. Even if that proves a stretch, the 11th-ranked Tigers have risen from a dreadful season to the brink of the Top 10 with an about-face that's come with the rapidity of the next play in Gus Malzahn's no-huddle offense. A road upset of Johnny Manziel and then-No. 7 Texas A&M vaulted Auburn...
It looks as though Auburn will have to go into its season opener against Washington State without its top rusher from last season. Defensive end Dee Ford is recovering from what's being described as "an injury to one of the ligaments in his left knee," and may be out for longer than that. Ford is reported to have suffered the injury back on Aug. 10. No surgery is...
Auburn defensive end Dee Ford is expected to miss the season opener against Washington State because of a knee injury. Tigers defensive coordinator Ellis Johnson said Monday night that Ford will be out for the Aug. 31 game. Johnson says the team's top pass rusher will be out for an extended time but he's not sure how long. Ford led the Tigers with six sacks last season...
MORE STORIES >>
College Football News

Delivered to your inbox

You'll also receive Yardbarker's daily Top 10, featuring the best sports stories from around the web. Customize your newsletter to get articles on your favorite sports and teams. And the best part? It's free!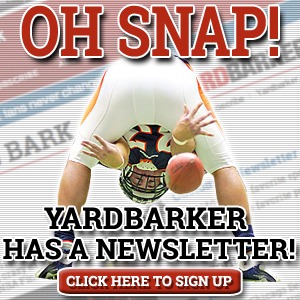 THE COLLEGE FOOTBALL HOT 10