ARLINGTON, Texas — After taking over as the feature back against Iowa State, junior running back Desmond Roland ran for 219 yards and four touchdowns. His emergence was a major factor in Oklahoma State turning around its offensive production, as Roland now has 781 rushing yards and 12 touchdowns. Wednesday, Roland talked about his breakout season and the reasons behind his success.
This wasn't the plan. Anybody familiar with Oklahoma State knew that much. A Cowboy had rushed for 1,000-yards in each of the past six seasons. Only two schools (Wisconsin and Penn State) could boast a longer streak. Four different running backs helped make that happen, and it was easy to see experienced senior Jeremy Smith joining the group in 2013. After a 102-yard, two-touchdown...
Desmond Roland was patiently waiting for his chance and when it finally came last Saturday, he took advantage of it. In his first career start, the junior running back delivered, rushing for 219 yards and four touchdowns on 26 carries to help lead No. 18 Oklahoma State to a 58-27 triumph at Iowa State. Now, of course, the trick is to prove he can produce in consecutive games as...
Oklahoma State rushed for a season-high 342 yards in last weekend's win, and Desmond Roland had a career-best 219 yards. Much of the credit is given to the Cowboys offensive line, which had its best game of the season? Will they be able to keep it up on the road against Texas Tech? How difficult is it to win a night game in Lubbock? These are some questions Robert Allen answers...
With the running game in order, the No. 18 Oklahoma State Cowboys have to take another look at their passing attack. Thanks to a breakout performance by junior running back Desmond Roland, who rushed for 219 yards and four touchdowns on 26 carries in his first career start in Saturday's 58-27 victory at Iowa State, the Cowboys appear to have solidified a part of their offense...
Let's look back on the best and worst of the Big 12 from Saturday's slate. Best offensive performance: Desmond Roland, RB, Oklahoma State. You want broken tackles, Mike Gundy? You got 'em. Even Marshawn Lynch was impressed with Roland on Saturday, who bulled his way to 219 yards and four touchdowns on 26 carries. He'd topped 60 yards in a game just twice before Saturday...
Oklahoma State fans got their wish last week when freshman running back Rennie Childs made his collegiate debut against TCU. This week, the cry was for more Childs. But Cowboys junior running back Desmond Roland was one of the most improved players in fall camp, and the junior from Dallas got his chance to show what he could do Saturday against Iowa State. He took advantage of it.
Desmond Roland ran for a career-high 219 yards and four touchdowns and 19th-ranked Oklahoma State routed Iowa State 58-27 on Saturday for its third straight win. Quarterback Clint Chelf had 163 total yards in his second start of the season for the Cowboys (6-1, 3-1 Big 12), who ran for a season-high 342 yards. Oklahoma State scored 14 points in a 2- 1/2 minute stretch late in the...
The early conversation surrounding Oklahoma State running backs this spring has been focused on one veteran player: Jeremy Smith. But don't sleep on junior Desmond Roland. The former Dallas prep star said the things he learned last year should propel him to a breakout season in 2013.
Jeremy Smith and Desmond Roland ran for three touchdowns apiece, Wes Lunt completed all 11 of his passes in a brief first outing as the new starting quarterback for No. 19 Oklahoma State and the Cowboys beat outmatched Savannah State 84-0 on Saturday night. The defending Big 12 champions drove for touchdowns on their first five possessions to take a 35-0 lead late in the first quarter...
MORE STORIES >>
College Football News

Delivered to your inbox

You'll also receive Yardbarker's daily Top 10, featuring the best sports stories from around the web. Customize your newsletter to get articles on your favorite sports and teams. And the best part? It's free!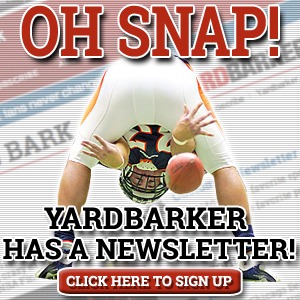 THE COLLEGE FOOTBALL HOT 10