There were many memorable moments during this year's the NFL Draft, but the New Orleans Saints might have the best story of the offseason. The Saints welcomed paralyzed former Tulane safety Devon Walker to the team on Saturday. Walker was a walk-on four-year letterman with the Green Wave from 2009-12. He suffered a career-ending spinal injury against Tulsa early into the 2012...
Sometimes Devon Walker just wants to hear the roar. That would be the revved-up engine of his new 2012 Camaro SS. Throaty, loud, obnoxious. "You'd start it up and it sounds like a damn boat," said Jacob Davis, a best friend of the former Tulane safety. Wait, new Camaro? It was that way 19 months ago when Inez Walker bought her son that awesome Chevy -- a gift for...
A little more that a year after a freak accident on the field changed his life forever, former Tulane University football player Devon Walker is receiving this year's Disney Spirit Award for the way he's turned tragedy into inspiration. Walker has exhibited tremendous courage and perseverance after a severe spinal cord injury left him paralyzed from the neck down last season...
It has been more than two years since Devon Walker's life changed forever. Walker, a safety for the Green Wave, went in for a tackle in the first half against Tulsa on Sept. 8, 2012. The play was nothing out of the ordinary, but he did not get up after falling to the ground. Walker suffered a severe spinal cord injury and was fighting for his life. His playing career...
After the most trying year of his young life, former Tulane football player Devon Walker is conquering the unique challenges his life now presents with grace and an ever-present smile. Walker reaches an important milestone this week: he is back on campus, attending classes, after severely injuring his spinal cord last September, during the Green Wave's game against Tulsa in...
I don't care if you're a fan of the Tulane Green Wave or the school's staunchest foe, if you've got a heart, then say a prayer for Tulane safety Devon Walker, the young player that suffered a broken neck in a horrific-looking tackle this past Saturday that could potentially leave him paralyzed for life. Walker remained in stable condition Sunday and will soon need surgery...
Devon Walker's closest Tulane teammates cite his drive to play his first two seasons without a scholarship, all while pursuing a difficult degree, as reasons they believe he has the courage to cope with his spinal injury. Walker, a senior safety, is due to graduate with a degree in cell and molecular biology in May. Tulane cornerbacks Ryan Travis and Kendrick Washington say...
((HT: KJRH-TV Tulsa)) Tulane Athletic Director Rick Dickson held a press conference at St. Francis Hospital in Tulsa to update everyone on the medical condition of Green Wave defensive back Devon Walker. According to the AD, Walker is alert, responsive, and talking to his family who have made their way from New Orleans to Tulsa for the Sunday surgery and the analysis of his...
TERRIFYING MOMENT
Tulane safety Devon Walker reportedly suffered a broken neck and collapsed lung as a result of a nasty helmet-to-helmet collision.
Tulane safety Devon Walker was seriously injured after a helmet to helmet hit in the last play of the first half in the Green Wave's game against Tulsa. Walker stopped breathing after emergency personnel removed his jersey and shoulder pads and had to be revived on the field. A tracheotomy was performed on Walker and he is now in the trauma center at St. Francis Hospital in...
MORE STORIES >>
College Football News

Delivered to your inbox

You'll also receive Yardbarker's daily Top 10, featuring the best sports stories from around the web. Customize your newsletter to get articles on your favorite sports and teams. And the best part? It's free!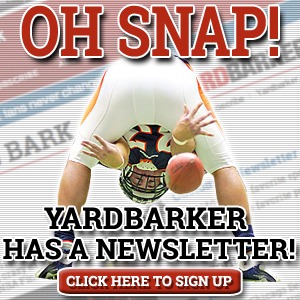 THE COLLEGE FOOTBALL HOT 10