The Gophers haven't had too many players make an impact on defense like linebacker Ra'Shede Hagman has in the past decade. Hageman was not a recruit to brag about when he signed his LOI with the Gophers in 2010 but his development was quite impressive. Scouts ranted and raved about Hageman's size. At 6'6 311 pounds, Hageman had an NFL ready body coming into Minnesota but...
The Badgers beat the Gophers 20-7 for the tenth year in a row to keep control of Paul Bunyan's ax on Saturday. The bitter cold weather could be somewhat to blame, but missed opportunities is what ultimately killed the Gophers. Minnesota needs to reverse these mistakes at Michigan State in the regular season finale to keep their dreams of playing in a New Year's Day bowl alive...
For the first time in several years, the Wisconsin-Minnesota football game will be a highly anticipated matchup. The battle for Paul Bunyan's Axe will take place Saturday in Minneapolis at 3:30 p.m. ET and can be seen on ESPN. In recent seasons, Wisconsin has dominated Minnesota in the annual meeting of college football's oldest rivalry. The Badgers have won nine in a row in...
"You have to be finesse, it's everything war is, just without a gun and bullets. And I think that's what I like about it," Donnell Kirkwood said about the game he plays. The Minnesota Golden Gophers running back was by far the best interview at Big Ten football Media Day. He was so good that he was also the second, third and fourth best interview at this college football...
MINNEAPOLIS -- Rodrick Williams, Jr., will double-check to make sure his alarm clock is set this week.Williams, the Gophers' sophomore running back, was late to a team meeting last week and as a result was held out of the first half of Minnesota's season opener against UNLV. By the time Williams was finally inserted into the game, he got just four second-half carries for...
MINNEAPOLIS -- Donnell Kirkwood used to be, as he puts it, a hothead. It's the mindset Minnesota's senior running back used in boring his way to 958 yards rushing last season, often dragging defenders an injury-maligned offensive line couldn't handle. But it's also the attitude that led to frequent fall-camp dust-ups, most often with defensive tackle and fellow...
Minnesota Golden Gophers Head Coach;  Jerry Kill  3rd season  9-16 Gopher Offense Donnell Kirkwood (AP Photo) "In a Word"…experienced…This is my team to watch in the Big Ten in 2013…they have 18 starters back with ten of those on offense.  All five offensive line starters and that is huge with Kill….Jerry wants to run the ball…and then run some more.  His lines...
Gophers running back Donnell Kirkwood noticed something about Texas Tech's defense as he watched tape to prepare for Minnesota's bowl game on Friday. What Kirkwood saw from the Red Raiders had him licking his chops in anticipation. "They're not used to power. Not at all," Kirkwood said of Texas Tech's run defense. "We want to kind of introduce them...
Minnesota running back Donnell Kirkwood lost a decal on his helmet after a big hit from Northwestern defensive back Ibraheim Campbell during a Big Ten college football matchup Saturday. It happened in the second quarter on a tough 8-yard run up the middle by Kirkwood. Campbell took down Kirkwood with a big hit, and upon impact, the "M" decal on the right side of...
WHAT A SHOT
You know you are taking a pounding as a running back if you get hit so hard that the decal sticker on your helmet flies off. Such was the case for Minnesota tailback Donnell Kirkwood on Saturday after he received a punishing blow from a Northwestern Wildcats defender.The play occurred during the second quarter on a 2nd & 5 play from the Gopher's own 46-yard line.The announcers...
MORE STORIES >>
College Football News

Delivered to your inbox

You'll also receive Yardbarker's daily Top 10, featuring the best sports stories from around the web. Customize your newsletter to get articles on your favorite sports and teams. And the best part? It's free!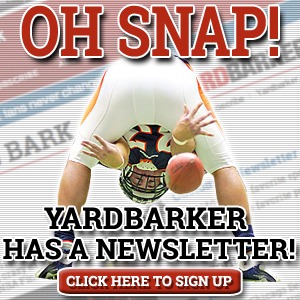 THE COLLEGE FOOTBALL HOT 10