Hightower showed promise as a pass rusher at AlabamaPatriots linebacker Dont'a Hightower is in Foxborough for the team's offseason workout program, and he talked to the press there earlier today. He wasn't shy about the role he would like to play on passing downs this year."Most definitely. Third down, obviously, I'll just put it out there, I would much rather...
Everyone remembers the Game of the Century right? The Alabama Crimson Tide happened to lose to the LSU Tigers 9 – 6 after some missed field goals by Cade Foster (which got him some death threats). That loss still propelled them into the Allstate BCS National Championship game against LSU in which they would take the national championship but why is there a W located next to LSU...
FOXBORO, Mass. -- The Patriots have assembled one of the best groups of young linebackers in the NFL, and the three SEC alums should be able to lead that defense for years. New England made a quick play Thursday to scoop up Alabama linebacker Dont'a Hightower with the 25th pick in the draft. Patriots head coach Bill Belichick wasn't sure if such a move would be possible,...
Dont'a Hightower, Alabam inside linebacker 2012 NFL draft prospect Recently I have taken an in depth look at the college prospects available at our largest areas of need on offense (running back) and defense (defensive tackle (part 1, part 2). With less than two short weeks to the 2012 NFL draft I am breaking down which prospects will be on the Broncos radar pick-by-pick (Editor's...
Middle LinebackerAlabama6-2 265Draft board overall prospect rank: #21Draft board overall middle linebacker rank: #2Overall rating: 84 (Borderline 1st/2nd round prospect)40 time: 4.62Positives:• Excellent size 6-2 265• Great 40 for his size (4.62)• Impressive athleticism• A huge thumper against the run• A good, fundamental tackler•...
The Patriots don't need Alabama linebacker Dont'a Hightower to fill an immediate hole on the depth chart, but he's a quality football player who provides top-notch leadership. Patriots head coach Bill Belichick loves to zig while the draft analysts zag, so it wouldn't be completely unpredictable if he jumped on Hightower given he survived until the end of the first...
PJD is on vacation. During this time, we've decided we'll take a quick look at potential Minnesota Vikings draft picks for the second or later rounds. With so many needs and so many draft picks to get this team back to a place where we can at least pretend they are respectable, we'll have plenty of ground to cover. Let us know what you think of each prospect in the comments...
Alabama defensive coordinator Kirby Smart — the man behind the Crimson Tide's top-rated defense — has taken himself off the list to be Southern Mississippi's next head coach. Smart was considered the leading candidate to replace Southern Miss coach Larry Fedora. Fedora is leaving to become the North Carolina Tar Heels new coach. ESPN.com reports that Smart pulled himself...
Alabama junior linebacker Dont'a Hightower was selected as one of four finalists for the Lott Trophy, The Pacific Club IMPACT Foundation announced on Tuesday.
Alabama junior linebacker Dont'a Hightower and senior linebacker Courtney Upshaw were each selected as one of 12 semifinalists for the 27th annual Butkus Award, which goes to the nations' top linebacker it was announced on Monday afternoon.
MORE STORIES >>
College Football News

Delivered to your inbox

You'll also receive Yardbarker's daily Top 10, featuring the best sports stories from around the web. Customize your newsletter to get articles on your favorite sports and teams. And the best part? It's free!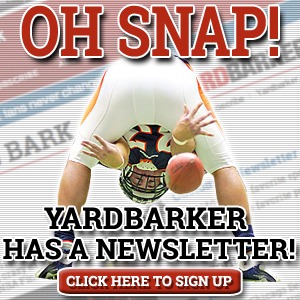 THE COLLEGE FOOTBALL HOT 10