Week 1 of the NFL season is almost in the books. Did it go how you expected it to? If you say yes, you're probably lying. Sunday's slate of games featured some wild games and unexpected performances, from the Miami Dolphins putting up 23 unanswered points on the New England Patriots to the Minnesota Vikings blowing out the St. Louis Rams 34-6. Sunday was also an eventful day...
Friday's announcement that New Mexico State had promoted offensive coordinator Doug Martin brought an end to the coaching carousel in FBS football, marking the last of thirty-one head coaching changes in the 2012-2013 college football season. With all of the head coaching positions filled, there is now only one natural thing to do: rank the new head coaching hires. Before we get...
After a quiet Week 13 against the Broncos, Bucs running back Doug Martin exploded for 128 rushing yards and a touchdown on 28 carries Sunday versus Philadelphia.Fantasy Spin:With 1,612 yards from scrimmage and 11 touchdowns, Martin is a bona fide No. 1 fantasy running back. He should be salivating at the thought of facing New Orleans in Week 15.
  What thoroughbreds are in the Broncos Stable this year? Does Coach Peterson have the horses for another winning season?  It all begins Friday Night in East Lansing when Boise State faces Big Ten Michigan State.  It is the first meeting between these schools and only the second time in 15 years that Boise has played against a Big Ten team.  The Broncos have a new look and...
Doug Martin goes 7 for 21 and a TD see TD in below link http://www.nfl.com/videos/auto/0ap2000000048627/Martin-2-yard-TD We all know dDoug needs 10 carries just to warmed up ! Do you fear the MSU D? fear not I have found the cure for your ills Below is a 14 minute video of every Offensive play by the meatchickens last year against Sparty. In the video I believe it will be clear...
The Tampa Bay Buccaneers addressed their need for a running back, selecting Boise State's Doug Martin with the 31st pick in the first round of the NFL draft. The Bucs traded the fifth overall pick to Jacksonville Thursday night for the Jaguars' seventh overall pick to get Alabama safety Mark Barron, but remained determined to find help on offense for young quarterback Josh...
Doug Martin rushed for 151 yards and returned the opening kickoff 100 yards for a touchdown, giving Boise State a lead 14 seconds into the Maaco Bowl Las Vegas on the way to a 56-24 win Thursday night. Arizona State (6-7) never seriously threatened the Broncos (12-1), even though Boise State had three turnovers and allowed a 97-yard kickoff return for a touchdown by the Sun Devils...
U Can't Touch Doug Martin. Not on the field while the Boise State running back is streaming toward the end zone and certainly not in a dance-off when MC Hammer is involved. During some of the festivities surrounding Thursday's Las Vegas Bowl against Arizona State, Martin showed off his dance skills in a competition against ASU safety Alden Darby in a winner-take-all dance...
RB Martin: Boise State's 'physical freak' Thayer Evens Fox Sports When Doug Martin played tag as a child, his siblings and cousins could never catch him. "I was a fan of Jackie Chan, so I was doing all kinds of stuff," Martin says. "I was crafty." One game Martin didn't play as a child was football. But that changed eight years ago when he arrived at...
When Doug Martin played tag as a child, his siblings and cousins could never catch him. The stalky youngster was fast, but he also jumped off jungle gyms, did spin moves and rolled on the ground to keep from being caught. He even ran through a glass door once while to avoid being tagged. "I was a fan of Jackie Chan, so I was doing all kinds of stuff," Martin says. &quot...
MORE STORIES >>
College Football News

Delivered to your inbox

You'll also receive Yardbarker's daily Top 10, featuring the best sports stories from around the web. Customize your newsletter to get articles on your favorite sports and teams. And the best part? It's free!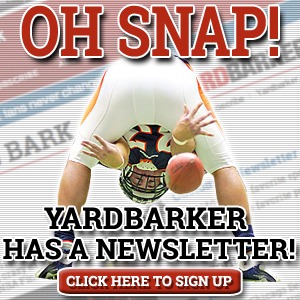 THE COLLEGE FOOTBALL HOT 10