After picking off Michigan State quarterback Connor Cook, Oregon defensive back Erick Dargan started to return the ball towards the end-zone. With a caravan of Oregon players in front of him, it looked as though Dargan was heading towards a touchdown. Unfortunately, for Dargan and Oregon, Michigan State offensive tackle Jack Conklin was there to demolish him out of bounds. Watch...
Usually when an offensive player flattens a defensive player, it's when someone throws a vicious block on a defender. However, after Michigan State quarterback Connor Cook threw an interception to Oregon defensive back Erick Dargan, Spartan offensive lineman Jack Conklin saw the opportunity to flatten the Ducks' senior DB. Conklin came out of nowhere and absolutely destroyed...
Of all the questions surrounding the Oregon secondary this spring, the biggest might revolve around one of the players with the most experience. There are obvious holes to fill with the losses of Avery Patterson, Brian Jackson and Terrance Mitchell and the Ducks will rely heavily on the leadership of seniors like Ifo Ekpre-Olomu and Dior Mathis to shepherd talented-yet-inexperienced...
Throughout this spring, you'll hear -- if you haven't already -- a lot about communication and chemistry. Take the secondary for example. Lots of new guys are being mixed in with some veterans, and so far, everyone says it's the chemistry that's been the separator. "We're doing some good things" fifth-year senior Erick Dargan said. "We're...
California Golden Bears quarterback Jared Goff is leading the FBS in passing with 435.3 yards per game, and the Oregon secondary is taking that as a personal challenge. Safety Erick Dargan told Rob Moseley of goducks.com, "When a team throws the ball like this, as a secondary we kind of feel like it's on us. Today we wanted to be a lot more aggressive. The ball in the air...
People worry about the undersized linebackers and the loss of Alonso and Clay. Where are all the tackles going to come from, with Boyett, Jordan, and the inside linebackers graduated? One thing to remember is that the Oregon secondary forces and closes against the run extremely well. They're all hitters, playing with a lot of physicality. Terrance Mitchell is 6-0, 189. Ifo Ekpre...
MORE STORIES >>
College Football News

Delivered to your inbox

You'll also receive Yardbarker's daily Top 10, featuring the best sports stories from around the web. Customize your newsletter to get articles on your favorite sports and teams. And the best part? It's free!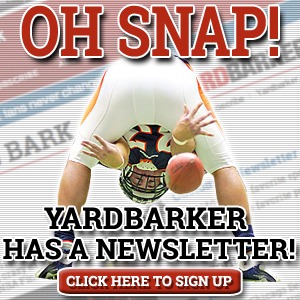 THE COLLEGE FOOTBALL HOT 10