By Allyson Bullian Twitter: @Allyson Bullian   OFFENSE Geno Smith went 17-33 for 209 passing yards in the Jets 17-24 loss to the Lions.  He had a touchdown and one interception and was sacked twice in the game.  Smith also rushed for four yards on four attempts and fumbled twice, losing one.  On his Facebook page, he said, "Tough times don't last, tough people do. In this...
When you look at the Heisman trophy, its usually set with guys the media loves from power programs. The 2014 season is no different, but this race appears to be wide open. In 2012, there was a quarterback from West Virginia named Geno Smith that was the talk of the college football world. Smith and the Mountaineers started fast out of the gate at 5-0, had a shootout against Baylor...
The Non Con Schedule West Virginia will have a heated race to replace Geno Smith as their starting quarterback when fall camp opens but the good news is that whoever wins the job will get to have their first start against William and Mary. Talk about a confidence builder. The Tribe competes in the Colonial Athletic Conference and is coming off a 2-9 season in which their only wins...
Ford Childress (All-Pro Photography/Dale Sparks) With the departure of WVU's all-time leading passer in Geno Smith to the NFL, head coach Dana Holgorsen will have three candidates competing for the job when fall camp opens.  It won't be an easy task replacing Smith, but WVU has plenty of young arms and will need at least one of them to step up.  Here's a rundown of what Holgorsen...
West Virginia Mountaineers quarterback Geno Smith is a special talent that should transform himself into a longterm starting quarterback within the NFL. His work ethic has more times than not been lauded. Yet even he is getting tired of the disrespect that his class of quarterbacks has been subjected to. Please click here to read this story. The post Geno Smith lashes out at critics...
Stephen A. Smith and Skip Bayless of ESPN, joined also by Todd McShay, react to Pro Football Weekly's Nolan Nawrocki's critical assessment of QB Geno Smith. Smith is currently number 24 on Mel Kiper's big board, and ranked even lower than that by some. Among Nawrocki's comments were that Smith was "not a student of the game", had a "mild practice...
So, about this whole Geno Smith thing…does anybody have any questions? Anybody? No, didn't think so.  Not after what Geno did to Texas on Saturday. Make no mistake, the Longhorns defense is no joke. Granted, I wouldn't put them up there with the Alabama's or the LSU's of the world, but with four players currently projected as first or second round picks, they certainly...
It's time now to turn the page. If you read the recap of my recent trip to Lincoln, Nebraska – the second leg of the MSF-La Quinta College Football Road Trip – you know how much fun I had spending the weekend with one of my favorite people in what is now one of my favorite college towns. And this came on the heels of a similarly great weekend in Norman, Oklahoma with my little...
ONE TO REMEMBER
West Virginia quarterback Geno Smith put up unbelievable numbers in a 70-63 win over Baylor. Here is his ridiculous record-setting stat line.
The first weekend of college football was a showcase for several preseason Heisman Trophy favorites. While some preseason picks struggled and made a trip to New York less likely, others seized the opportunity to throw their names in the race. Each week, we'll update the list with new stats and information as some players make their way into the Heisman conversation and others drop...
MORE STORIES >>
College Football News

Delivered to your inbox

You'll also receive Yardbarker's daily Top 10, featuring the best sports stories from around the web. Customize your newsletter to get articles on your favorite sports and teams. And the best part? It's free!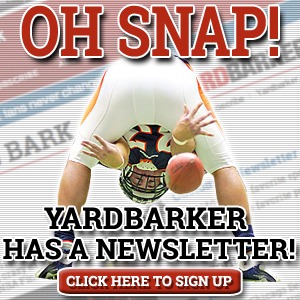 THE COLLEGE FOOTBALL HOT 10