EUGENE, Ore. (AP) Oregon senior center Hroniss Grasu never would have played football if his parents had their way. Steve and Mariana Grasu, immigrants from Romania, preferred soccer over American football, which they saw as too dangerous. But lucky for Oregon the Grasus eventually gave in and allowed their son to play. Now a senior, Grasu is unquestionably the No. 3 Ducks'...
SAN ANTONIO -- Oregon junior center Hroniss Grasu answers media questions and talks about the Ducks regaining "mojo" as they prepare for the test with Texas on Monday Dec. 30, 2013, at the Valero Alamo Bowl.
Quarterback Marcus Mariota and center Hroniss Grasu will return to the University of Oregon for the 2014 season. Mariota, a redshirt sophomore from Honolulu, and Grasu, a redshirt junior from Los Angeles, announced their intentions a day after earning all-Pac-12 accolades from the conference's head coaches for the second straight year. "It is an honor to be a student at the...
EUGENE, Ore. -- Oregon's center Hroniss Grasu speaks to Erik Skopil of eDuck.com regarding the upcoming game with Tennessee at Autzen Stadium.
Hroniss Grasu is the real deal. Nfldraftscout.com rates him #1 out of 90 junior centers in the country. The PAC-12 coaches chose him as their All-Conference center in 2012, and the Ducks prize his strength and agility so much that he drives and lead blocks for a great percentage of their big plays. In this video clip, we'll see Grasu first in a series of running plays, all carries...
Hroniss Grasu is a warrior, a 6-3, 294-lb. Romanian strongman who has started every game of his Oregon career. The center who took over for Max Unger and Jordan Holmes has been the anchor of the Webfoot line for 27 straight games, debuting on the road against LSU in Cowboys Stadium as a redshirt freshman. The Ducks lost that night, but Grasu performed admirably on college football...
EUGENE, Ore. -- Oregon junior center Hroniss Grasu spoke to media on Thursday afternoon, July 17, 2013 about the Oregon Ducks summer workouts and some of the friendly competition going on among linemen.
SCOTTSDALE, ARIZ. -- Oregon sophomore center Hroniss Grasu answers questions from media regarding the upcoming Fiesta Bowl, the leadership challenges and what he took from the loss against Stanford that will help against Kansas State in the Fiesta Bowl.
In golf, it's called the yips. Oregon center Hroniss Grasu (He-rone-iss Grah-su) doesn't have a name for it when it comes to football, he just knows he doesn't like it. Grasu has worked this week to conquer football's version of the yips that were evident last week in the No. 4 Ducks' 42-25 victory over Fresno State. One of his snaps was so badly off it went...
No. 18 USC and No.4 Oregon are battling it out at Autzen Stadium tonight in a pivotal Pac 12 clash, with a berth in the inaugural Pac 12 Championship game on the line for the Ducks (USC cannot play in the postseason due to NCAA sanctions). With that in mind, expect both teams to try and keep the infractions to a minimum.  Of course that doesn't mean that the occasional penalty...
MORE STORIES >>
College Football News

Delivered to your inbox

You'll also receive Yardbarker's daily Top 10, featuring the best sports stories from around the web. Customize your newsletter to get articles on your favorite sports and teams. And the best part? It's free!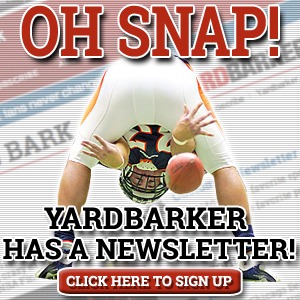 THE COLLEGE FOOTBALL HOT 10