For the Oregon football team, the defensive side of the ball is often overlooked and under appreciated. Due to the Ducks fast-paced offense, the Oregon defense has to be on the field for longer periods of time, and prevent against teams trying to hit a big play to keep up with the Ducks offense – this puts added pressure on the secondary. Over the years the Oregon Ducks have had...
In the words of the immortal Groucho Marx, nepotism is all right as long as you keep it in the family. With Nick Aliotti retiring Oregon has both a challenge and an opportunity in hiring the next defensive coordinator. After Ifo Ekpre-Olomu, Marcus Mariota and Hroniss Grasu elected to stay in school, the Ducks are ranked #3 or better in the preseason polls. They're a...
Cornerback Ifo Ekpre-Olomu says he is returning to Oregon for his senior season. Ekpre-Olomu was the Ducks' second-leading tackler with 84 stops this past season. He also had three interceptions. The 5-foot-10, 185-pound California native announced his decision Monday on GoDucks.com, the school's athletic website. ''I should be able to finish my degree by next...
For folks who had doubts about Oregon football post-Chip Kelly, who wondered whether the reign of dominance was over, whether Mark Helfrich and the new staff had the stuff to succeed a legend, today's much-anticipated announcement is a ringing endorsement for the new regime. Whatever doubts anyone may have about Duck football, Hroniss Grasu, Marcus Mariota and Ifo Ekpre-Olomu...
Three Oregon commits made it official today by signing letters of intent to play for UO. December 18th is the first day junior college players can sign, and CB Dominique Harrison, defensive end Tua Talia and offensive guard Haniteli Lousi all followed on their verbal pledges by faxing in their letters to the Oregon football office. With cornerbacks Ifo Ekpre-Olomu and Terrance Mitchell...
EUGENE, Ore. -- Oregon corner back Ifo Ekpre-Olomu answers media questions following Oregon's 55-16 win over California on Sept. 28, 2013 at Autzen Stadium.
In order of what sounds the coolest: 9. Rakeem Catbro(QB, Marshall) Photo Credit: AP Photo/Christopher Jackson  8. Michael Campanarbro (WR, Wake Forest) Photo Credit: Associated Press 7. Cody Fajardbro (QB, Nevada) Photo Credit: USA Today Sports 6. Antonibro Andrews (RB, Western Kentucky) Photo Credit: US Presswire 5. Bro Wallace (QB, Ole Miss) Photo Credit: Clarion-Ledger...
CULVER CITY, Calif. -- Oregon corner back Ifo-Ekpre Olomu has lunch with the media and responded to question about the Duck defense. Ekpre-Olomu represented the University of Oregon at the Pac-12 Media Day on July 26, 2013.
EUGENE, Ore. -- One of the leaders for the 2013 Oregon Ducks football team is junior corner back Ifo Ekpre-Olomu. Last season, Ekpre-Olomu was selected as a first team All-Pac-12. This season he will be one of the two Ducks that will appear with Oregon Head Coach Mark Helfrich at Pac-12 Conference Media Day.
Oregon sophomore corner back Ifo Ekpre-Olomu discusses Oregon's 49-0 win over Arizona on Sept. 22, 2012 at Autzen Stadium. Ekpre-Olomu had two interceptions including a pick-6.
MORE STORIES >>
College Football News

Delivered to your inbox

You'll also receive Yardbarker's daily Top 10, featuring the best sports stories from around the web. Customize your newsletter to get articles on your favorite sports and teams. And the best part? It's free!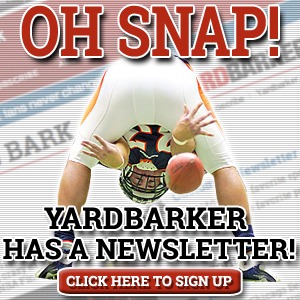 THE COLLEGE FOOTBALL HOT 10