Offense wins games, defense wins championships. Yeah, yeah we've all heard it thousands of times. It's a phrase that has been repeated throughout the ages in just about every sport but as simple as it is, it is especially true for the University of Oregon football team. An offense led by star quarterback Marcus Mariota and filled with studs throughout the field is going to put...
Air Ifo: Ifo Ekpre-Olomu goes airborne to snatch a clutch interception that sealed Oregon's 46-27 victory over #7 Michigan State Saturday afternoon at Autzen Stadium (Scott Olmos-USA TODAY Sports photo). The Ducks dug deep. It was 3rd and 10 and Marcus Mariota had just been sacked for the 5th time. Michigan State led 27-18 with half the third quarter gone, and they'd scored on...
The Oregon Ducks and Michigan State Spartans were wrapped up in an epic battle Saturday afternoon in Eugene. At one time or another each team looked like they were in control and looking to pull away, but than the other team would do something to close the gap and keep it interesting.Late in the game the Ducks had a 12-point lead and were threatening to close the game out, but Connor...
Oregon's DB Ifo Ekpre-Olomu has made the interception of the year with this catch.
For the Oregon football team, the defensive side of the ball is often overlooked and under appreciated. Due to the Ducks fast-paced offense, the Oregon defense has to be on the field for longer periods of time, and prevent against teams trying to hit a big play to keep up with the Ducks offense – this puts added pressure on the secondary. Over the years the Oregon Ducks have had...
Cornerback Ifo Ekpre-Olomu says he is returning to Oregon for his senior season. Ekpre-Olomu was the Ducks' second-leading tackler with 84 stops this past season. He also had three interceptions. The 5-foot-10, 185-pound California native announced his decision Monday on GoDucks.com, the school's athletic website. ''I should be able to finish my degree by next...
EUGENE, Ore. -- Oregon corner back Ifo Ekpre-Olomu answers media questions following Oregon's 55-16 win over California on Sept. 28, 2013 at Autzen Stadium.
In order of what sounds the coolest: 9. Rakeem Catbro(QB, Marshall) Photo Credit: AP Photo/Christopher Jackson  8. Michael Campanarbro (WR, Wake Forest) Photo Credit: Associated Press 7. Cody Fajardbro (QB, Nevada) Photo Credit: USA Today Sports 6. Antonibro Andrews (RB, Western Kentucky) Photo Credit: US Presswire 5. Bro Wallace (QB, Ole Miss) Photo Credit: Clarion-Ledger...
EUGENE, Ore. -- One of the leaders for the 2013 Oregon Ducks football team is junior corner back Ifo Ekpre-Olomu. Last season, Ekpre-Olomu was selected as a first team All-Pac-12. This season he will be one of the two Ducks that will appear with Oregon Head Coach Mark Helfrich at Pac-12 Conference Media Day.
Oregon sophomore corner back Ifo Ekpre-Olomu discusses Oregon's 49-0 win over Arizona on Sept. 22, 2012 at Autzen Stadium. Ekpre-Olomu had two interceptions including a pick-6.
MORE STORIES >>
College Football News

Delivered to your inbox

You'll also receive Yardbarker's daily Top 10, featuring the best sports stories from around the web. Customize your newsletter to get articles on your favorite sports and teams. And the best part? It's free!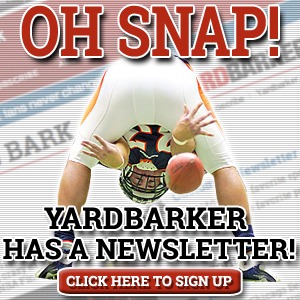 THE COLLEGE FOOTBALL HOT 10