SOUTH BEND, Ind. (AP) Notre Dame coach Brian Kelly says he has invited safety Eilar Hardy to return to the roster, although he has academic work to complete before he can practice. Kelly says Hardy hopes to get the work completed next week when fifth-ranked Notre Dame (6-0) is on fall break. He says Hardy is the only one of five players who have been held out of games he's talked...
Heralded 5 star defensive end Ishaq Williams came to Notre Dame in a class with 2 players currently in the NFL.Aaron Lynch and Stephon Tuitt currently hold roster spots with the Steelers and 49ers.Tuitt and Williams (alongside Manti Teo and Louis Nix) brought the Fighting Irish to it's national championship status in 2012. Lynch moved on to USF before the 2012 season.Williams...
SOUTH BEND, Ind. (AP) Notre Dame coach Brian Kelly says defensive lineman Ishaq Williams has told him he won't be allowed to play this season and hopes to return to the university in June. Kelly said Tuesday that Williams and cornerback KeiVarae Russell are the only two players of the five investigated for possible academic dishonesty who have informed him of their statuses...
Via AP on Fox
The fate of another member of Notre Dame's "Frozen Five" has been revealed. During his press conference today, Fighting Irish coach Brian Kelly announced that DL/LB Ishaq Williams will miss all of 2014. Kelly told reporters that Williams informed him that his season is over, but that he would like to come back for 2015. #NotreDame HC Brian Kelly: Ishaq Williams said he will...
Former NFL player Phillip Daniels, the father of DaVaris Daniels has announced that his son will no longer play football at Notre Dame. Finally after over 4 months my son got an answer! He is done at Notre Dame and will weigh his options for the future! #HeIsNDNoMore — Phillip Daniels (@PhillipDaniels) October 14, 2014 Good luck to the rest of the players at ND and we wish you...
Follow the Fizz on Twitter for the latest SU football news via ap Brooklyn, NY native Ishaq Williams and three other Notre Dame football players (receiver DaVarius Daniels, defensive back KeiVarae Russell and linebacker Kendall Moore) have been accused of  "honor code violations," according to multiple media reports. The violations are believed to be some type of academic fraud...
Paul Bunyan, Bigfoot and the Loch Ness monster are folk stories that many hype but have never delivered on as far as presenting evidence if they even exist.Talked about- but no clear sightings or tangible items have surfaced to validate their legend.Ishaq Williams falls into that catagory as a player that was hyped, tracked and sought after for his abilities in high school and potential...
Follow The Fizz on Twitter for the latest SU football news After months of waiting and anticipation, Wayne Williams will officially become a member of the Syracuse football roster this January. The former 3-star DT out of ASA College graduated from JUCO in September, and will be making his way up to the Salt City in less than two months. Orange Nation, you're probably thinking...
Three-star DT Wayne Williams knew the loss of John Anselmo would hurt. The Syracuse commit admitted to The Fizz Anselmo had always been a father figure to him. No longer SU's chief recruiter of the New York City area, Anselmo has now moved on to Doug Marrone's staff in Buffalo. As much as Williams would like to have Anselmo on the sidelines with him this season, he wishes him...
When JUCO DT Wayne Williams chose to commit to SU last week, it was simply a different chapter in the same story for the Orange. The gigantic 6'5" 350 lb. lineman knew he would be comfortable surrounded by his former Brooklyn friends, guys like Wayne Morgan, Brandon Reddish and Ivan Foy. Williams, a '11 graduate of Lincoln HS, had spent the last season at ASA Junior College...
MORE STORIES >>
College Football News

Delivered to your inbox

You'll also receive Yardbarker's daily Top 10, featuring the best sports stories from around the web. Customize your newsletter to get articles on your favorite sports and teams. And the best part? It's free!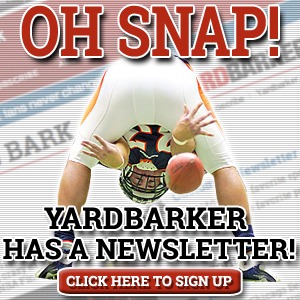 THE COLLEGE FOOTBALL HOT 10