While Michigan State Spartans center Jack Allen is out shoving a sled across the team's practice field, a "Craigslist cat" Bubbles is home bumming around Allen and roommate tight end Paul Lang's apartment.The cat came to them via Craiglist when Lang decided to bring the feline home this past summer, only Lang wasn't there to welcome Bubbles home, just the 296-pound senior center...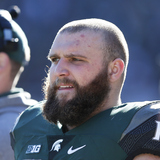 Pretty much anything can be bought on Craigslist these days. In some cases, those "things" are living, breathing animals. So starts the tale of Michigan State center Jack Allen and Bubbles — the furry companion his roommate bought off Craigslist over the summer.  According to Nicole Auerbach of USA Today Sports, Allen got a call from teammate and roomie Paul Lang about the cat...
For the second straight year, Michigan State center Jack Allen is a finalist for the Rimington Award, which goes to the best player in the country at his position. A senior from Illinois, Allen has already been named first-team All-Big Ten twice and was a first-team All-American last season. In a statement from the school, MSU head coach Mark Dantonio called Allen the heart and soul...
You will not catch too many offensive linemen ever complaining about it, but it is not unusual for them to get tired of opening all the holes for the running backs, the running backs making use off them, and the back getting all the glory while only doing some of the work. Well--one Michigan State offensive line got the chance to see how what it was like in the backfield for a play...
Michigan State center Jack Allen raised some eyebrows in Chicago when he compared a former Michigan State tailback to a soon-to-be Spartan runner L.J. Scott.  "He looks like Le'Veon Bell," Allen told reporters in Chicago for Big Ten Media Days, via MLive.com. "When I saw him, he looked like he would be Le'Veon's cousin or something." Although both are big backs from Ohio, Scott enters...
As a fat guy I have often thought that anything a skinny guy can do a fat guy can do it better given the chance. It appears that Michigan State may be trying to test that theory out during their spring game. The first touchdown of the day did not go to one of the running backs, a wide receiver, or a quarterback.It belongs to offensive lineman Jack Allen!Everyone had OL Jack Allen...
MSU Center Jack Allen In this week's Freep Column, I talk about how this Michigan State team is better than last year's. Here's a preview. You can click on the links to read the rest of it on the Freep website.  Last year, Michigan State went 13-1, defeated 12-0 Ohio State in the Big Ten Championship and beat Stanford in the 100th Rose Bowl. In what fans will generally call one of...
In this week's isportsweb Freep Column, I review how the recent success of the Michigan State football program has paid off on the recruiting trail and how that success in recruiting is showing immediate benefits for the Spartans, as a number of true freshman are logging significant minutes. Read the isportsweb column online in the Detroit Free Press every Monday and as always, preview...
Michigan State offensive lineman Jack Allen probably thought the coast was clear when he decided to reach in to the face mask of Ohio State defensive lineman Johnathan Hankins and thumb wrestle with his face.  But in today's day and age, Allen should be smarter.  Keep in mind, the game was nationally televised.  So ABC had a camera in every crevice of the field. Hankins seemed to...
MORE STORIES >>
College Football News

Delivered to your inbox

You'll also receive Yardbarker's daily Top 10, featuring the best sports stories from around the web. Customize your newsletter to get articles on your favorite sports and teams. And the best part? It's free!
THE COLLEGE FOOTBALL HOT 10