Jake Fisher is practicing. This being the Ducks, no one will come out and say it, but he could be back in the lineup next Thursday night when the Ducks host Arizona at 7:30 on ESPN. Stetzon Bair, 6-9, 290, has switched over from the defensive line, giving Steve Greatwood a raw tackle with the longest arms on the team. Who knows? At this point he's an insurance policy and another...
De'Anthony Thomas and Jake Fisher are starting. Alabama led Tennessee 35-0 at halftime. Oregon receives to start the game.
Mock This! WATCH: Oregon OL Jake Fisher mocks the SEC in preparation of the team's matchup against Tennessee. Good idea? Bad idea? Indifferent? Video: Oregon Offensive Lineman Jake Fisher Mocks SEC: "No One Can Beat The SEC" collegespun.com Funny. Follow NWSB on our Facebook page for live 24-7-365 updates of all our Northwest Sports Teams!!
Jake Fisher in 2012. Oregon junior lineman Jake Fisher dipped into the sarcasm closet a little during an interview with CSN Northwest discussing the Ducks' upcoming game against Tennessee. Instead of going just snarky on the Vols' (which would have been easy, considering the past few seasons in Knoxville), he decided to take on the whole flipping conference. Some of...
Oregon Ducks lineman Jake Fisher appears to be complimenting the SEC, but really he's just being hilariously sarcastic with Tennessee headed to Eugene.
Everyone knows that the SEC has been the most dominance conference in college football over the past decade. Understandably, however, that gets extremely frustrating to some of the top teams in other conferences who have more than held their own in the same period. The Oregon Ducks are one of those teams, and this week they take on the Tennessee Volunteers. Today, when asked about...
Writer Aubrey Wieber of the Oregon Daily-Emerald doesn't think much of Oregon's 2013 football team. The writer posted a best/worst case scenario for the upcoming season. In the article he characterizes hopes of a potential national title bid as "lazy and unrealistic."  The best the Ducks can hope for, Weiber says, is to revenge last season's loss to Stanford...
Jake Fisher was the star of the two weirdest plays in Oregon's 2012 season, and together those plays reveal why he's going to make a lot of money in pro football. In September De'Anthony Thomas took a swing pass at the 50 against Tennessee Tech. The most exciting broken field runner in college football weaved through the hapless Golden Eagle secondary, slowing down at...
EUGENE, Ore.  — De'Anthony Thomas continued his dominating streak on the field since last season's Rose Bowl with two touchdowns and a 222-all purpose performance against Tennessee Tech — as No. 4 Oregon defeated the Golden Eagles, 63-14.Thomas's touchdowns came on a 59-yard run and a 16-yard reception.  He would have had a third touchdown, but Tennessee Tech's DaJuan...
MORE STORIES >>
College Football News

Delivered to your inbox

You'll also receive Yardbarker's daily Top 10, featuring the best sports stories from around the web. Customize your newsletter to get articles on your favorite sports and teams. And the best part? It's free!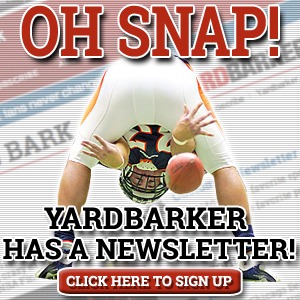 THE COLLEGE FOOTBALL HOT 10