Jameis Winston and defending national champion Florida State are No. 1 in The Associated Press preseason college football poll. The Seminoles will start the season No. 1 for the sixth time — the first since 1999 when they became the first team to hold the top spot for the entire season. Florida State received 57 of 60 first-place votes Sunday from the media panel. No. 2 Alabama...
  Jameis Winston had up and down year. He won the Heisman Trophy and led the undefeated Florida St. Seminoles to a BCS championship by defeating Auburn in the title game. That was the good. The "bad" includes being accused of rape and being arrested for stealing crab legs out of a local grocery store. On Sunday, Florida St. decided to test their luck with a social media campaign...
A Twitter campaign engineered by Florida State University turned out to be a massive PR fail for the school. The campaign asked Twitter users to ask Seminoles quarterback Jameis Winston anything with an #AskJameis hashtag accompanying the tweet. Sounds pretty chill, right? Except social media users took the opportunity to lambaste the Heisman Trophy winner with questions that mocked...
Though the Florida State football program has a Twitter account, @FSU_Football, you have to wonder how much the folks running it actually spend reading what people say on Twitter. On Sunday, FSU told fans to ask questions of Seminoles quarterback Jameis Winston via the #AskJameis hashtag. Sure, some people responded with football-related questions, and we could repeat those here...
Florida State redshirt sophomore quarterback Jameis Winston, in his first year as the starter, won the Heisman Trophy and led his team to a last-minute win over Auburn in the BCS National Championship Game. Winston clearly has had his off-the-field issues, but on it, he's been nothing short of spectacular. But apparently Winston thinks he can improve. He told reporters Sunday morning...
The rap sheet on Jameis Winston just continues to get longer, and longer and.... So, yesterday CBS Sports released a story about Jameis Winston and a teammate, Chris Casher were involved in some extra-curricular hijinks in 2012. USA Today obtained and published a Florida State campus police report on Wednesday showing that in a 2012 incident, an officer detained Winston and his...
Jameis Winston was detained by police at gunpoint in a 2012 incident for carrying a firearm on campus.
Florida State quarterback Jameis Winston is going to earn millions of dollars in the National Football League at some point in the not-so-distant future. For now, he's nothing more than an unpaid student athlete at a university that makes millions simply due to his own existence on its football team.  Winston doesn't seem too worried about this, as he indicated in an interview...
If you're a young person in Florida, and you want to learn how to play football from one of the best players in Florida State history, Seminole legend Charlie Ward holds a football camp that gives youths the chance to learn every position on the field. This year, the camp featured a special guest: reigning Heisman Trophy winner and National Championship Game MVP Jameis Winston...
Florida State's Heisman winning quarterback had some fun with his Instagram yesterday. Winston first posted a video catching a pass from himself in the end zone. Later, the 20-year-old showed that it isn't just Winston with the athletic abilities. Breion Allen, his girlfriend, and a basketball player at Rice, had this one-handed snag from a […] The post Jameis Winston's Girlfriend...
MORE STORIES >>
College Football News

Delivered to your inbox

You'll also receive Yardbarker's daily Top 10, featuring the best sports stories from around the web. Customize your newsletter to get articles on your favorite sports and teams. And the best part? It's free!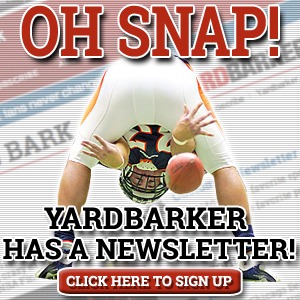 THE COLLEGE FOOTBALL HOT 10