In less than a month, Kenny Hill has gone from being the man who might replace Johnny Manziel to becoming the player who might win Texas A&M its second Heisman in three years.  Hill, who won the Aggies' starting quarterback job this August, had quite the collegiate debut against South Carolina, throwing for 511 yards and three touchdowns. He continued his elite play in Week...
Florida State has launched a disciplinary inquiry into allegations that Seminoles quarterback Jameis Winston sexually assaulted a female student in 2012, an attorney for Winston's accuser told multiple media outlets Thursday. The attorney, John Clune, said representatives from the university interviewed the woman in early August for the first time since she first reported the...
FSU has moved forward with Jameis Winston's Title IX investigation, stemming from rape allegations in 2012.
Florida State Heisman Trophy-winning quarterback Jameis Winston is the target of a university inquiry into an alleged sexual assault that occurred 21 months ago, according to The New York Times. This is the same case, involving the same female student, that made headlines last year as Winston was being considered for the Heisman and as he led the Seminoles to a national championship.  
LeRoyMcConnell III What can Florida State's quarterback Jameis Winston do for an encore to remain the Heisman Trophy winner of 2015?  Well he must give us the WOW factor.  In this latest clip he shows the world why he is favorite to win again.  It's a tight game late in the third quarter Winston decides use his feet […] Sports-Kings - The Kings of Sports Lists - Sports...
Florida State star quarterback, projected 2015 NFL Draft first round pick and defending Heisman champion Jameis Winston was on the butt of the joke on the majority of the best College GameDay signs from Week 1 outside of AT&T Stadium Saturday morning. [RELATED: 10 Best College GameDay Signs From Week 1] But the 6-foot-4, 230-pound star signal-caller decided to respond with...
The ESPN College GameDay crew was in Fort Worth, Texas for Week 1′s battle between the Oklahoma State Cowboys and top-ranked defending national champion Florida State Seminoles. Without further adieu, let's take a look at the best signs from the show, including some that didn't make it on air. via @geez49 There was an abundance of clever and funny signs directed at Florida...
When Paul Finebaum wants to rip someone, he doesn't hold back. Finebaum appeared on ESPN2′s Olbermann last night, and during his appearance on the show, he discussed Florida State quarterback Jameis Winston. Well, he didn't really "discuss" Winston, rather, the always controversial radio personality decided to take a minute or two to absolutely shred the reigning Heisman...
Jameis Winston was detained by police at gunpoint in a 2012 incident for carrying a firearm on campus.
Florida State quarterback Jameis Winston is going to earn millions of dollars in the National Football League at some point in the not-so-distant future. For now, he's nothing more than an unpaid student athlete at a university that makes millions simply due to his own existence on its football team.  Winston doesn't seem too worried about this, as he indicated in an interview...
MORE STORIES >>
College Football News

Delivered to your inbox

You'll also receive Yardbarker's daily Top 10, featuring the best sports stories from around the web. Customize your newsletter to get articles on your favorite sports and teams. And the best part? It's free!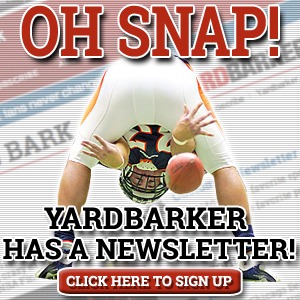 THE COLLEGE FOOTBALL HOT 10