BOISE, Idaho (AP) Boise State's Jay Ajayi fueled a 20-point comeback with 134 yards rushing and three touchdowns in the Broncos' 38-29 victory over San Diego State on Saturday night. The clash between the two top rushers in the Mountain West - San Diego State's Donnel Pumphrey and Ajayi - lived up to its billing. Pumphrey rolled up 147 yards on 24 carries with two touchdowns...
Boise State's Jay Ajayi scoring in the Broncos' 37-24 win over CSU on Sept. 6. (Otto Kitsinger, Associated Press)Colorado State had a bye Saturday, but there were plenty of games elsewhere that
No basketball season hasn't yet started but with all the fast breaks in this game it's hard to believe that the game was decided by big Defensive plays. While half of Bronco Nation aged by 10 years during this game those of us on the other side of 40 all reach for our heart pills, Nitro any one? Game was over when with 36 seconds to go Jay Ajayi burst 14 yards for the Bronco's...
BOISE, Idaho (AP) Jay Ajayi rushed for 150 yards and three touchdowns to lead Boise State past Louisiana-Lafayette, 34-9, Saturday night. The Broncos (3-1) have won three straight since losing its opener while Louisiana-Lafayette (1-3) has dropped its last three. Ajayi, who amassed 280 all-purpose yards in Boise State's first home game, rolled up 187 total yards. He added five...
Tailback Jay Ajayi scored two touchdowns while amassing 147 yards rushing and a career-high 105 yards receiving, leading Boise State to a 45-17 victory over New Mexico on Saturday. Matt Miller added nine catches for 111 yards and three touchdowns for Boise State (8-4, 6-2 Mountain West), which will play in a bowl game for the 12th consecutive year. Tailback Crusoe Gongbay had 77...
Broncos running back Jay Ajayi gets his electrolytes the old-school way: By drinking pickle juice. The man chugs it straight out the jar, with pickles and everything.
Boise State Broncos sophomore running back Jay Ajayi was seen drinking pickle juice straight from the pickle jar during Friday night's Mountain West Conference football game against Air Force. Photo via @mengus22 / Twitter Other college football teams may want to take note, as Ajayi ran for 125 yards and 4 touchdowns to power the Broncos to a 42-20 win. Although we...
Jay Ajayi rushed for four touchdowns and Joe Southwick threw for one score and rushed for another to lead Boise State to a 42-20 victory over Air Force on Friday night. The Broncos (2-1, 1-0 Mountain West Conference) pulled away in the second half while slowing a Falcons running game that had piled up 139 yards in the first half. Boise State outscored the Falcons 21-3 in the final...
Via AP on Fox
File this under: things we've never seen before. During Boise State's Friday night football game at home against Air Force, Broncos running back Jay Ajayi chose a unique beverage to hydrate on the sidelines — pickle juice. During an eventful fourth quarter where he scored two touchdowns, Ajayi took a rest on the bench and popped open a jar of pickles and began chugging. A quick...
Saturday 7pm! With the Washington Huskies' first game in T-minus three days, anticipation has built to a fever pitch among Husky Nation. A stiff opponent in Boise State will test the Dawgs, and we'll see if the much-vaunted offseason improvements are for real. The Huskies will need to scheme for three players in particular. Jay Ajayi The first of the Broncos' three biggest...
MORE STORIES >>
College Football News

Delivered to your inbox

You'll also receive Yardbarker's daily Top 10, featuring the best sports stories from around the web. Customize your newsletter to get articles on your favorite sports and teams. And the best part? It's free!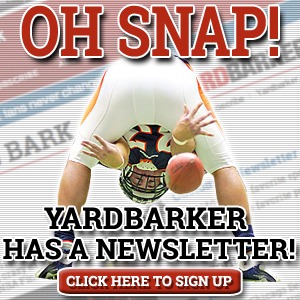 THE COLLEGE FOOTBALL HOT 10