Jeff Scott ran for 164 yards and a touchdown and also scored on a 73-yard punt return, helping No. 25 Mississippi roll over reeling Texas 44-23 on Saturday night. Bo Wallace passed for two touchdowns and ran another for the Rebels (3-0), who led 14-0 midway through the first quarter before Texas scored 23 straight points. The Rebels rallied when Andrew Ritter kicked a 52-yard field...
Just in case you left planet Earth last week, here is what you missed. Jeff Scott shocked both Rebel and Vandy Nation Thursday night. The score was 35-32, Vandy leading, with 90 seconds left to go in the game. The Rebels had to answer on their next offensive drive. On 1st and 10, Bo Wallace threw an incomplete pass to...
One Ole Miss fan had his mind completely blown after the Rebels' Jeff Scott rushed for the winning touchdown with a minute remaining against Vanderbilt.
What a start to the 2013 college football season, huh? Especially if you happened to stay awake to watch the end of the Ole Miss vs Vanderbilt game. The Dores looked to be in complete control for much of the game, and held a 28-17 lead in the second half. But the young Rebels offense found its groove late in the game, and grabbed a 32-28 lead after Bo Wallace ran it in for his second...
Mississippi coach Hugh Freeze may have a highly-rated crop of freshmen to coach. Senior Jeff Scott made sure his new teammates left their first college game as winners. Scott ran 75 yards for a touchdown with 1:07 left, and Mississippi rallied twice Thursday night to beat Vanderbilt 39-35 in a wild season opener for both teams. Vanderbilt went up 35-32 on a 34-yard TD pass from...
NASHVILLE, Tenn. -- As the clock struck midnight locally, Ole Miss would steal away with a victory over Vanderbilt that, seconds earlier, seemed unlikely. Vanderbilt had seemingly done enough to win the game just a few seconds earlier Thursday night. Tight end Steven Scheu found himself all alone along the left sideline and strolled in on a 34-yard scoring pass from Commodores quarterback...
Jeff Scott scored on a 75-yard touchdown run with 1:07 left, and Mississippi rallied twice Thursday night to beat Vanderbilt 39-35 in a wild season opener for both teams. Vanderbilt went up 35-32 on a 34-yard TD pass from Austyn Carta-Samuels to Stephen Scheu with 1:30 left. But Scott beat the Commodores for a TD and the fourth lead change. Vanderbilt had a final chance to extend...
Sure, Ole Miss' Jeff Scott scored the game-winning touchdown for the Rebels over Vanderbilt. But it's the fan below who had the best moves on Thursday night. No contest. [Bleacher Report]
If you wanted a play to sum up Auburn's 2012 college football season, it would be touchdown reception from Ole Miss running back Jeff Scott. With about five minutes to play and the Tigers trailing by seven, the Runnin' Rebels offense had a 3rd and 16 facing them. Watch as Ole Miss quarterback Bo Wallace finds Scott in the middle of the field for the reception but it appears...
Jeff Scott ran for two touchdowns and Mississippi piled up 304 yards rushing in a 39-0 victory over winless Tulane on Saturday. The Ole Miss defense, seeking redemption after yielding 66 points in a loss to Texas a week earlier, limited Tulane to 159 yards of total offense. The Rebels (3-1) constantly pressured Green Wave freshman quarterback Devin Powell. Making his first start...
MORE STORIES >>
College Football News

Delivered to your inbox

You'll also receive Yardbarker's daily Top 10, featuring the best sports stories from around the web. Customize your newsletter to get articles on your favorite sports and teams. And the best part? It's free!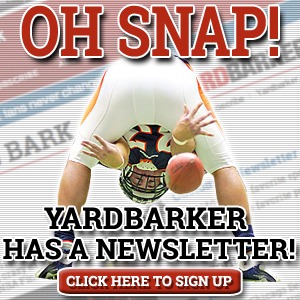 THE COLLEGE FOOTBALL HOT 10