Even though Jeremy Shelley made a bowl-record five field goals in last year's national championship game, Alabama has three guys in the running to be this year's place kicker and Nick Saban doesn't have a frontrunner yet.
Jeremy Shelley is at a little bit of a disadvantage when it comes to consideration for the Lou Groza Award, presented annually to the nation's most outstanding kicker. But the Crimson Tide "short guy" has made the list.
  Alabama place kicker Jeremy Shelley's girlfriend is Blair McElroy, who just happens to be the sister of former Bama quarterback and current Jets savior Greg McElroy. Her man Jeremy, just hit 5 field goals to propel the Crimson Tide to their second national championship in 3 years.   This girl is a hot piece of ass - between her and Greg, she definitely got the better genes...
All Over But the Crying.   Alabama defeats LSU for the BCS championship 21-0. (ESPN) Going along with the crowd.  AP writers avoid a potential split "national championship" by voting Alabama no. 1 in the final writers poll of the season. (ESPN) Redemption Song. Alabama kicker Jeremy Shelley made up for his notoriously poor performance in the first meeting between...
One of these things is not like the others. One of these things just doesn't belong. Anybody under 50 recognizes that jingle from "Sesame Street," but in football, the thing that's not like the others is the field goal kicker: that little guy with the clean uniform, the one who sits off by himself when he's not booting balls into a net; the one with all the...
Jeremy Shelley redeemed Alabama's kickers. Shelley overcame a few errant kicks to equal a bowl record with five field goals in the Crimson Tide's 21-0 win over LSU in Monday night's BCS championship game, writing a feel-good ending for the little guys with the maligned legs. It meant Alabama (12-1) survived this time though its offense, again, kept getting turned back.
Jeremy Shelley kicked five field goals and Trent Richardson broke a 34-yard touchdown run late in the fourth quarter as No. 2 Alabama beat No. 1 LSU 21-0 on Monday night - the first shutout in BCS title game history. Richardson swept around left end and raced down the sideline to the end zone with 4:36 left for the first touchdown between the Southeastern Conference rivals in more...
Via AP on Fox
With Alabama kicker Jeremy Shelley booting balls like an MVP in the National Championship Game, it's a good time to remind you that he's also winning off the field. Shelley recently celebrated his one year anniversary with girlfriend Blair McElroy, who is former Bama quarterback Greg McElroy's sister. You may recall when many people watching the draft thought Blair was Greg's...
Round 2 of Alabama-LSU was more of the same. Jeremy Shelley kicked a 23-yard field goal, set up by a 49-yard punt return by Marquis Maze, and No. 2 Alabama led No. 1 LSU 3-0 at the BCS championship game Monday night. The Southeastern Conference rivals met on Nov. 5 in what was dubbed the Game of the Century, and the Tigers won a touchdown-less, defensive standoff, 9-6 in overtime...
Via AP on Fox
BC profiled Alabama kicker Jeremy Shelley before the first Game of the Century and the kicking game and you guys laughed at us. "Kicking game, blah, blah, blah," was all we heard. And then the kicking game became a huge story. It wasn't necessarily Shelley missing all the important kicks, but guess who's ass could be on the line tonight? Can you see a little Greg McElroy...
MORE STORIES >>
College Football News

Delivered to your inbox

You'll also receive Yardbarker's daily Top 10, featuring the best sports stories from around the web. Customize your newsletter to get articles on your favorite sports and teams. And the best part? It's free!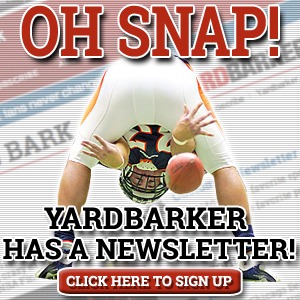 THE COLLEGE FOOTBALL HOT 10