EAST LANSING — Michigan State may have won the battle, but they sure didn't win the war. On Senior Day, the Michigan State Spartans (5-6, 2-5) lost their fourth game in six weeks to the Northwestern Wildcats (8-3, 4-3) 23-20. Statistically, Michigan State was the better team. They had more first downs (23), passing yards (297), rushing yards (122), less penalties (2 for 21 yards...
Michigan State's Johnny Adams may be my least favorite player after seeing this video, or he may be my favorite. I am torn as to whether I should hate or love this guy for trying to perfect the art of soccer flopping. Check out Adams having it out with Nebraska's Kenny Bell and then doing his best acting impression which is award worthy. Ridiculous. H/T Hot Clicks via Athlon...
Saturday's Michigan State-Nebraska matchup was a huge contest to establish the pecking order in the Big Ten. The Cornhuskers - with a little help...
Michigan State's CB Johnny Adams ended up being a goat during the game, because of a block in the back penalty that he took during Darqueze Dennard's interception return for a touchdown that had the touchdown called back.  The TD would have all but sealed the game and instead kept the Nebraska Cornhuskers in the game.Meanwhile, he had this epic flop in the first half looking...
Michigan State Spartans defensive back Johnny Adams tried to draw a penalty against Nebraska Cornhuskers wide receiver Kenny Bell after they tussled a bit after the whistle during Saturday's college football game at East Lansing. Although the flop by Adams failed to draw the penalty, it did manage to draw attention to Adams for the overacting. Video via ESPN. H/T Dr...
Ok. I expected MSU to drop this one, but not like this. I expected a low-scoring affair in which the Spartans offense couldn't pull one out. Instead, the Spartans' offense finally performed and put up 24 but the defense couldn't come up in the clutch and gave up 28. Ugh. Well, here's what I have to say: -That pass interference called on Darqueze Dennard, from what I saw...
Flopping has been an epidemic infiltrating our sporting world for quite some time now. Soccer players have always been guilty of using the tactic, but rarely has it ever been used in college football...until Saturday.With time winding down in the second quarter during a game pitting Nebraska and Michigan State, Spartans receiver Johnny Adams does his best flop routine in an attempt...
(Editor's Note: This is the seventh installment of positional previews. Previous: The Breakdown: Quarterbacks; The Breakdown: Running Backs; The Breakdown: Wide Receivers; The Breakdown: Offensive Line; The Breakdown: Defensive Line, The Breakdown: Linebackers) Big Man on Campus: Johnny Adams When people talk about swagger being a huge part of how the Michigan State defense...
In the next installment of "Top 10 Players in MSU History," isportsweb switches to the defensive side of the ball. First up, we have the secondary. This list is comprised of the best defensive backs and safeties in the history of MSU... [[ This is a content summary only. Visit my website for full links, other content, and more! ]]
TAMPA - FOX Sports/Scout.com's Kristen Kenney interviews Michigan State cornerback Johnny Adams on going up against Georgia's offensive weapons and more.
MORE STORIES >>
College Football News

Delivered to your inbox

You'll also receive Yardbarker's daily Top 10, featuring the best sports stories from around the web. Customize your newsletter to get articles on your favorite sports and teams. And the best part? It's free!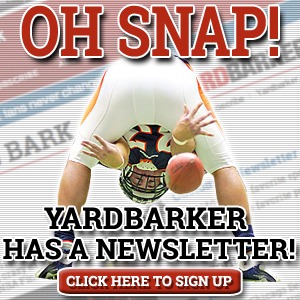 THE COLLEGE FOOTBALL HOT 10