In the 1980s a guy named Cliff ran a quasi-legal poker game in the smoky front room of the Westward Ho Lounge on Third Street, the only 18-hour bar in Yamhill County. The place was as drab and listless as the lima-bean sized ice cubes in the bottom of a spent glass of Jack and Coke, peopled by retirees and Coca-Cola cowboys, various local folks, the occasional self-styled poker pro...
The best play Keanon Lowe made last year was a block. He cleared out standout safety Deone Buchanon to spring Thomas Tyner for a 66-yard touchdown run against Washington State, an effort that typified the solid, steady role Lowe plays for the Ducks. He's been the consummate team player at Oregon, playing on every one of the special teams, a dedicated and consistent blocker, the...
From Coach Ken Potter and Jesuit High School in Beaverton, the school that brought the Ducks Keanon Lowe, Oregon picked up their third verbal commitment in a week, defensive end Henry Mondeaux, 6-5, 250. Mondeaux (pronounced mawn-DOO) is an agile, versatile athlete, a standout big rebounder on the Crusader basketball team, an all-Metro tight end who also plays fullback, linebacker...
Unquiet on the Western Front - Your Pac-12, Mountain West, and BYU extravaganza.  Lowe and behold. Jason Quick profiles Oregon wide receiver Keanon Lowe. (The Oregonian) I've seen the future, and it will be. Jack Follman predicts an Oregon vs. Alabama BCS title game, and a Stanford vs. Ohio State Rose Bowl. (Pacific Takes) Carey On Wayward Son.  Arizona running...
Keanon Lowe has this one tucked away: there are just 7 days until the Opening Kickoff of Oregon Football.   (Craig Mitchell, Getty Images photo) WR Keanon Lowe Craig Mitchelldyer/Getty Images WR Keanon Lowe Craig Mitchelldyer/Getty Images
Good old fashioned rivalry The Oregon Ducks needed a bounce-back performance following last week's debacle against the Stanford Cardinal, and that's exactly what they got against their in-state rival, the Oregon State Beavers. Oregon State allowed the Ducks to take the first offensive possession, and the team from Eugene took full advantage with a 42-yard run from Marcus Mariota...
MORE STORIES >>
College Football News

Delivered to your inbox

You'll also receive Yardbarker's daily Top 10, featuring the best sports stories from around the web. Customize your newsletter to get articles on your favorite sports and teams. And the best part? It's free!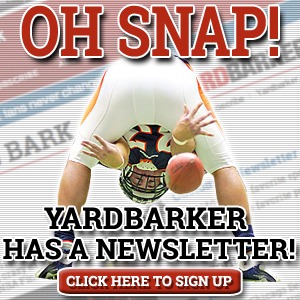 THE COLLEGE FOOTBALL HOT 10