On Tuesday night the Philadelphia Eagles added another duck to Chip Kelly's pond. The team traded a conditional 7th round pick to the Carolina Panthers for former Oregon running back Kenjon Barner: The @Eagles acquire RB Kenjon Barner in trade with the @Panthers: http://t.co/kZeMm5wuKo pic.twitter.com/Ljg88WIgyy — Sports Illustrated (@SInow) August 20, 2014 The most obvious...
Chip Kelly likes his toys, and he likes them even more when they are former Oregon Ducks.  The Eagles acquired the former Oregon running back from the Panthers for a late round pick. per Eagles official website:  "Kenjon will hopefully bring some depth to both our running back and return positions. He's obviously a guy I know really well from Oregon, where he had a very productive...
Kenjon Barner won't be rocking out in the first round of the NFL Draft, but that's alright. The former Oregon star's haircut is already in the Hall of Fame.
Kenjon Barner spent the day at ESPN on Tuesday, and the former Oregon running back brought his swag with him. Barner has been working on his new hairstyle for the past few months, and it was in peak form this week. Just look at it. Shaved on the sides, nice and curly and frizzy on top. He's like halfway to "Coneheads." It's not quite a Kid from Kid 'n Play, because his...
SCOTTSDALE, Ariz. -- This time a year ago, Oregon running back Kenjon Barner was dodging more questions ahead of the Rose Bowl about whether or not he would return for his senior season than about the opposing defense. This year, it's been all football. Barner ultimately took a gamble on one more season at Oregon and is now seeing a payoff even greater than he thought possible...
Oregon running back Kenjon Barner was injured late in the first half against Oregon State with what appeared to be a possible rib or abdomen injury. Barner was attended to by trainers on the field after the injury, then walked gingerly to the sidelines without help. He stood on the sidelines for several minutes with his helmet on, conferring with trainers, before heading to the...
Oregon star running back Kenjon Barner was taken to the locker room briefly after apparently injuring his right hand against California on Saturday night. Barner left the game for the second-ranked Ducks late in the first quarter holding his hand and grimacing on the sideline before being taken to the locker room. He came back to the field before the next series and got on the field...
Kenjon Barner modestly said the No. 2 Oregon Ducks did ''pretty well'' in their big win against USC. As for his own record-setting effort, the ever-humble running back credited his teammates. So it fell to former Ducks running back and good friend LaMichael James to come right out and say it: Barner has proven he's one of the best running backs in the country...
The nation's elite stayed perfect on Saturday, though it wasn't all smooth sailing for 'Bama or Oregon (clockwise from top: AP/ Herbert, AP/ Wagner, Getty/ Laberge) Tailgater Top 25 Rankings, Week 9 Alabama couldn't make good on Vegas' nine-point spread.  In fact, it took about 59 minutes for the Crimson Tide to secure its ninth win of the year.  But as well as LSU played...
In the 92 year history of the National Football League, no running back has rushed for 300 yards in one game. EVER. (Some have come awfully close in recent years).At the professional level, football is a tough and brutal as it gets. With NCAA football, you have perennial championship contenders, and you have quite a few perennial "Chump-ionship" contenders.USC belongs in...
MORE STORIES >>
College Football News

Delivered to your inbox

You'll also receive Yardbarker's daily Top 10, featuring the best sports stories from around the web. Customize your newsletter to get articles on your favorite sports and teams. And the best part? It's free!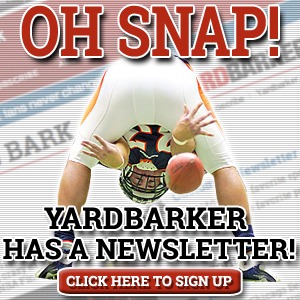 THE COLLEGE FOOTBALL HOT 10