The Saints first round draft pick Kenny Vaccaro is certainly distinguishing himself on the field this training camp with his aggressive style. The former Texas Longhorn says it's all about defining himself and playing with an edge. "I'm just real physical. That's the way the game should be played. I think I have an old school style," says Vaccaro. But sometimes...
The VitalsNFL Team: New Orleans SaintsPick No: 15Player Name: Kenny VaccaroPosition: SafetySchool: TexasHeight/Weight: 6", 214 pounds How is the fit?When you give up more yards than any other team in NFL history, drafting a defensive player is a no-brainer.Vaccaro is a safety with solid coverage abilities with a knack for run support. His ability to cover tight ends should also...
1.15 New Orleans Kenny Vaccaro, S, Texas, (6-0, 214) The Saints were plentiful as far as team needs go this year, with the secondary being one of the top needs. In a division where passing is dominant with the Buccaneers, Panthers and Falcons, the Saints shored up the secondary with a physical Vaccaro. Vaccaro has a few concerns being able to keep up with the quicker receivers in...
PICK: Kenny Vaccaro, S, TexasANALYSIS: It pretty much came down to Jarvis Jones or Kenny Vaccaro here, and I'm really OK with either one. Both are playmakers and the best available at their position. Their defense was so awful last year, that anything here would be an upgrade. Vaccaro I think is pretty underrated and can be a key player in their secondary for years to come....
Kenny Vaccaro is one of the most highly-rated defensive players coming out of the 2013 NFL Draft class.He showed great versatility playing all over the Texas defense and showed great production as he finished the year with 92 tackles.Though Texas didn't live up to all of the hype this year, Vaccaro stood out as one of the most prolific safeties in Texas history.Although the safety...
Every year, several top draft prospects are flown out to New York City to be on hand at Radio City Music Hall. Some consider it an honor to attend the festivities, while others politely decline the trip and remain home with their closest family and friends. Count Kenny Vaccaro in the former group. The ex-Longhorn received an invitation to appear at next month's draft, and...
Triple Shot: St. Louis Rams   By Eric Judd   @ericjuddTSHQ   St. Louis Rams Major Need:  Safety   Best Shot: Kenny Vaccaro S Texas While Kenny Vaccaro might not make it to 16 for St. Louis, he would be an immediate upgrade to the Rams' defense. Vaccaro is exactly what teams look for as a last line of defense in the secondary. Vaccaro is a strong run defender and covers...
The 2013 NFL Draft boasts yet another intriguing defensive back from the University of Texas; this time coming in the form of free safety, Kenny Vaccaro. Vaccaro is an impressive athlete with prototypical size and athleticism for both the free and strong safety positions, standing at 6'1″ and weighing 215 pounds. NFL Player Comparison: Chris Clemons Proj. Draft Position: Top...
The Texas Longhorns are trailing Oregon State at halftime of the Alamo Bowl but at least one member of their defense came out fighting. Literally. Safety Kenny Vaccaro took the time to punch Oregon State wide receiver Kevin Cummings. It is assumed that the referees missed these punches as Vacarro remained in the game. H/T to SBNation for the video
Texas safety Kenny Vaccaro said he and his defensive teammates got too caught up in their own hype before the season opener. After an uneven performance last week, the 17th-ranked Longhorns will try for a better showing when they face New Mexico's option attack Saturday night. Texas is expected to have one of the best defenses in the Big 12 this season and Vaccaro said the...
MORE STORIES >>
College Football News

Delivered to your inbox

You'll also receive Yardbarker's daily Top 10, featuring the best sports stories from around the web. Customize your newsletter to get articles on your favorite sports and teams. And the best part? It's free!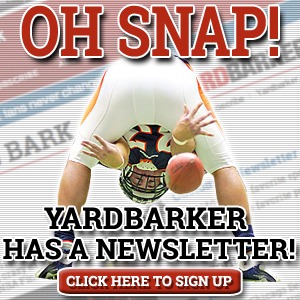 THE COLLEGE FOOTBALL HOT 10